Dr Melissa Simpson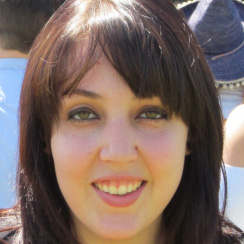 Postdoctoral Fellow
Department
Biochemistry, Genetics and Microbiology
This email address is being protected from spambots. You need JavaScript enabled to view it.
I first started in FABI as a mentorship student in my second year of BSc. My mentor was a MSc student at the time, Markus Wilken, who was working on mating-type genes in Ophiostoma quercus. This was my first exposure to research. I then completed my BSc Honours degree in FABI, working on the MAT1-1-1 gene of Ophiostoma quercus.
My MSc degree began in 2010 under the supervision of Prof Brenda Wingfield, Prof Mike Wingfield, Dr Martin Coetzee and Dr Markus Wilken. For my MSc degree I  analysed microsatellite distribution and abundance in the genome sequence of the plant pathogen Ceratocystis fimbriata. I then chose 10 markers within gene regions to test on other species in the C. fimbriata sensu lato species complex in order to better differentiate between cryptic species in the genus Ceratocystis.
The focus of my PhD was on the mating system of C. fimbriata. This ascomycete is homothallic (self-fertile) and can sexually reproduce by itself. Three MAT genes have previously been identified at the MAT1 locus in C. fimbriata; MAT1-1-1, MAT1-2-1, and MAT1-1-2. Sometimes the MAT1-2-1 gene is irreversibly deleted and a heterothallic (self-sterile) isolate is produced as a result.  This phenomenon is termed unidirectional mating-type switching. There are also isolates that have all three MAT genes but are self-sterile.
My research included mating the two different self-sterile isolates of C. fimbriata to analyse the MAT genes present in the offspring. Together with another PhD student, we produced an improved assembly of the C. fimbriata genome and included evidence-based gene predictions. I then used the RNA-seq data of a self-fertile and the two different self-sterile isolates to further investigate differences linked to mating between these isolates. The last chapter of my PhD thesis addressed the differences present in large regions flanking the MAT locus across species within the Ceratocystidaceae.
My Journal Articles
Export to RIS
Publication
Wingfield BD, van Heerden CJ, van der Nest MA, Steenkamp ET, Roets F, Geiser DM, Duong TA, Dreyer LL, Coetzee MPA, Barnes I, Aylward J, Bushula-Njah VS, Simpson MC, Fourie A, Wingfield MJ. (2019) Draft genome sequences of Fusarium xylarioides, Teratosphaeria gauchensis and T. zuluensis and genome annotation for Ceratocystis fimbriata. IMA Fungus 10(13) 10.1186/s43008-019-0013-7

Simpson MC, Martin Coetzee, Magriet van der Nest, Mike Wingfield, Brenda Wingfield. (2018) Ceratocystidaceae exhibit high levels of recombination at the mating-type (MAT) locus. Fungal Biology 122(12):1184-1191. 10.1016/j.funbio.2018.09.003

Simpson MC, Wilken PM, Coetzee MPA, Wingfield MJ, Wingfield BD. (2013) Analysis of microsatellite markers in the genome of the plant pathogen Ceratocystis fimbriata. Fungal Biology 117(7-8):545-555. 10.1016/j.funbio.2013.06.004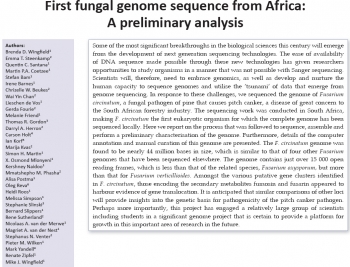 Wingfield BD, Steenkamp ET, Santana QC, Coetzee MPA, Bam S, Barnes I, Beukes CW, Chane W-Y, de Vos L, Fourie G, Friend M, Gordon TR, Herron DA, Holt C, Korf I, Kvas M, Martin SH, Mlonyeni XO, Naidoo K, Phasha MM, Postma A, Reva O, Roos H, Simpson M, Slinski S, Slippers B, Sutherland R, van der Merwe NA, van der Nest MA, Venter SNV, Wilken PM, Yandell M, Zipfel R, Wingfield MJ. (2012) First fungal genome sequence from Africa: a preliminary analysis. South African Journal of Science 108:104-122. 10.4102/sajs.v108i1/2.537