Ms Carol-Ann Segal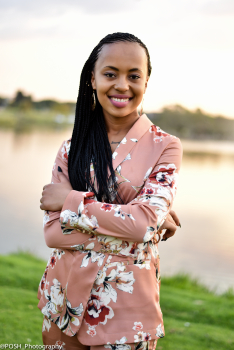 MSc student
Department
FABI
This email address is being protected from spambots. You need JavaScript enabled to view it.
Member of:
My Supervisor/s
I am currently an MSc Biotechnology student in the Department of Plant and Soil Sciences at the University of Pretoria. I am part of the Molecular-Plant Pathogen Interactions group in FABI run by Professor Dave Berger. The research done by our group primarily focuses on foliar pathogens of maize and the diseases they cause.
My MSc project focuses on Cercospora zeina, the fungal foliar pathogen that causes grey leaf spot (GLS) on maize leaves. My project seeks to understand the role of candidate effectors in the pathogenicity and virulence of C. zeina. At present, very little is known about the molecular mechanisms underlying the C. zeina infection strategy, therefore this study will add valuable insight into understanding how this fungal pathogen causes GLS in maize and what solutions can be developed to eradicate this disease.
I completed my BSc Biotechnology and BSc (honours) Biotechnology (cum laude) degrees at the University of Pretoria.
I previously did vacation work at Bayer (Monsanto) South Africa and GrainSA. I also worked as a lab assistant at the University of Pretoria for FABI and the Department of Plant and Soil Sciences (DePSS). Along with my passion for biotechnology and innovation in the field of science, I am interested in teaching, leadership activities and charity work.