Ms Ashleigh Smith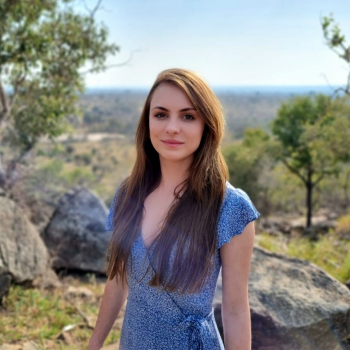 PhD student
Department
FABI
This email address is being protected from spambots. You need JavaScript enabled to view it.
Member of:
My Supervisor/s
I obtained my undergraduate degree in Genetics at the University of Pretoria in 2016. Thereafter, I joined the Macadamia Protection Programme and completed my Honours degree in Microbiology and Master's degree in Genetics (Cum Laude). During my Honours, my research focused on the identification of the causal agent of macadamia husk rot within South Africa. My Master's research focused on lepidopteran pests of macadamia and included identification of the dominant species, phylogenetic analyses, population structure analyses and artificial rearing of Thaumatotibia batrachopa (Meyrick,1908; Tortricidae). I also developed molecular tools (species-specific PCR and PCR-RFLP assays) for rapid identification of four reported lepidopteran pests.
At present, I am continuing in the Macadamia Protection Programme as a PhD student. My research focuses on characterising the female sex pheromone and chemosensation genes in T. batrachopa. These objectives will be achieved through traditional chemical ecology techniques (GC-FID, GC-MS, GC-EAD and SPME), as well as by sequencing the genome and antennal transcriptome of T. batrachopa. Additionally, I will be conducting field trials to evaluate various pheromone blend ratios and trap types for improved moth capture.
I feel strongly about reducing the use of pesticide in agriculture and am excited to contribute towards eco-friendly alternatives such as the development and implementation of effective pheromone-based products.
My Conferences Outputs
Smith AK, Hurley B, Slippers B, Fourie G. 2020. Macadamia research symposium at the Queensland Alliance for Agriculture and Food Innovation, University of Queensland in Brisbane. Australia, 15-29 February (presentation).

Smith AK, Hurley B, Slippers B, Fourie G. 2019. Characterisation of Lepidoptera species associated with macadamia nut damage in South Africa. The 21st congress of the Entomological Society of Southern Africa. Umhlanga, 8-11 July (presentation).
---
My Journal Articles
Export to RIS
Publication
Smith AK, Slippers B, Hurley BP, Fourie G. (2022) Diversity of Lepidoptera associated with macadamia nut damage in South Africa and development of molecular tools to monitor pest populations. Agricultural and Forest Entomology :1-22. 10.1111/afe.12497

My News and Views Articles
Export to RIS
Publication
Smith A, Fourie G. (2022) Macadamia nut borer and false codling moth pheromone trap specificity. SAMAC Journal :36-38.

Smith AK, Hurley BP, Slippers B, Fourie G. (2021) Nut borers in South African macadamia orchards: the main culprit and research towards improving control. SAMAC Journal :57-58.

Smith A, Hurley BP, Slippers B, Fourie G. (2020) Life stage characterisation of Thaumatotibia batrachopa on an artificial diet. SAMAC Journal