Mr Robert Jansen van Vuuren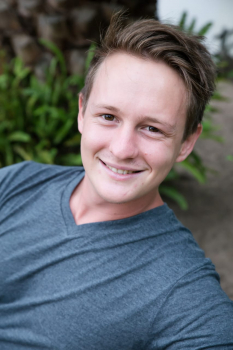 MSc student
Department
FABI
This email address is being protected from spambots. You need JavaScript enabled to view it.
Member of:
My Supervisor/s
I am currently an MSc Plant Science student in the Department of Plant and Soil Sciences at the University of Pretoria. I am part of the Molecular-Plant Pathogen Interactions (MPPI) group in FABI which is run by Professor Dave Berger. This research group primarily investigates fungal foliar diseases of maize, namely grey leaf spot of which the causal agent is Cercospora zeina. Other topics investigated has included research into the maize pest fall armyworm, Spodoptera frugiperda.
My Msc project focuses on maize secondary metabolites, and their contribution to plant defences against the fall armyworm. My project aims to understand the significance of these compounds in the complex array of plant defence responses against these pests. I also aim to explore what other factors influence the effect of secondary metabolites on fall armyworm. This research is important in light of the polyphagous nature of the pest and its recent introduction into Africa and South Africa, in 2016 and 2017, respectively.
I completed my BSc Plant Science and BSc Honours in Plant Science degrees at the University of Pretoria. In my Honours degree, my project involved investigating secondary metabolites in Eucalyptus nitens and their role in plant defence against the fungal pathogens Ceratocystis eucalypticola and Teratosphaeria destructans. During my undergraduate studies I took part in the Centre of Excellence in Tree Health Biotechnology (CTHB) mentorship programme in FABI for two years, where I was a mentee / lab assistant to a PhD candidate working on a Phytophthera on Eucalyptus.