Dr Nicholas Kagimu
Postdoctoral Fellow
Department
Zoology and Entomology
This email address is being protected from spambots. You need JavaScript enabled to view it.
Member of:
Research Profiles
 Background
I hold a BSc (Hons) in Horticulture - Makerere University, and an MSc in Nematology - Ghent University. I majored in Nematodes in the Agri-ecosystem. My MSc thesis was on improvement of liquid storage of entomopathogenic nematodes (EPNs). I also have a PhD in Nematology from Stellenbosch University. My PhD focused on development of a formulation for commercialisation of EPNs.
 Current research
Currently, I am a Post-doctoral Fellow of the Early Career Research Leader Fellowship (ECRLF) at Future Africa Campus, of the University of Pretoria, South Africa. My research is on the prospects of utilising secondary metabolites of EPNs bacteria for Agri-forest production. Entomopathogenic nematodes of the genera Steinernema and Heterorhabditis and their respective mutualistic bacteria Xenorhabdus and Photorhabdus produce a wide range of secondary metabolites with various bioactive properties. These isolates have many applications in cosmetic, pharmaceutical and Agri-forestry industries. The isolates are screened to produce novel antimicrobial, antimycotic, insecticidal, nematocidal, antiulcer, antineoplastic and antiviral properties among others. I am interested in the extraction, identification and characterisation of novel bioactive compounds of Xenorhabdus and Photorhabdus metabolites and their bio-control potential in Agri-forestry production.
My Galeries
News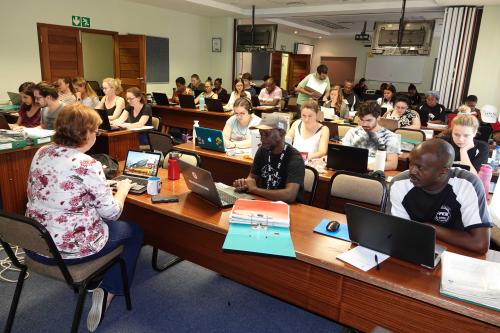 Data Jamboree at FABI
The Tree Protection Co-operative Programme (TPCP) in FABI hosted a "Data Jamboree" on 7 February that saw 44 students in the research programme spend the day capturing historical data from the disease clinic.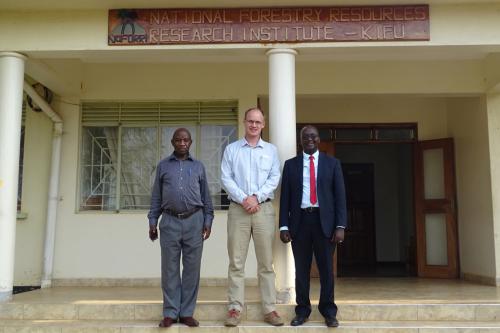 My Journal Articles
Export to RIS
Publication
N. Kagimu, A.P. Malan. (2019) Formulation of South African entomopathogenic nematodes using alginate beads and diatomaceous earth. BioControl 64(4):413–422. 10.1007%2Fs10526-019-09945-1

N. Kagimu, T. Ferreira, A.P. Malan. (2017) The Attributes of Survival in the Formulation of Entomopathogenic Nematodes Utilised as Insect Biocontrol Agents. African Entomology 25(2):275-291. 10.4001/003.025.0275