Ms Annie Chan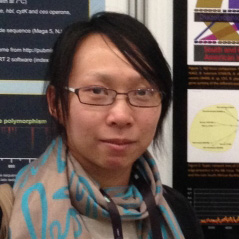 PhD student

Department

Biochemistry, Genetics and Microbiology

Short CV

This email address is being protected from spambots. You need JavaScript enabled to view it.
My Supervisor/s
Burkholderia species, belonging to the Beta-Proteobacteria, was first recognised as rhizobium in 2001. In the Cape Floristic Region (CFR), these beta-rhizobia are one of the dominant symbionts with the South African native indigenous legumes.
To further our understanding of the biology and evolution of this symbiosis, I am focusing on the genomic, transcriptomic and advance taxonomic work on the South African CFR plant associated Burkholderia symbionts for my Phd study.
My Book Chapters
Export to RIS
Book Chapters
Reva ON, Chan WY, Benzuidt OKI, Lapa SV, Safronova LA, Avdeeva LV, Borriss R. 2014. Genetic barcoding of bacteria and its microbiological and biotechnological applications. In: Bioinformatics and Data Analysis in Microbiology. Bishop OT. (eds). Caister Academic Press, Norfolk, pp 231-245.

My Journal Articles
Export to RIS
Publication
Claassens R, Venter SN, Beukes CW, Stępkowski T, Chan WY, Steenkamp ET. (2023) Bradyrhizobium xenonodulans sp. nov. isolated from nodules of Australian Acacia species invasive to South Africa. Systematic and Applied Microbiology 10.1016/j.syapm.2023.126452

Avontuur JR, Palmer M, Beukes CW, Wai YC, Tasiya T, van Zyl E, Coetzee MPA, Stepkowski T, Venter SN, Steenkamp ET. (2022) Bradyrhizobium altum sp. nov., Bradyrhizobium oropedii sp. nov. and Bradyrhizobium acaciae sp. nov. from South Africa show locally restricted and pantropical nodA phylogeographic patterns. Molecular Phylogenetics and Evolution 167 10.1016/j.ympev.2021.107338

Van der Nest M, Hlongwane N, Hadebe K, Chan W, Van der Merwe N, De Vos L, Greyling B, Kooverjee B, Soma P, Dzomba E, Bradfield M, Muchadeyi F. (2021) Breed ancestry, divergence, admixture, and selection patterns of the Simbra crossbreed. Frontiers in Genetics 11:1796. 10.3389/fgene.2020.608650

Mavima L, Beukes CW, Palmer M, De Meyer SE, James EK, Maluk M, Gross E, dos Reis Junior FB, Avontuur JR, Chan WY, Venter SN, Steenkamp ET. (2020) Paraburkholderia youngii sp. nov. and 'Paraburkholderia atlantica' - Brazilian and Mexican Mimosa-associated rhizobia that were previously known as Paraburkholderia tuberum sv. mimosae. Systematic and Applied Microbiology 10.1016/j.syapm.2020.126152

Beukes CW, Sereme TK, Phalane FL, Mthombeni LS, Palmer M, Hassen AI, Chan WY, Avontuur J, van Zyl E, Steenkamp ET, Venter SN. (2019) Paraburkholderia strydomiana sp. nov. and Paraburkholderia steynii sp. nov.: rhizobial symbionts of the fynbos legume Hypocalyptus sophoroides. Antonie van Leeuwenhoek 10.1007/s10482-019-01269-5

Avontuur JR, Palmer M, Beukes CW, Chan WY, Coetzee MPA, Blom J, Stępkowski T, Kyrpides NC, Woyke T, Shapiro N, Whitman WB, Venter SN, Steenkamp ET. (2019) Genome-informed Bradyrhizobium taxonomy: where to from here?. Systematic and Applied Microbiology 10.1016/j.syapm.2019.03.006

van der Nest MA, Wingfield MJ, McTaggart AR, Van Wyk S, De Vos L, Trollip C, Santana QC, Naidoo K, Dong TA, Wilken PM, Chan W-Y, Palmer M, Soal NA, Roodt D, Steenkamp ET, Wingfield BD. (2019) Genomic analysis of the aggressive tree pathogen Ceratocystis albifundus. Fungal Biology 10.1016/j.funbio.2019.02.002

Palmer M, Steenkamp ET, Coetzee MPA, Avontuur JR, Chan WY, Van Zyl E, Blom J, Venter SN. (2018) Mixta gen. nov., a new genus in the Erwiniaceae. International Journal of Systematic and Evolutionary Microbiology 68:1396-1407. 10.1099/ijsem.0.002540

Beukes CW, Palmer M, Manyaka P, Chan W-Y, Avontuur JR, Van Zyl E, Huntemann M, Clum A, Pillay M, Palaniappan K, Varghese N, Mikhailova N, Stamatis D, Reddy TBK, Daum C, Shapiro N, Markowitz V, Ivanova N, Kyrpides N, Woyke T, Blom J, Whitman WB, Venter SN, Steenkamp ET. (2017) Genome data provides high support for generic boundaries in Burkholderia sensu lato. Frontiers in Microbiology 8(1154) 10.3389/fmicb.2017.01154

Venter SN, Palmer M, Beukes CW, Chan W-Y, Shin G, Van Zyl E, Seale T, Coutinho TA, Steenkamp ET. (2017) Practically delineating bacterial species with genealogical concordance. Antonie van Leeuwenhoek 110(10):1311-132. 10.1007/s10482-017-0869-8

Palmer M, Steenkamp ET, Coetzee MPA, Chan W-Y, Van Zyl E, De Maayer P, Coutinho TA, Blom J, Smits THM, Duffy B, Venter SN. (2017) Phylogenomic resolution of the bacterial genus Pantoea and its relationship with Erwinia and Tatumella. Antonie van Leeuwenhoek 110(10):1287-1309. 10.1007/s10482-017-0852-4

Steenkamp ET, van Zyl E, Beukes CW, Avontuur J, Chan W-Y, Palmer M, Mthombeni LS, Phalane FL, Sereme TK, Venter SN. (2015) Burkholderia kirstenboschensis sp. nov. nodulates papilionoid legumes indigenous to South Africa. Systematic and Applied Microbiology 38(8):545-554. 10.1016/j.syapm.2015.09.003

De Maayer P, Chan W-Y, Martin DAJ , Blom J, Venter SN, Duffy B, Cowan DA, Smits THM, Coutinho TA. (2015) Integrative conjugative elements of the ICEPan family play a potential role in Pantoea ananatis ecological diversification and antibiosis. Frontiers in Microbiology 6:576. 10.3389/fmicb.2015.00576

Weller-Stuart T, Chan W-Y, Coutinho TA, Venter SN, Smits THM, Duffy B, Goszczynska T, Cowan DA, de Maayer P. (2014) Draft genome sequences of the onion center rot pathogen Pantoea ananatis PA4 and maize brown stalk rot pathogen P. ananatis BD442. Genome Announcements 2(4) e00750-14

De Maayer P, Chan WY, Rubagotti E, Venter SN, Toth IK, Birch PR, Coutinho TA. (2014) Analysis of the Pantoea ananatis pan-genome reveals factors underlying its ability to colonize and interact with plant, insect and vertebrate hosts. BMC Genomics 15:404. 10.1186/1471-2164-15-404

Chan WY, Dietel K, Lapa SV, Avdeeva LV, Borriss R, Reva ON. (2013) Draft genome sequence of Bacillus atrophaeus UCMB-5137, a plant-growth-promoting rhizobacterium. Genome Announcements 1(3):1-2. 10.1128/genomeA.00233-13

Le Roux WJ, Chan WY, De Maayer P, De Maayer P, Venter SN. (2013) Genome Sequence of Vibrio cholerae G4222, a South African Clinical Isolate. Genome Announcements 1(2):1-2. 10.1128/genomeA.00040-13

De Maayer P, Chan WY, Blom J, Venter SN, Duffy B, Smits THM, Coutinho TA. (2012) The large universal Pantoea plasmid LPP-1 plays a major role in biological and ecological diversification. BMC Genomics 13(625):1-12. 10.1186/1471-2164-13-625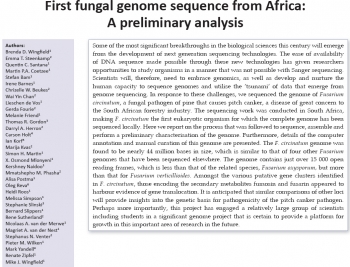 Wingfield BD, Steenkamp ET, Santana QC, Coetzee MPA, Bam S, Barnes I, Beukes CW, Chane W-Y, de Vos L, Fourie G, Friend M, Gordon TR, Herron DA, Holt C, Korf I, Kvas M, Martin SH, Mlonyeni XO, Naidoo K, Phasha MM, Postma A, Reva O, Roos H, Simpson M, Slinski S, Slippers B, Sutherland R, van der Merwe NA, van der Nest MA, Venter SNV, Wilken PM, Yandell M, Zipfel R, Wingfield MJ. (2012) First fungal genome sequence from Africa: a preliminary analysis. South African Journal of Science 108:104-122. 10.4102/sajs.v108i1/2.537

De Maayer P, Chan WY, Rezzonico F, Buhlmann A, Venter SN, Blom J, Goesmann A, Frey JE, Smits THM, Duffy B, Coutinho TA. (2012) Complete Genome Sequence of Clinical Isolate Pantoea ananatis LMG 5342. Journal of Bacteriology 194(6):1615-1616. 10.1128/JB.06715-11

De Maayer P, Chan WY, Venter SN, Toth IK, Birch PRJ, Joubert F, Coutinho TA. (2010) Genome Sequence of Pantoea ananatis LMG20103, the Causative Agent of Eucalyptus Blight and Dieback. Journal of Bacteriology 192(11):2936-2937. 10.1128/JB.00060-10