Dr Arista Fourie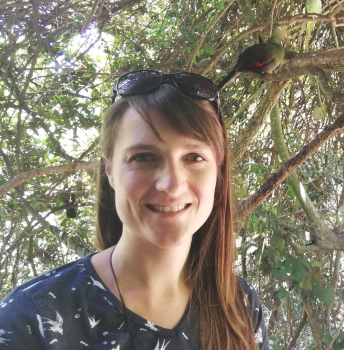 Postdoctoral Fellow

Department

Biochemistry, Genetics and Microbiology

Short CV

This email address is being protected from spambots. You need JavaScript enabled to view it.
Research Profiles
I have been involved in FABI from my undergraduate studies, as a mentorship student, and from there my interest grew in the field of plant pathology and the impact genetic research can have on such studies. I completed my master's and PhD degrees in Genetics at FABI. My postgraduate studies focused on the host specificity of two Ceratocystis species, C. fimbriata occurring on sweet potato and C. manginecans occurring on various tree species. This included the development of a genetic linkage map and the identification of QTL markers associated with the aggressiveness of these fungal species to distinct hosts. Further genome comparisons of the two species were performed to identify genomic regions unique to each species, likely influencing their distinct host ranges.
I am currently a Postdoctoral fellow in the Macadamia Protection Programme, focusing my research on some of the pests and pathogens that are a major threat to these crops. I'm passionate about understanding the genetic foundation of various symbiotic interactions, between mutualist and their host as well as parasites and their host. Our goal is to use this knowledge to improve plant health and ensure future food security.
I love the outdoors and enjoy activities such as hiking, bird watching and jogging.
News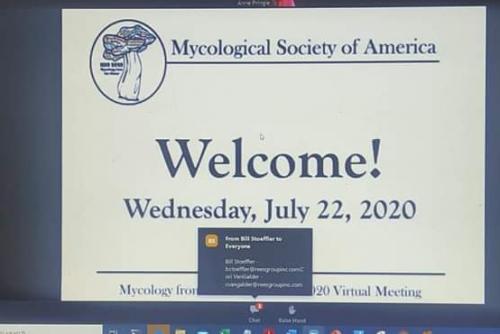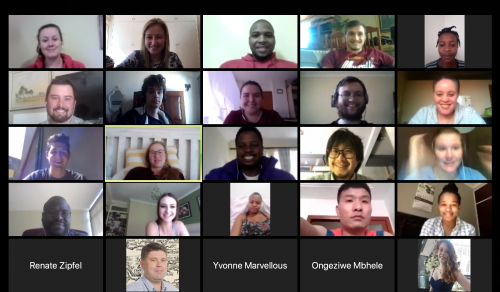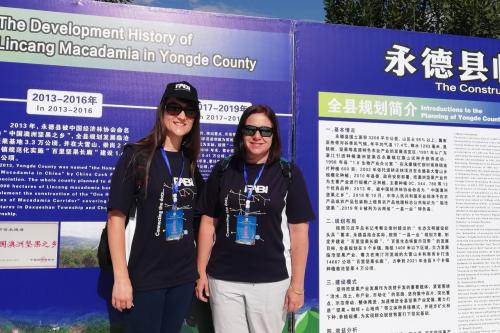 FABI researchers attend the International Macadamia R&D Conference in China
The annual International Macadamia R&D Conference was held in Lincang City, Yunnan, China from 5-9 November. Macadamia Protection Programme research leader Dr Gerda Fourie and FABI postdoctoral Fellow Dr Arista Fourie joined 300 delegates from 12 countries, consisting mostly of senior researchers, institute directors and consultants.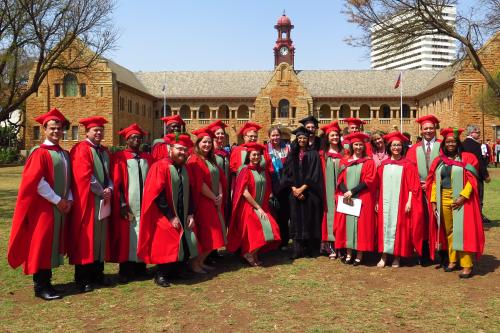 My Journal Articles
Export to RIS
Publication
Fourie A, de Jonge R, van der Nest MA, Duong TA, Wingfield MJ, Wingfield BD, Barnes I. (2020) Genome comparisons suggest an association between Ceratocystis host adaptations and effector clusters in unique transposable element families. 143:103433. 10.1016/j.fgb.2020.103433

Roux J, Wingfield MJ, Fourie A, Noeth K, Barnes I. (2020) Ceratocystis wilt on Eucalyptus: first record from South Africa. Southern Forests: A Journal of Forest Science 10.2989/20702620.2019.1686687

Li JQ, Wingfield BD, Wingfield MJ, Barnes I, Fourie A, Crous PW, Chen SF. (2020) Mating genes in Calonectria and evidence for a heterothallic ancestral state . Persoonia 45:163-176. 10.3767/persoonia.2020.45.06

Wingfield BD, van Heerden CJ, van der Nest MA, Steenkamp ET, Roets F, Geiser DM, Duong TA, Dreyer LL, Coetzee MPA, Barnes I, Aylward J, Bushula-Njah VS, Simpson MC, Fourie A, Wingfield MJ. (2019) Draft genome sequences of Fusarium xylarioides, Teratosphaeria gauchensis and T. zuluensis and genome annotation for Ceratocystis fimbriata. IMA Fungus 10(13) 10.1186/s43008-019-0013-7

Fourie A, van der Nest MA, De Vos L, Wingfield MJ, Wingfield BD, Barnes I. (2019) QTL mapping of mycelial growth and aggressiveness to distinct hosts in Ceratocystis pathogens. Fungal Genetics and Biology 131:103242. 10.1016/j.fgb.2019.103242

Bradshaw RE, Sim AD, Chettri P, Dupont P-Y, Guo Y, Hunziker L, McDougal RL, van der Nest A, Fourie A, Wheeler D, Cox MP, Barnes I. (2019) Global population genomics of the forest pathogen Dothistroma septosporum reveal chromosome duplications in high dothistromin-producing strains. Molecular Plant Pathology 20(6):784-799. 10.1111/mpp.12791

Barnes I, Fourie A, Wingfield MJ, Harrington TC, McNew DL, Sugiyama LS, Luiz BC, Heller WP, Keith LM. (2018) New Ceratocystis species associated with rapid death of Metrosideros polymorpha in Hawai`i. Persoonia 40:154–181. 10.3767/persoonia.2018.40.07

Fourie A, Wingfield MJ, Wingfield BD, van der Nest MA, Loots MT, Barnes I. (2018) Inheritance of phenotypic traits in the progeny of a Ceratocystis interspecific cross. Fungal Biology 122:717-729. 10.1016/j.funbio.2018.03.001

Fourie A, Wingfield MJ, Wingfield BD, Thu PQ, Barnes I. (2016) A possible centre of diversity in South East Asia for the tree pathogen, Ceratocystis manginecans. Infection, Genetics and Evolution 41:73-83. 10.1016/j.meegid.2016.03.011

Crous PW, Wingfield MJ, Guarro J, Hernandez-Restrepo M, Sutton DA, Acharya K, Barber PA, Boekhout T, Dimitrov RA, Duenas M, Dutta AK, Gene J, Gouliamova DE, Groenewald M, Lombard L, Morozova OV, Sarkar J, Smith MTh, Stchigel AM, Wiederhold NP, Alexandrova AV, Antelmi I, Armengol J, Barnes I, Cano-Lira JF, Castaneda Ruiz RF, Contu M, Courtecuisse PrR, Da Silveira AL, Decock CA, De Goes A, Edathodu J, Ercole E, Firmino AC, Fourie A, Fournier J, Furtado EL, Geering ADW, Gershenzon J, Giraldo A, Gramaje D, Hammerbacher A, He X-L, Haryadi D, Khemmuk W, Kovalenko AE, Krawczynski R, Laich F, Lechat C, Lopes UP, Madrid H, Malysheva EF, Marin-Felix Y, Martin MP, Mostert L, Nigro F, Pereira OL, Picillo B, Pinho DB, Popov ES, Rodas Pelaez CA, Rooney-Latham S, Sandoval-Denis M, Shivas RG, Silva V, Stoilova-Disheva MM, Telleria MT, Ullah C, Unsicker SB, Van der Merwe NA, Vizzini A, Wagner H-G, Wong PTW, Wood AR, Groenewald JZ. (2015) Fungal Planet description sheets: 320–370. Persoonia 34:167-266. 10.3767/003158515X688433

Fourie A, Wingfield MJ, Wingfield BD, Barnes I. (2015) Molecular markers delimit cryptic species in Ceratocystis sensu stricto. Mycological Progress 14(1):1-18. 10.1007/s11557-014-1020-0