Mr Johan Liversage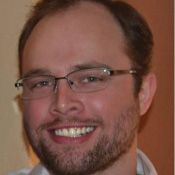 PhD student
Department
Plant and Soil Sciences
This email address is being protected from spambots. You need JavaScript enabled to view it.
Member of:
My Supervisor/s

Co Supervisor
Stoyan Stoychev
Background:
I started my undergraduate degree, BSc Biotechnology, at the University of Pretoria in 2008. In my final year my major subjects included Genetics and Biochemistry. Subjects from various other departments were also included, plant pathology, plant science and bioinformatics. I developed an interest in plant pathology, host-pathogen interactions. This lead me to become part of the mentorship programme in the MPPI (Molecular Plant-Pathogen Interaction) group with Dr. B.G. Crampton. Following the mentorship programme I enrolled for a BSc (Hons) Biotechnology in the department of Plant Science and completed the degree with distinction. As a result I was invited to become a member of the Golden Key International Honour Society.
Project Overview:
My Honours project focused on the devastating maize foliar disease, grey leaf spot (GLS). The causative agent of the disease is Cercospora zeina belonging to the Dothideomycetes class of ascomycete fungi. The project was structured around the functional characterisation of a gene that is a limiting factor in the fungal circadian clock. This proved to be the first successful gene disruption (using a split marker approach) in Cercospora zeina. 
In 2013 the scope of the above mentioned project was expanded for my MSc Biotechnology to include proteomic profiling of C. zeina infection at various stages of disease progression. The supervisors for this project are Dr. B.G. Crampton (main supervisor) and Prof. D.K. Berger (Co-supervisor). Currently there is no molecular knowledge on the infection process of the pathogen, and thus in collaboration with the other members of the CFPR group, I will be able to elucidate the molecular mechanism of infection for Cercospora zeina. Armed with this knowledge, new targeted control mechanisms can be developed to reduce the spread of GLS. 
Interests:
Other interests include Bio-entrepreneurship. I have a keen interest in the world of commercial science, particularly in taking products, ideas etc. from the laboratory to the public. This in itself is difficult as scientists do not often have the knowledge nor the experience in dealing with corporate businesses. As a first stepping stone towards managing biotechnology and business I completed a course with distinction in 'Bio-Business: From Science to Business' through UCT Graduate School of Business, in collaboration with XCell-Bioconsulting.
My Journal Articles
Export to RIS