Undergraduate
Applications of Plant Molecular Biology.
Topics: Plant traits are coded for by genes, Genetically modified crops in agriculture.
Responses of plants to biotic stress
Methods for Crop Genetic Modification
Application of Model Plants to Crop Biotechnology
Functional Genomics and Plant Transcriptomes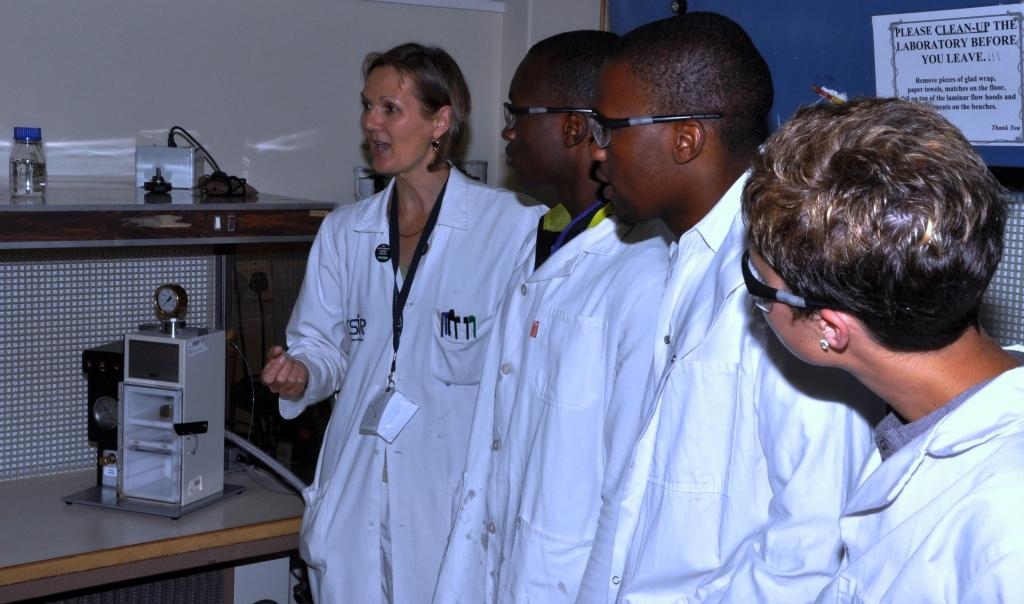 Dr. Maretha O'Kennedy, CSIR Biosciences, explaining "biolistics", a method for plant transformation using particle bombardment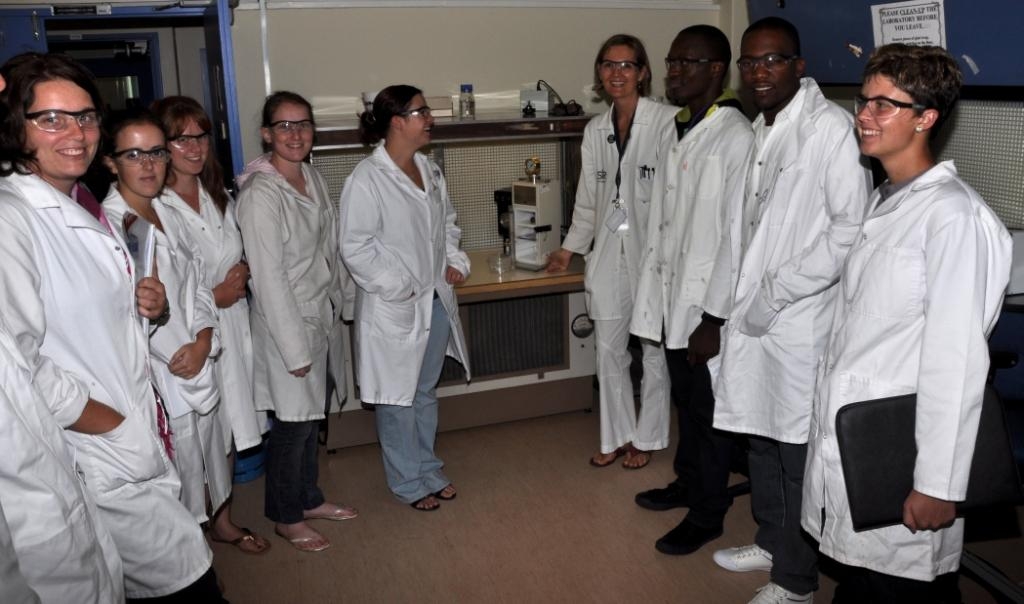 Third year undergraduate class members visiting the laboratories at CSIR Biosciences
---
Postgraduate (Honours)
An important component of the Honours degree in the Faculty of Natural and Agricultural Sciences in the RESEARCH PROJECT (50 credits out of 160 required). The choice of which Honours course to do is usually based on the courses offered plus choice of supervisor to do the Research Project.

Honours students interested in carrying out their Research Project in the "Molecular Plant-Pathogen Interactions" group under supervision of Prof. Dave Berger have three options:
Laboratory-based Honours projects:
Option 1: Honours (Plant Science, specializing in Plant Physiology and Biotechnology).

For more information on this Department of Plant Science course and to apply please go to this page
Option 2: Honours (Biotechnology, specializing in Plant Biotechnology)

This is an interdepartmental course (Plant Science, Genetics, Biochemistry, Microbiology and Plant Pathology) focused on molecular Biotechnology and includes exposure to issues related to commercialization of biotechnological inventions. For a description of the course please click here.

To apply please contact Lucille Hermann
Bioinformatics-based Honours projects:
For more information about the Bioinformatics Honours Degree at UP and how to apply please consult the Bioinformatics and Computational Biology Unit webpage Students interested in either of these three options for Honours should contact Prof Berger by email in September of their final Undergraduate year for information on Research Projects in the MPPI lab for their Honours year.