Dr Marc Bouwer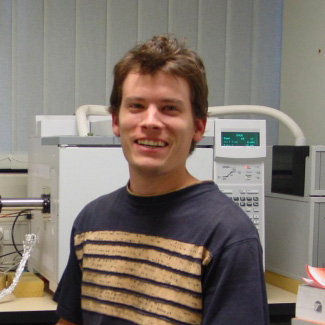 Postdoctoral Fellow

Department

Chemistry

Biosketch
Full CV

This email address is being protected from spambots. You need JavaScript enabled to view it.
Research Profiles
I received my BSc degree in Biochemistry in 2005. I completed my honors degree in chemical pathology in 2007 and my MSc degree in analytical chemistry in 2010. My PhD in analytical chemistry was completed in 2014 and was done in conjunction with FABI at the University of Pretoria.
My research interests are focused on the analysis of volatile organic compounds that are emitted by trees and insects. Many of these compounds serve as messenger molecules or semiochemicals that convey information both between different species and within species. The main goal of my research is to find and identify the compounds that are involved in these chemical messages. We are aiming to develop new pheromone formulations that are effective in trapping pest insects within the forestry industry of South Africa. The methods used in this type of analysis include thermal desorption, gas chromatography, electroantennography, mass spectrometry and behavioural assays within flight tunnels.
Talks
M.C. Bouwer, B. Slippers, M.J. Wingfield and E. Rohwer. Elucidating the sex pheromone of the lepidopteron pest, Coryphodema tristis. International chemistry conference of Africa, 8-12th July 2013
M.C. Bouwer, B. Slippers and E. Rohwer. Analysis of Female Gland Extracts of the Cossid Moth Coryphodema tristis. XVII Congress of the Entomological Society of Southern Africa, Bloemfontein, South Africa, 3-6th July, 2011.
M.C. Bouwer, B. Slippers, M.J. Wingfield and E. Rohwer. Identifying semiochemicals for insect pests in South African forestry. ASSAf-DST-NRF Second Annual South African Young Scientists' Conference, 26-28th September, 2011.
M.C. Bouwer. Identifying electrophysiologically relevant host semiochemical compounds for the Eucalyptus Snout Beetle by GC-MS. International Symposium Analitika, Stellenbosch, December, 2010.
M. Bouwer, B. Slippers, R. Nadel, M.J. Wingfield, Y. Naudé and E. Rohwer. Antennal responses of Gonipterus scutellatus to semiochemicals from Eucalyptus species. Sixteenth entomological congress, Entomological society of Southern Africa, Stellenbosch, 2009.
---
Posters
Bouwer MC, Slippers B, Aguirre Gil OJ, Allison JD, Plume structure of intercept traps for trapping Monochamus spp. (Coleoptera: Cerambycidae), International Society of Chemical Ecology, Kyoto, Japan, 23-27 Aug 2017
Bouwer MC, Slippers B, Wingfield MJ, Rohwer ER, Optimization of pheromone traps for Coryphodema tristis (Lepidoptera: Cossidae), Entomological society of Southern Africa, CSIR,Pretoria, South Africa, July 2017
Bouwer MC, Slippers B, Wingfield MJ, Rohwer ER, Identification of a sex pheromone in the Eucalyptus-infesting cossid moth, Coryphodema tristis. International Union of Pure and Applied Chemistry, BEXCO Busan, Korea, 9-14 Aug 2015
Bouwer MC, Slippers B, Wingfield MJ, Rohwer ER, Pheromone release rates and ratio's from an artificial pheromone dispenser for the Eucalyptus-infesting cossid moth, Coryphodema tristis, International Union of Forestry Research Organizations. Zhanjiang, Guangdong, China, 21-24 Oct 2015
Bouwer, M.C, Slippers, B, Wingfield, M.J, Rohwer, E.R. Identification of semiochemicals produced by Amylostereum areolatum for Ibalia leucospoides and Sirex noctilio. Entomological society of Southern Africa, Potchefstroom, June 2013
M.C. Bouwer, B. Slippers, M.J. Wingfield and E. Rohwer. Identification of pheromone compounds in Cossid moth Coryphodema tristis, a serious pest of Eucalyptus in South Africa. International Union of Forest Research Organizations, Colonia, Uruguay, 8-11th November 2011
M. Bouwer, R. Nadel, B. Slippers, M.J. Wingfield, Y. Naudé and E. Rohwer. Identification of semiochemical compounds from Eucalyptus detected by Gonipterus scutellatus, using GC-FID-electroantennography and GC-MS. Chromsaams Bela-Bela, South Africa, 2009
---
My Journal Articles
Export to RIS
Publication
Bouwer MC, Slippers B, Wingfield MJ, Allison JD, Rohwer ER. (2017) Optimization of Pheromone Traps for Coryphodema tristis (Lepidoptera: Cossidae) . Journal of Economic Entomology 110(4):1603-1610. 10.1093/jee/tox171

Bouwer MC, Slippers B, Degefu D, Wingfield MJ, Lawson S, Rohwer ER. (2015) Identification of the Sex Pheromone of the Tree Infesting Cossid Moth Coryphodema tristis (Lepidoptera: Cossidae). PLoS ONE 10:e0118575. 10.1371/journal.pone.0118575

Bouwer MC, Slippers B, Wingfield MJ, Rohwer ER. (2014) Chemical signatures affecting host choice in the Eucalyptus herbivore, Gonipterus sp. (Curculionidae: Coleoptera). Arthropod-Plant Interactions 8(5):439-451. 10.1007/s11829-014-9327-y