Dr Quentin Santana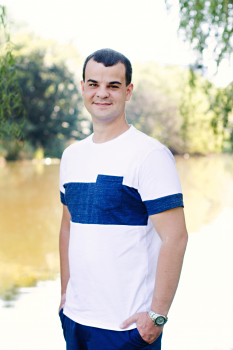 Research Fellow
Department
Biochemistry, Genetics and Microbiology
This email address is being protected from spambots. You need JavaScript enabled to view it.
Research Profiles
My Students
Doctoral Students
Masters Students
Background 
My training for my post-graduate degrees was on the population biology and genomic characterization of the pine pathogen Fusarium circinatum, also known as the pitch canker fungus. My work showed that F. circinatum found in pine plantations in South Africa was introduced multiple times but still was linked to original outbreaks in pine nurseries. As part of my research, I was involved in the first whole-genome sequencing project of a fungus in Africa, that of F. circinatum. My work improved on the original genome assembly and described the characteristics that shaped the evolution of this pathogen. 
Post-doctoral research 
As a Research Fellow at the Forestry and Agricultural Biotechnology Institute, my research investigates the evolutionary biology of the pitch canker fungus as part of the TPCP and CPHB research programs. 
My research interests are in: 
Female fertility in fungi
RNA interference 
Vegetative incompatibility 
Local adaptation 
Pathogenicity 
I am also a member of the new Grain Research Programme. An exciting new initiative to provide world-class research and support to the agricultural industry in South Africa. My role is in the development and coordination of new data technologies that will support the research and services of the GRP. 
Innovation Africa 
Furthermore, I am involved in the development of a data warehouse and analytics platform as part of the Innovation Africa @ UP initiative. The intent to form a centralised point for researchers and practitioners in agriculture and forestry to manage and connect their information databases, to seek interconnections as well as to optimize the power of analysing data. This project looks at the intersection between data science, biotechnology, and sensor technologies to help forestry and agriculture in South Africa and eventually further into Africa. 
My Journal Articles
Export to RIS
Publication
Maphosa M, Steenkamp ET, Kanzi A, van Wyk S, De Vos L, Santana QC, Duong AT, Wingfield BD. (2022) Intra-species genomic variation in the pine pathogen Fusarium circinatum. Preprints 2022040298 10.20944/preprints202204.0298.v1

Duong AT, Aylward J, Ametrano CG, Poudel E, Santana QC, Wilken PM, Martin A, Arun-Chinnappa KS, De Vos L, DiStefano I, Grewe F, Huhndorf S, Lumbsch HT, Rakoma JR, Steenkamp ET, Sun Y, van der Nest MA, Wingfield MJ, Yilmaz N, Wingfield BD. (2021) Draft genome assembly of Fusarium pilosicola, Meredithiella fracta, Niebla homalea, Pyrenophora teres hybrid WAC10721, and Teratosphaeria viscida. IMA Fungus 12(1):30. 10.1186/s43008-021-00077-9

van der Nest MA, Chávez R, De Vos L, Duong TA, Gil-Durán C, Ferreira MA, Lane FA, Levicán G, Santana QC, Steenkamp ET, Suzuki H, Tello M, Rakoma JR, Vaca I, Valdés N, Wilken PM, Wingfield MJ, Wingfield BD. (2021) Draft genome sequences of Penicillium roqueforti, Fusarium sororula, Chrysoporthe puriensis, and Chalaropsis populi. IMA Fungus 12:5. 10.1186/s43008-021-00055-1

Coetzee MPA, Santana QC, Steenkamp ET, Wingfield BD, Wingfield MJ. (2020) Fungal genomes enhance our understanding of the pathogens affecting trees cultivated in Southern Hemisphere plantations. Southern Forests: a Journal of Forest Science 82(3) 10.2989/20702620.2020.1819153

van Wyk S, Wingfield BD, De Vos L, van der Merwe NA, Santana QC, Steenkamp ET. (2019) Repeat-Induced Point Mutations Drive Divergence between Fusarium circinatum and Its Close Relatives. Pathogens 8(298):1-21. 10.3390/pathogens8040298

Palmer M, Venter SN, McTaggart AR, Coetzee MPA, Van Wyk S, Avontuur JR, Beukes CW, Fourie G, Santana QC, Van der Nest MA, Blom J, Steenkamp ET. (2019) The synergistic effect of concatenation in phylogenomics: the case in Pantoea. PeerJ 10.7717/peerj.6698

van der Nest MA, Wingfield MJ, McTaggart AR, Van Wyk S, De Vos L, Trollip C, Santana QC, Naidoo K, Dong TA, Wilken PM, Chan W-Y, Palmer M, Soal NA, Roodt D, Steenkamp ET, Wingfield BD. (2019) Genomic analysis of the aggressive tree pathogen Ceratocystis albifundus. Fungal Biology 10.1016/j.funbio.2019.02.002

Wingfield BD, Kolarik M, Menzies JG, Naidoo K, Pochopski O, Shoukouhi P, Santana QC, Seifert KA, Soal NA, Steenkamp ET, Tatham CT, Van der Nest MA, Havenga M, Findlay W, Liu M, Nguyen HDT, Lane FA, Morgan SW, De Vos L, Wilken PM, Doung TA, Aylward J, Coetzee MPA, Dadej K, De Beer ZW, Wingfield MJ. (2018) Nine draft genome sequences of Claviceps purpurea s.lat., including C. arundinis, C. humidiphila, and C. cf. spartinae, pseudomolecules for the pitch canker pathogen Fusarium circinatum, draft genome of Davidsoniella eucalypti, Grosmannia galeiformis, Quambalaria eucalypti, and Teratosphaeria destructans. IMA Fungus 9(2):401-418. 10.5598/imafungus.2018.09.02.10

Van Wyk S, Wingfield BD, De Vos L, Santana QC, Van der Merwe N, Steenkamp ET. (2018) Multiple independent origins for a subtelomeric locus associated with growth rate in Fusarium circinatum. IMA Fungus 9(1):27-36. 10.5598/imafungus.2018.09.01.03

Phasha MM, Wingfield BD, Coetzee MPA, Santana QC, Fourie G, Steenkamp ET. (2017) Architecture and distribution of introns in core genes of four Fusarium species. G3: Genes|Genomes|Genetics 7(11):3809-3820. 10.1534/g3.117.300344

Fru FF, Emma Steenkamp, Michael J. Wingfield, Santana QC , Roux J. (2017) Unique clones of the pitch canker fungus, Fusarium circinatum, associated with a new disease outbreak in South Africa. European Journal of Plant Pathology 148(1):97-107. 10.1007/s10658-016-1073-9

Wingfield BD, Ambler JM, Coetzee MPA, De Beer ZW, Duong TA, Joubert F, Hammerbacher A, McTaggart AR, Naidoo K, Nguyen HDT, Ponomareva E, Santana QS, Seifert KA, Steenkamp ET, Trollip C, Van der Nest MA, Visagie CM, Wilken PM, Wingfield MJ, Yilmaz N. (2016) IMA Genome-F 6: Draft genome sequences of Armillaria fuscipes, Ceratocystiopsis minuta, Ceratocystis adiposa, Endoconidiophora laricicola, E. polonica and Penicillium freii DAOMC 242723. IMA Fungus 7(1):217-227. 10.5598/imafungus.2016.07.01.11

Santana QC, Coetzee MPA, Wingfield BD, Wingfield MJ, Steenkamp ET. (2016) Nursery linked plantation‐outbreaks and evidence for multiple introductions of the pitch canker pathogen Fusarium circinatum into South Africa. Plant Pathology 65:357–368. 10.1111/ppa.12437

Wingfield BD, Barnes I, De Beer ZW, De Vos L, Duong TA, Kanzi AM, Naidoo K, Nguyen HDT, Santana QC, Sayari M, Seifert KA, Steenkamp ET, Trollip C, Van der Merwe N, Van der Nest MA, Wilken PM, Wingfield MJ. (2015) Draft genome sequences of Ceratocystis eucalypticola, Chrysoporthe cubensis, C. deuterocubensis, Davidsoniella virescens, Fusarium temperatum, Graphilbum fragrans, Penicillium nordicum, and Thielaviopsis musarum. IMA Fungus 6(2):493-506. 10.5598/imafungus.2015.06.02.13

Wingfield BD, Ades PK, Al-Naemi FA, Beirn LA, Bihon W, Crouch JA, De Beer ZW, De Vos L, Duong TA, Fields CJ, Fourie G, Kanzi AM, Malapi-Wight M, Pethybridge SJ, Radwan O, Rendon G, Slippers B, Santana QC, Steenkamp ET, Taylor PWJ, Vaghefi N, Van der Merwe NA, Veltri D, Wingfield MJ. (2015) IMA Genome-F 4. Draft genome sequences of Chrysoporthe austroafricana, Diplodia scrobiculata, Fusarium nygamai, Leptographium lundbergii, Limonomyces culmigenus, Stagonosporopsis tanaceti, and Thielaviopsis punctulata. IMA Fungus 6(1):233-248. 10.5598/imafungus.2015.06.01.15

Van der Nest MA, Beirn LA, Crouch JA, Demers JE, De Beer ZW, De Vos L, Gordon TR, Moncalvo JM, Naidoo K, Sanchez-Ramirez S, Roodt D, Santana QC, Slinksi SL, Stata M, Taerum SJ, Wilken PM, Wilson AM, Wingfield MJ, Wingfield BD. (2014) Draft genomes of Amanita jacksonii, Ceratocystis albifundus, Fusarium circinatum, Huntiella omanensis, Leptographium procerum, Rutstroemia sydowiana, and Sclerotinia echinophila. IMA Fungus 5(2):473-486. 10.5598/imafungus.2014.05.02.11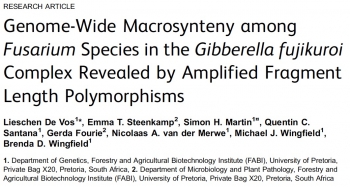 De Vos L, Steenkamp ET, Martin SH, Santana QC, Fourie G, Van der Merwe NA, Wingfield MJ, Wingfied BD. (2014) Genome-wide macrosynteny among Fusarium species in the Gibberella fujikuroi complex revealed by amplified fragment length polymorphisms. PLoS ONE 9(12):e114682. 10.1371/journal.pone.0114682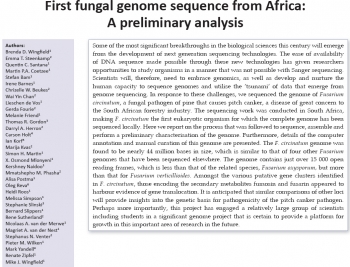 Wingfield BD, Steenkamp ET, Santana QC, Coetzee MPA, Bam S, Barnes I, Beukes CW, Chane W-Y, de Vos L, Fourie G, Friend M, Gordon TR, Herron DA, Holt C, Korf I, Kvas M, Martin SH, Mlonyeni XO, Naidoo K, Phasha MM, Postma A, Reva O, Roos H, Simpson M, Slinski S, Slippers B, Sutherland R, van der Merwe NA, van der Nest MA, Venter SNV, Wilken PM, Yandell M, Zipfel R, Wingfield MJ. (2012) First fungal genome sequence from Africa: a preliminary analysis. South African Journal of Science 108:104-122. 10.4102/sajs.v108i1/2.537

Santana QC, Coetzee MPA, Steenkamp ET, Mlonyeni OX, Hammond GNA, Wingfield MJ, Wingfield BD. (2009) Microsatellite discovery by deep sequencing of enriched genomic libraries. BioTechniques 46:217-223. 10.2144/000113085