Dr Stephanie van Wyk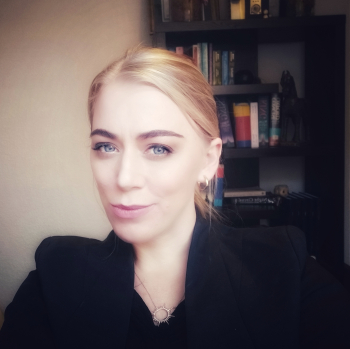 Postdoctoral Fellow
Department
Biochemistry, Genetics and Microbiology
This email address is being protected from spambots. You need JavaScript enabled to view it.
My Files
My Links
"Genetic variation is the stuff of evolution…" Taylor et al. 2017
My research interest lies in evolutionary genomics of fungi. Amongst the various sources of genetic variation, I am particularly interested in the study of the cumulative influence of the genetic changes brought about by the Repeat-Induced Point (RIP) mutation process. I have recently (2020) completed my PhD here at FABI. This project specifically focused on the manner that RIP can bring about localized genetic changes but also on how RIP contributes to genome evolution. The genetic variation introduced via RIP often serves as a source of genetic variation for fungi and effects the genetic material directing host-pathogen interactions.
Many fungi of agricultural and economic importance are susceptible to these mutations. In my research I set out to optimize and automate methods to identifying RIP in these plant pathogenic fungi. A major output of my research efforts was the development of The RIPper. This program includes a set of software tools specifically designed to study RIP in a genome-wide context. This tool has proven useful to study the manner that RIP can bring about changes in the pine pitch canker pathogen, Fusarium circinatum. Data generated in this research will ultimately serve as a valuable piece of the puzzle to understand how fungi overcome plant host resistance.
Using bioinformatics, I am KEEPING TREES HEALTHY!
News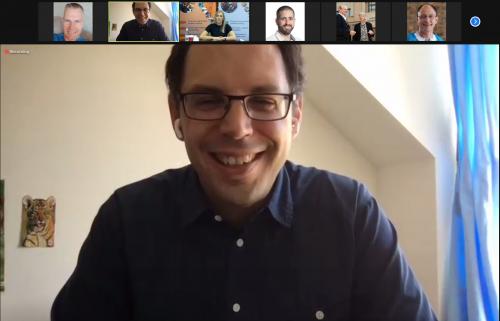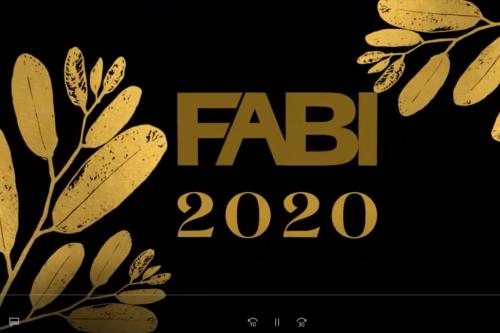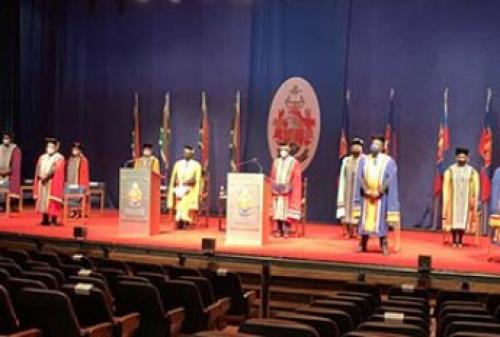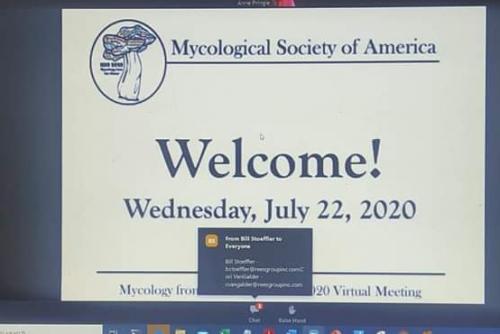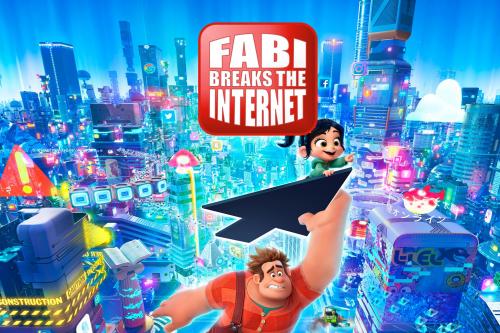 FABIans uphold SPOOF tradition with an historic virtual meeting
For the first time in its 23-year history, FABI hosted a virtual Society for the Presentation of Outrageous Findings (SPOOF) event on 17 July. FABIans submitted nine pre-recorded videos, which in the spirit of the time, reflected the lighter moments of a nation under lockdown. The Gene Jockeys took the prize for the Best Abstract (with the subliminal message "Vote for us. FABI Director Prof.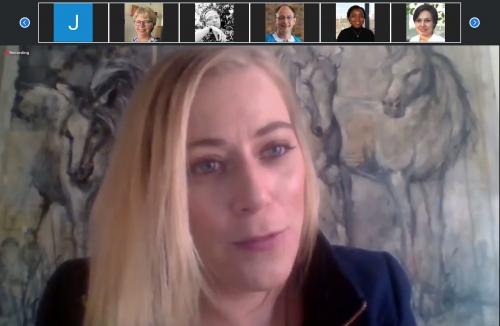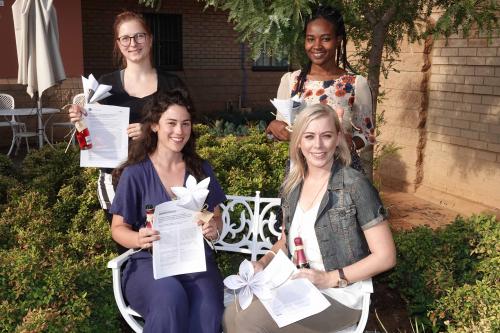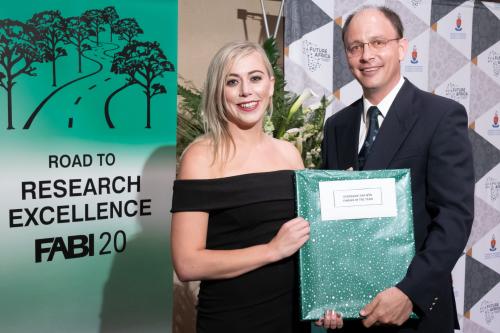 FABIans celebrate the end of a fruitful year at the Institute's year-end function and awards ceremony
FABI Director Prof. Guests included Vice-Principal for Research and Postgraduate Education at UP Prof. In his address, Prof. Dr Irene Barnes presented a number of awards on the night, with the premium award, FABIan of the Year going to PhD student Stephanie van Wyk. In the new category, Best Postdoctoral Fellow, two awards were given to Dr Marc Bouwer and Dr Victoria Maloney. For their creativity,Prof. Prof.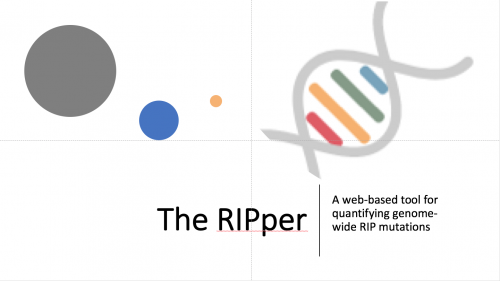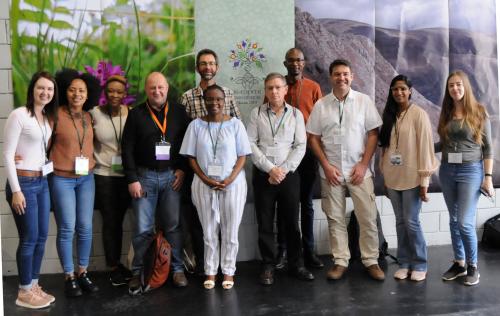 My Journal Articles
Export to RIS
Publication
van Wyk S, Wingfield B, De Vos L, van der Merwe A, Steenkamp E. (2021) Genome-Wide Analyses of Repeat-Induced Point Mutations in the Ascomycota. Frontiers in Microbiology 11(Article 622368):1-17. 10.3389/fmicb.2020.622368

van Wyk S, Wingfield BD, De Vos L, van der Merwe NA, Santana QC, Steenkamp ET. (2019) Repeat-Induced Point Mutations Drive Divergence between Fusarium circinatum and Its Close Relatives. Pathogens 8(298):1-21. 10.3390/pathogens8040298

van Wyk S, Harrison CH, Wingfield BD, De Vos L, van der Merwe NA, Steenkamp ET. (2019) The RIPper, a web-based tool for genome-wide quantification of Repeat-Induced Point (RIP) mutations. PeerJ 7:e7447. 10.7717/peerj.7447

Palmer M, Venter SN, McTaggart AR, Coetzee MPA, Van Wyk S, Avontuur JR, Beukes CW, Fourie G, Santana QC, Van der Nest MA, Blom J, Steenkamp ET. (2019) The synergistic effect of concatenation in phylogenomics: the case in Pantoea. PeerJ 10.7717/peerj.6698

van der Nest MA, Wingfield MJ, McTaggart AR, Van Wyk S, De Vos L, Trollip C, Santana QC, Naidoo K, Dong TA, Wilken PM, Chan W-Y, Palmer M, Soal NA, Roodt D, Steenkamp ET, Wingfield BD. (2019) Genomic analysis of the aggressive tree pathogen Ceratocystis albifundus. Fungal Biology 10.1016/j.funbio.2019.02.002

Wingfield BD, Bills GF, Dong Y, Huang W, Nel WJ, Swalarsk-Parry BS, Vaghefi N, Wilken PM, An Z, de Beer ZW, De Vos L, Chen L, Duong TA, Gao Y, Hammerbacher A, Kikkert JR, Li Y, Li H, Li K, Li Q, Liu X, Ma X, Naidoo K, Pethybridge SJ, Sun J, Steenkamp ET, van der Nest M, van Wyk S, Wingfield MJ, Xiong C, Yue Q, Zhang X. (2018) IMA Genome-F 9 Draft genome sequence of Annulohypoxylon stygium, Aspergillus mulundensis, Berkeleyomyces basicola (syn. Thielaviopsis basicola), Ceratocystis smalleyi, two Cercospora beticola strains, Coleophoma cylindrospora, Fusarium fracticaudum, Phialophora cf. hyalina, and Morchella septimelata. IMA Fungus 9(1):199-223. 10.5598/imafungus.2018.09.01.13

Van Wyk S, Wingfield BD, De Vos L, Santana QC, Van der Merwe N, Steenkamp ET. (2018) Multiple independent origins for a subtelomeric locus associated with growth rate in Fusarium circinatum. IMA Fungus 9(1):27-36. 10.5598/imafungus.2018.09.01.03

Wingfield BD, Berger DK, Steenkamp ET, Lim H-J, Duong TA, Bluhm BH, De Beer ZW, De Vos L, Fourie G, Naidoo K, Olivier NA, Lin Y, Van der Peer Y, Joubert F, Crampton BG, Swart V, Soal N, Tatham C, Van der Nest MA, Van der Merwe NA, Van Wyk S, Wilken PM, Wingfield MJ. (2017) IMA Genome-F 8 Draft genome of Cercospora zeina, Fusarium pininemorale, Hawksworthiomyces lignivorus, Huntiella decipiens and Ophiostoma ips. IMA Fungus 8 (2):385‑396. 10.5598/imafungus.2017.08.02.10