Ms Stephanie van Wyk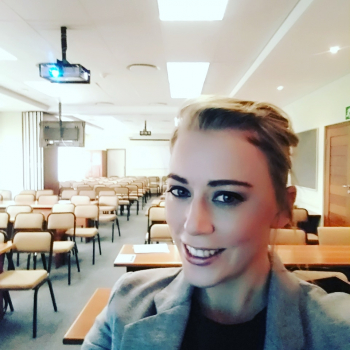 PhD student
Department
Biochemistry, Genetics and Microbiology
This email address is being protected from spambots. You need JavaScript enabled to view it.
My Supervisor/s
My Files
My Links
My primary field of study focuses on the microbiology and genetics of agricultural important pathogens. My research objective is to understand the genomic and molecular mechanisms driving speciation and complex phenotypic traits between closely related organisms.
Aspects of my research included using genome sequencing and bioinformatics analyses to study global trends in plant pathogens. My research focus lies in determining the exact genetic and genomic determinants driving speciation and evolution of plant pathogenic fungi. My current project is concerned at elucidating patterns of genome defence mechanisms on the pathogenic lineage known as the Fusarium fujikuroi species complex. These fungi are pathogens of staple foods such as maize, corn, and rice and also threaten other economically important South African industries relying on pine and mango trees. 
My current research focus is on understanding the Repeat-Induced Point (RIP) mutation pathway in Fusarium lineages. To this end I have developed a method that allows for genome-wide quantification RIP mutations and provide a RIP profile for sequenced fungal genome representatives. 
News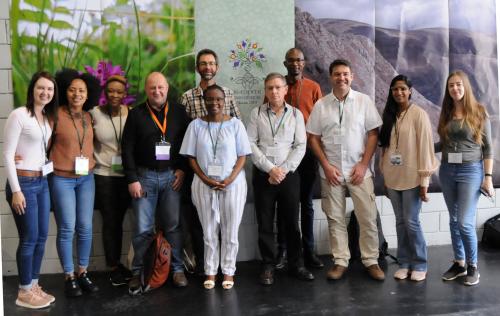 My Journal Articles
Export to RIS
Publication
van Wyk S, Harrison CH, Wingfield BD, De Vos L, van der Merwe NA, Steenkamp ET. (2019) The RIPper, a web-based tool for genome-wide quantification of Repeat-Induced Point (RIP) mutations. PeerJ 7:e7447. 10.7717/peerj.7447

Palmer M, Venter SN, McTaggart AR, Coetzee MPA, Van Wyk S, Avontuur JR, Beukes CW, Fourie G, Santana QC, Van der Nest MA, Blom J, Steenkamp ET. (2019) The synergistic effect of concatenation in phylogenomics: the case in Pantoea. PeerJ 10.7717/peerj.6698

van der Nest MA, Wingfield MJ, McTaggart AR, Van Wyk S, De Vos L, Trollip C, Santana QC, Naidoo K, Dong TA, Wilken PM, Chan W-Y, Palmer M, Soal NA, Roodt D, Steenkamp ET, Wingfield BD. (2019) Genomic analysis of the aggressive tree pathogen Ceratocystis albifundus. Fungal Biology 10.1016/j.funbio.2019.02.002

Wingfield BD, Bills GF, Dong Y, Huang W, Nel WJ, Swalarsk-Parry BS, Vaghefi N, Wilken PM, An Z, de Beer ZW, De Vos L, Chen L, Duong TA, Gao Y, Hammerbacher A, Kikkert JR, Li Y, Li H, Li K, Li Q, Liu X, Ma X, Naidoo K, Pethybridge SJ, Sun J, Steenkamp ET, van der Nest M, van Wyk S, Wingfield MJ, Xiong C, Yue Q, Zhang X. (2018) IMA Genome-F 9 Draft genome sequence of Annulohypoxylon stygium, Aspergillus mulundensis, Berkeleyomyces basicola (syn. Thielaviopsis basicola), Ceratocystis smalleyi, two Cercospora beticola strains, Coleophoma cylindrospora, Fusarium fracticaudum, Phialophora cf. hyalina, and Morchella septimelata. IMA Fungus 9(1):199-223. 10.5598/imafungus.2018.09.01.13

Van Wyk S, Wingfield BD, De Vos L, Santana QC, Van der Merwe N, Steenkamp ET. (2018) Multiple independent origins for a subtelomeric locus associated with growth rate in Fusarium circinatum. IMA Fungus 9(1):27-36. 10.5598/imafungus.2018.09.01.03

Wingfield BD, Berger DK, Steenkamp ET, Lim H-J, Duong TA, Bluhm BH, De Beer ZW, De Vos L, Fourie G, Naidoo K, Olivier NA, Lin Y, Van der Peer Y, Joubert F, Crampton BG, Swart V, Soal N, Tatham C, Van der Nest MA, Van der Merwe NA, Van Wyk S, Wilken PM, Wingfield MJ. (2017) IMA Genome-F 8 Draft genome of Cercospora zeina, Fusarium pininemorale, Hawksworthiomyces lignivorus, Huntiella decipiens and Ophiostoma ips. IMA Fungus 8 (2):385‑396. 10.5598/imafungus.2017.08.02.10