Dr Maria Vivas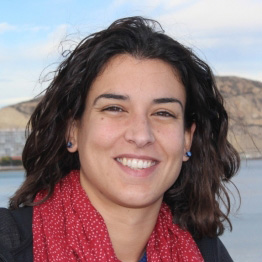 Postdoctoral Fellow
Department
Biochemistry, Genetics and Microbiology
This email address is being protected from spambots. You need JavaScript enabled to view it.
Member of:
Research Profiles
The maternal environmental effect is caused when the phenotype of a plant is shaped by the biotic and abiotic conditions to which its parents are subjected, regardless of DNA mutations. If we want to harness the full productive potential of a tree, we need to understand maternal environmental effects. My research targets that challenge – I study whether maternal environments strongly differing in biotic and abiotic characteristics have any influence on seedling performance, resistance and fungal communities in the foliage. I work on Eucalyptus grandis trees because Eucalyptus species are amongst the most widely utilized trees for the establishment of plantations globally. If we learn to what extent maternal environment influences its progenies, we may be able to optimise tree improvement in a changing environment.
My previous research was focused to provide a better understanding of how to better manage pitch canker disease on Pinus pinaster. This study included the evaluation of genetic and environmental variability of P. pinaster susceptibility to the pathogen fungus Fusarium circinatum. And, the assessment of the influence that environmental maternal effects have on these susceptibility patterns. Moreover, I have been involved in different projects that highlighted that opposed to seeing Phytophthora cinnamomi as the primary cause of the oak decline in southwestern Spain, there is a complex suite of soil traits that also needs to be taken into account to understand die-back. 
My Book Chapters
Export to RIS
Book Chapters
Vivas M, Cubera E, Moreno G, Solla A. 2008. The decline of Quercus ilex and Q. suber in the Iberian Peninsula. In: Agroforestry systems as a technique for sustainable land management. Mosquera-losada MR, Rigueiro-Rodriguez A. (eds). Agencia Española de Cooperación Internacional, pp 225-233.

My Journal Articles
Export to RIS
Publication
Bose T, Wingfield MJ, Roux J, Vivas M, Burgess TI. (2018) Community composition and distribution of Phytophthora species across adjacent native and non-native forests of South Africa. Fungal Ecology 36:17-25. 10.1016/j.funeco.2018.09.001https://www.sciencedirect.com/science/article/pii/S1754504818301740

Vivas M, Crous CJ, Dames JF, van der Linde JA, Coetzee MPA, Roux J. (2018) Arbuscular mycorrhizal fungi persist in dying Euphorbia ingens trees. South African Journal of Botany 115:12-17. 10.1016/j.sajb.2017.12.009

Tchotet Tchoumi JM, Coetzee MPA, Vivas M, Rajchenberg M, Roux J. (2017) Wood-rotting basidiomycetes associated with declining native trees in timber-harvesting compartments of the Garden Route National Park of South Africa. Austral Ecology 42:947-963. 10.1111/aec.12524

Vivas M, Kemler M, Mphahlele MM, Wingfield MJ, Slippers B. (2017) Maternal effects on phenotype, resistance and the structuring of fungal communities in Eucalyptus grandis. Environmental and Experimental Botany 140:120-127. 10.1016/j.envexpbot.2017.06.002

Tchotet Tchoumi JM, Vivas M, Coetzee MPA, Rajchenberg M, Roux J. (2017) Wood-rotting Basidiomycetes associated with declining native trees in the Garden Route National Park (GRNP) of South Africa. South African Journal of Botany 10.1016/j.sajb.2017.01.183

Vivas M, Kemler M, Slippers B. (2015) Maternal effects on tree phenotypes: considering the microbiome. Trends in Plant Science 20(9):541–544. 10.1016/j.tplants.2015.06.002

Corcobado T, Vivas M, Moreno G, Solla A. (2014) Ectomycorrhizal symbiosis in declining and non-declining Quercus ilex. Forest Ecology and Management 324:72-80. 10.1016/j.foreco.2014.03.040

Vivas M, Nunes C, Coimbra MA, Solla A. (2014) Maternal effects and carbohydrate changes of Pinus pinaster after inoculation with Fusarium circinatum. Trees 28(2):373-379. 10.1007/s00468-013-0955-0

Vivas M, Nunes C, Coimbra MA, Solla A. (2014) Antioxidant activity of Pinus pinaster infected with Fusarium circinatum is influenced by maternal effects. Forest Pathology 44(4):337-340. 10.1111/efp.12111

Vivas M, Zas R, Sampedro L, Solla A. (2013) Environmental Maternal Effects Mediate the Resistance of Maritime Pine to Biotic Stress. PLoS ONE 8(7):e70148. 10.1371/journal.pone.0070148

Vivas M, Martin JA, Gil L, Solla A. (2012) Evaluating methyl jasmonate for induction of resistance to Fusarium oxysporum, F. circinatum and Ophiostoma novo-ulmi. Forest Systems 21(2):289-299. 10.5424/fs/2012212-02172

Vivas M, Zas R, Solla A. (2012) Screening of Maritime pine (Pinus pinaster) for resistance to Fusarium circinatum, the causal agent of Pitch Canker disease. Forestry 85(2):185-192. 10.1093/forestry/cpr055

Vivas M, Solla A. (2012) Aplicaciones de BABA y BTH en brinzales de Pinus pinaster para la inducción de resistencia ante Fusarium circinatum. Cuadernos de la Sociedad Española de Ciencias Forestales 36:55-60.