Ms Onke Gayiya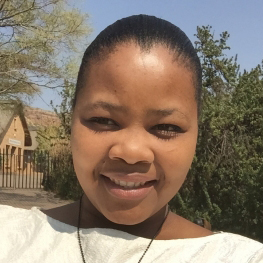 Department
FABI
This email address is being protected from spambots. You need JavaScript enabled to view it.
I started working at FABI in September 2015, working with Michelle Schroder on her Gonipterus scutellatus research , and I am based at the FABI Biocontrol Centre on the experimental farm.

I have studied Environmental Management and Science and I am currently doing Ornamental Horticulture, which focuses on the growth and marketing of ornamental plants, flowers, fruits and vegetables. In Horticulture I am more focused at being a plant breeder. With plant breeding I think that's where I will be able to express myself using my wildest imagination in creating something out of this world. Just by thinking of nature, it deals with a very wide range of topics and they all go together you never find one without the other, you will always find plants with insects or animals around it.

The insects that I work with are very fascinating their life cycle is amazing. For the past three years I worked with plants and insects and my main focus was on plants, and now I have turned things around I work with insects and plants and my main focus is on insects.

It is very interesting for me to be working on the Gonipterus research, as I am learning new things every day and I have grown very fond to these insects. On this job I get to grow both the plants and the insects, as this is part of the life cycle of the Gonipterus.

Just the thought of waking up and knowing that I am on my way to making a difference out there gives me the greatest joy.
Interests
I am very much interested in doing a research project in plant breeding of cut flowers and crops; and also researching on the anatomy of the Lepidoptera family butterflies and moths.
---
Books
Environment: An Interdisciplinary Anthology
Plants of Southern Africa: an annotated check list
---