Ms Shannon Wilson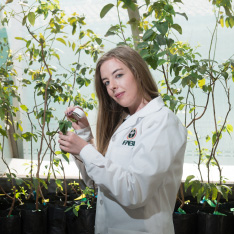 MSc student
Department
FABI
This email address is being protected from spambots. You need JavaScript enabled to view it.
My Supervisor/s
I have been part of FABI since my second year of undergraduate studies, as a mentorship student, this is where my love for plant pathology research was founded. As I completed my Bsc Biotechnology degree I wanted to integrate fungi, plants and genetics in my postgraduate studies. 
Recently, I finished my Honours degree looking at the systemic defence responses of Eucalyptus grandis to Chrysoporthe austroafricana, a stem canker pathogen of South Africa. In my masters I intend to validate the long-term role of phytohormones in response to C. austroafricana in tolerant (TAG5) and susceptible (ZG14) E. grandis clones. Based on previous RNA sequencing at 3 days post inoculation (dpi) it is suspected that a limited role of Systemic Acquired Resistance (SAR) is responsible for moderate resistance. We hope to clarify the role of SAR at the gene and secondary metabolite levels as well as assessing these induced responses in response to a secondary pathogen challenge of systemic sites distal to the site of infection. 
Should this response be validated over a a time-course of infection it provides a platform for investigating defence in woody angiosperms. Furthermore identification of crucial E. grandis responses may provide a biotechnological platform for creating broad spectrum, long lasting resistance in eucalyptus plantations.