Dr Vuyiswa Bushula-Njah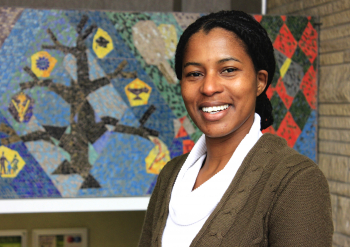 Postdoctoral Fellow

Department

FABI

Full CV

This email address is being protected from spambots. You need JavaScript enabled to view it.
I completed my PhD in Plant Pathology at Kansas State University (USA) in 2017 under the supervision of Dr. Christopher Little and Dr. John Leslie. My PhD research focused on understanding the genetic diversity and pathogenicity of sorghum-associated Fusarium species, namely F. thapsinum and F. andiyazi.
I am currently a postdoctoral fellow in the Forestry and Agricultural Biotechnology Institute (FABI). My research interests are genomics, population genetics, species evolution, life cycle definitions, and pathogenicity of mutually interesting Fusarium species. My postdoctoral research focuses on investigating the vascular wilt disease of coffee [Coffea arabica and C. canephora] caused by F. xylarioides.
My Journal Articles
Export to RIS
Publication
Wingfield BD, van Heerden CJ, van der Nest MA, Steenkamp ET, Roets F, Geiser DM, Duong TA, Dreyer LL, Coetzee MPA, Barnes I, Aylward J, Bushula-Njah VS, Simpson MC, Fourie A, Wingfield MJ. (2019) Draft genome sequences of Fusarium xylarioides, Teratosphaeria gauchensis and T. zuluensis and genome annotation for Ceratocystis fimbriata. IMA Fungus 10(13) 10.1186/s43008-019-0013-7