Ms Elisa Pal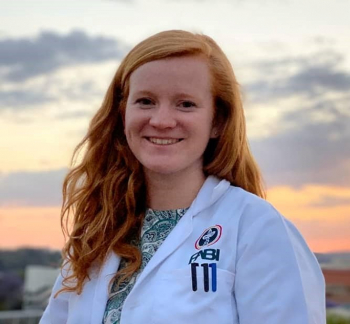 PhD student

Department

FABI

Full CV

This email address is being protected from spambots. You need JavaScript enabled to view it.
Research Profiles
My Supervisor/s
My PhD project
I joined FABI in October 2018 under the supervision of Dr. Gerda Fourie, Prof. Brett Hurley and Prof. Bernard Slippers. My research is focused on the biology, ecology and management of Bathycoelia distincta(The two-spotted stink bug; Pentatomidae) associated with the macadamia orchards in South Africa. My project is part of the macadamia protection research program in collaboration with the Southern African Macadamia Grower's Association (SAMAC) (link).

The macadamia industry in South Africa is affected by a complex of stink bug species represented by the Coreidae and Pentatomidae families. They are responsible for R50 million worth of crop loses on the macadamia every year. Among them, the most dominant and damaging is Bathycoelia distincta. Currently, pesticide spraying schemes have been implanted by the industry. However, the application is limited by the configuration of the macadamia trees (density and height) and by the build-up of resistance towards the pesticides.
Thus, this thesis was developed to study B. distincta. The first objective of this thesis is to gain information about the population structure of B. natalicola in South Africa to understand the movement of this insect. In view of the management practises against the pest, a study on the pesticide resistances will be conducted on the bugs. Finally, the chemical ecology of B. natalicola will be studied to propose another option of control management with the semiochemicals.
My Background

Education
Master in Environmental toxicology at the University of Angers (France)

My master was focused on the toxicological impact of xenoboitics.

During my first year, I did an internship at LPG-BIAF institute (link) (Angers, France) under the supervision of Prof. Geslin Emmanuelle. I studied the ecotoxicological quality of marine waters, and I presented my results with a poster in an international congress in Nantes (France).
I realised my second internship at the INRA of Avignon, in the Bees & Environment unit (link), under the supervision of Dr. Belzunces Luc. My study was focused on the physiological alterations by a mixture of pesticides on the honey bees. I conducted a chronic toxicity tests, a different analyses on the detoxification system coupled to histological observations.
University Research Diploma at the

National Polytechnique Institute of Toulouse (France)
I realised a University Research Diploma after my master at the National Polytechnique Institute of Toulouse, in EcoLab (link). For 6 months, I studied the ecotoxicity impact of micropollutants present in wastewaters. I conducted this study using an ecotoxicological approach (toxicology and genotoxicology assay) in two aquatic organisms: Chironomus riparius and Xenopus laevis.
Technical University Diploma of Environmental Biology at the University of Caen (France)
It's with this diploma that I discovered the entomology world in integrate the Entomology and Mediterranean forests Unit in Avignon (link) (INRA, France) for my first internship with the Dr. Lavoir Anne-Violette and the Dr. Martin J.C. I tested the naturally repulsive plant against the Gypsy moth. My results that permit to publish my first research article and to present in an international congress with an oral communication.
Professional experience

After my master's degree, I worked in the Entomology and Mediterranean forests Unit (link) like engineer. My mission consisted in the development of control methods against lepidopteran forest pests in the south of France. For that, I managed and monitored the different experiments in forests in the objective to propose different sustainable solutions for the environment.
My publications and oral communications
Publications
Pal E

, 

Hurley BP

, 

Slippers B

, 

Fourie G

. (2020) Progress towards characterisation of pheromones of Bathycoelia distincta. SAMAC Journal 
E. Tabone, M. Venard, E. Colombel, E. Pal et J.-C. Martin (2018).

La science participative traque le papillon palmivore

. Phytoma, Juillet 2018 (715), 20-23.
E. Pal

et al. (2018). Processionnaire du pin : un traitement bille en tête. Phytoma, Juillet 2018 (715), 28-33.
E. Pal

et al. (2017).

Processionnaire du pin : le piégeage se perfectionne.

Phytoma, décembre 2017 (709), 26-29.
E. Pal

et al. (2014).

Testing naturally repulsive plant species against Gypsy moth attacks.

IOBC-WPRS Bulletin, 101, 213-220.
Posters
E. Pal

et al. (2019). How do you preserve the macadamia nuts in South Africa from stink bugs? French-South African Science and Innovation Days, Pretoria, December 2019.

E. Pal

et al. (2016).

Benthic foraminifera: A tool for assess ecological quality of marine waters.

Meeting OCEANEXT, Nantes, France, June 2016.
Oral communication
E. Pal et al., Testing the anti-feedant or repulsive potential of some hardwood trees against Gypsy moth attacks. 7th meeting of OIBC-WPRS on the integrated protection of oak trees, L'Isle-sur-la-Sorgue, France, October 2013.
Teaching
Demonstrator - module "Applied entomology" (module ZEN 365 - Department of Zoology and Entomology - University of Pretoria)
Membership
ESSA (Entomological Society of Southern Africa) click here
ESA (Entomological Society of America) click here
ISCE (International Society of Chemical Ecology) click here
Awards
Best student website (2019)
Runner-up of "The Conversation Africa student essay competition" (2020)
The macadamia team visits the growers!
MPP Fabi team with the growers (Nov. 2018)
In November 2018, the macadamia protection team in FABI visited different orchards in the Mpumalanga and Limpopo regions. Also, we participated in the SAMAC macadamia industry day. This allowed us to understand the issue of the macadamia production in South Africa, as well as the different issues related to  diseases and pests.
Thank you to my supervisors especially Gerda Fourie, and Angel, Ashleigh and Byron for this first and exciting experience in South Africa !
---
Field trip in Limpopo !
During 3 days in January and February, we collected a lot of stink bugs eggs in the macadamia plantations in Limpopo province.
Thank you Angel, Ashleigh and Byron for your help and you company during these field trips! And a huge acknowledgment for the growers and especially Dr Else Joubert for their supports on their plantations.

---
The macadamia team in KZN !
Awesome moment in Balito with my team
At the end of June, the macadamia team went in KZN to visit and to create more connextion with these growers. It was a nice opportunity to discover this beautiful region and to swim for the first time (for myself) in the Indian ocean!
Thanks to the Macadiam Protection Program, the SAMAC and to my team for this awesome moment.
---
To the discovery of Lepidoptera !
Between the 29 and 30th of October (2019), Ashleigh Smith and myself went in the macadamia orchards located in Limpopo to sampling some Lepidoptera eggs for her master project. It was a funny field trip with her, where we went hiking the last day and we heard a leopard not happy by our presence on his montain!
---
My Galeries
News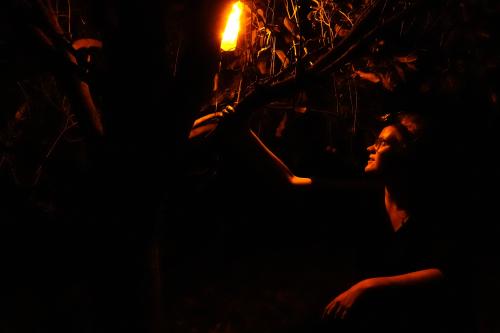 Macadamia research program's field visit to Mpumalanga
The Macadamia Protection Program (MPP) is back in the field! MPP research group leader Dr Gerda Fourie, joined by MSc candidate Dee Twiddy and PhD candidate Elisa Pal travelled to the Mpumalanga area during the week of 9 February.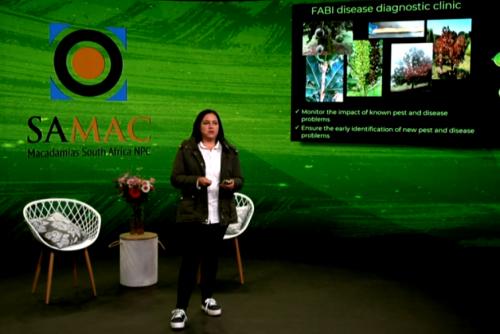 FABI presents at the SAMAC Webinar
On 3 September, Dr Gerda Fourie, research leader of the Macadamia Protection Programme (MPP) and Prof. Zander Myburg, research leader of the Forest Molecular Genetics (FMG) Programme participated in a live webinar.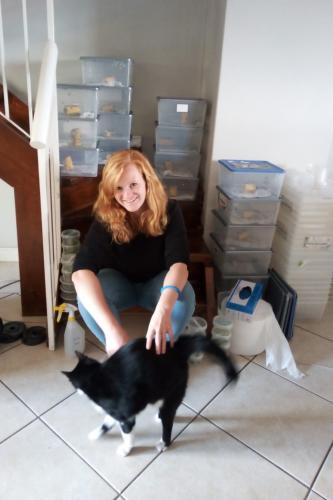 No break for insects!
Elisa Pal, a PhD candidate in FABI's Macadamia Protection Programme explains how she cares for her colony of stink bugs during the Covid-19 lockdown.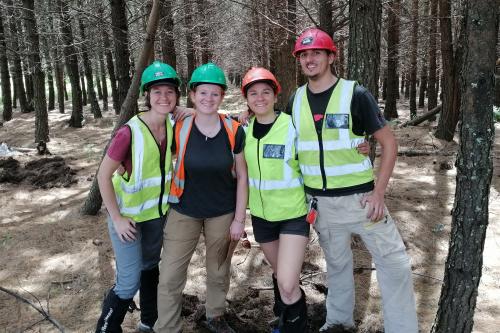 Moth pheromone trial in Underberg, KZN
Professor Jeremy Allison (Extraordinary Professor in FABI at UP) joined Luki-Marie Scheepers, Josephine Queffelec, Elisa Pal and Quentin Guignard on a field trip to Underberg, near the Drakensberg from 2-4 March.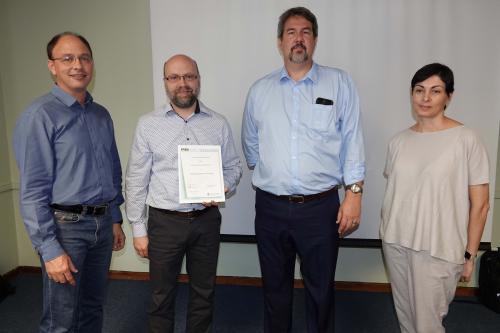 FABI launches Applied Chemical Ecology satellite laboratory
FABI has officially launched an Applied Chemical Ecology satellite laboratory and research programme in co-operation with Natural Resources Canada. The group's research interests lie at the interface of behavioral chemical ecology and pest management.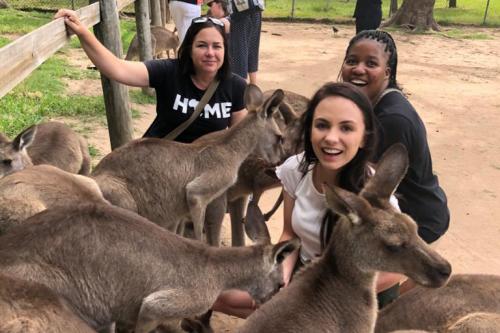 Macadamia Protection Program research visit to Australia
Macadamia Protection Programme research group leader, Dr Gerda Fourie, PhD candidate Angel Maduke and MSc student Ashleigh Smith visited research collaborators Prof. Andre Drenth and Prof. Femi Akinsanmi from the Queensland Alliance for Agriculture and Food Innovation (QAAFI) at the University of Queensland in Brisbane Australia, from 15-29 February.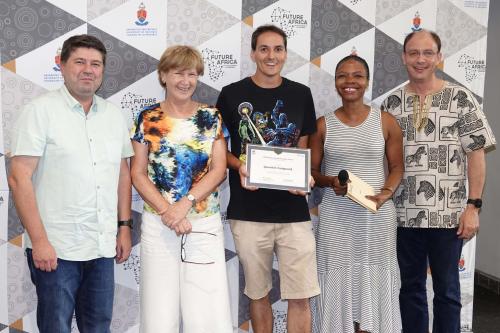 Quentin Guignard wins CTHB-The Conversation writing competition
FABI PhD candidate Quentin Guignard bagged a R30,000 cash prize paid towards attending an international conference of his choice after winning a writing competition held in conjunction with the DSI-NRF Centre of Excellence in Tree Health Biotechnology (CTHB) and The Conversation Africa.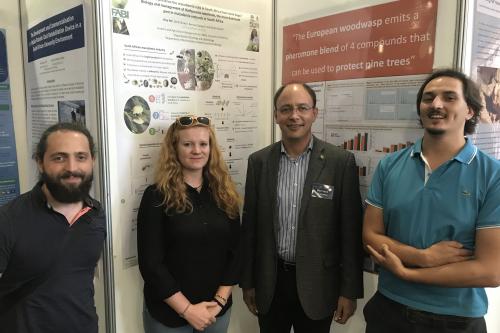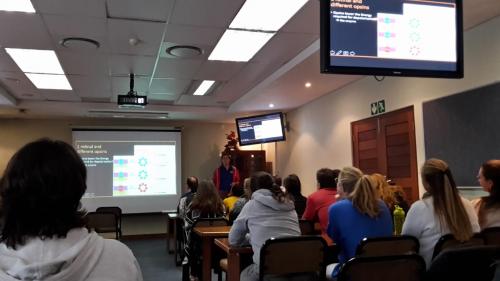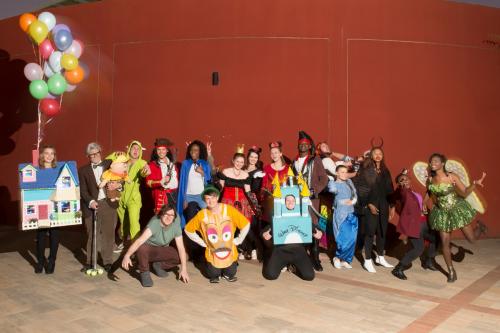 FABIans enter the Magic Kingdom at SPOOF 2019
Disney's Magic Kingdom welcomed FABIans for this year's annual meeting of the Society for the Presentation of Outrageous Findings (SPOOF). The FABI Social Club worked tirelessly to transform Tuks Monate into a magical wonderland filled with fantastically dressed inhabitants.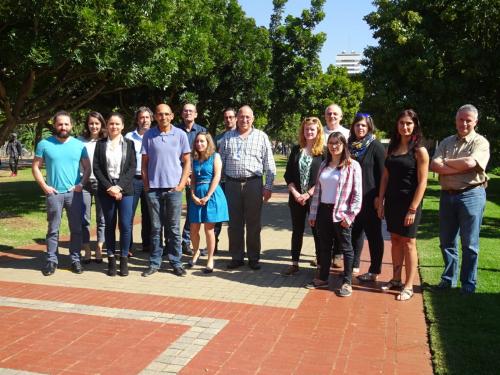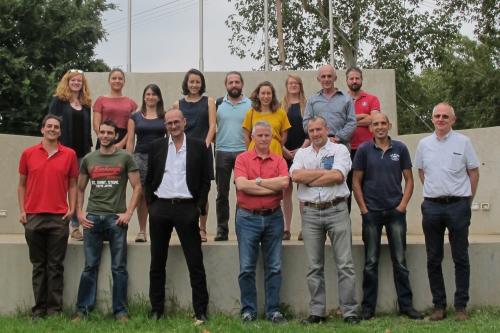 My News and Views Articles
Export to RIS