Ms Elisa Pal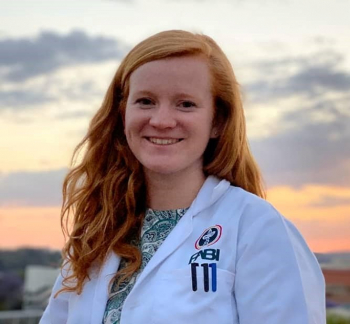 PhD student

Department

FABI

Short CV

This email address is being protected from spambots. You need JavaScript enabled to view it.
Member of:
Research Profiles
My Supervisor/s
My PhD project
I joined FABI in October 2018 under the supervision of Dr. Gerda Fourie, Prof. Brett Hurley and Prof. Bernard Slippers. My research is focused on the biology, ecology and management of Bathycoelia natalicola (The two-spotted stink bug) associated with the macadamia orchards in South Africa. My project is part of the macadamia protection program in collaboration with the Southern African Macadamia Grower's Association (SAMAC) (link).

The macadamia industry in South Africa is in fact affected by a complex of stink bug species which are of the families of Coreidae and Pentatomidae. They are responsible for R50 million worth of crop loses on the macadamia each year. Among them, the most dominant and damaging is Bathycoelia natalicola. Currently, pesticide spraying schemes have been implanted by the industry. However, the application is limited by the configuration of the macadamia trees (density and height) and by the build-up of resistance towards the pesticides.
Thus, this thesis was developed to study B. natalicola. The first objective of this thesis is to gain information about the population structure of B. natalicola in South Africa to understand the movement of this insect. In view of the management practises against the pest, a study on the pesticide resistances will be conducted on the bugs. Finally, the chemical ecology of B. natalicola will be studied to propose another option of control management with the semiochemicals.
My Background

Education
Technical University Diploma of Environmental Biology at the University of Caen (France)
It's with this diploma that I discovered the entomology world in integrate the Entomology and Mediterranean forests Unit in Avignon (link) (INRA, France) for my first internship with the Dr. Lavoir Anne-Violette and the Dr. Martin J.C. I tested the naturally repulsive plant against the Gypsy moth. My results that permit to publish my first research article and to present in an international congress with an oral communication.
Master in Environmental toxicology at the University of Angers (France)

My master was focused on the toxicological impact of the pollution on the environment.
During my first year, I did an internship at LPG-BIAF institute (link) (Angers, France) under the supervision of Prof. Geslin Emmanuelle. I studied the ecotoxicological quality of marine waters, and I presented my results with a poster in an international congress in Nantes (France).
I realised my second internship at the INRA of Avignon, in the Bees & Environment unit (link), under the supervision of Dr. Belzunces Luc. My study was focused on the physiological alterations by a mixture of pesticides on the honey bees. I conducted a chronic toxicity tests, a different analyses on the detoxification system and a histological observation.
University Research Diploma at the

National Polytechnique Institute of Toulouse (France)
I realised a University Research Diploma after my master at the National Polytechnique Institute of Toulouse, in EcoLab (link). For 6 months, I studied the ecotoxicity impact of micropollutants present in wastewaters. I conducted this study using an ecotoxicological approach (toxicology and genotoxicology assay) in two aquatic organisms: Chironomus riparius and Xenopus laevis.
Professional experience

After my master's degree, I worked in the Entomology and Mediterranean forests Unit (link) like engineer. My mission consisted in the development of control methods against lepidopteran forest pests in the south of France. For that, I managed and monitored the different experiments in forests in the objective to propose different sustainable solutions for the environment.
My publications and oral communications
Publications
E. Tabone, M. Venard, E. Colombel, E. Pal et J.-C. Martin (2018).

La science participative traque le papillon palmivore

. Phytoma, Juillet 2018 (715), 20-23.
E. Pal

et al. (2018). Processionnaire du pin : un traitement bille en tête. Phytoma, Juillet 2018 (715), 28-33.
E. Pal

et al. (2017).

Processionnaire du pin : le piégeage se perfectionne.

Phytoma, décembre 2017 (709), 26-29.
E. Pal

et al. (2014).

Testing naturally repulsive plant species against Gypsy moth attacks.

IOBC-WPRS Bulletin, 101, 213-220.
Poster
E. Pal

et al. (2016).

Benthic foraminifera: A tool for assess ecological quality of marine waters.

Meeting OCEANEXT, Nantes, France, June 2016.
Oral communication
E. Pal

et al.

,

Testing the anti

-feedant or repulsive potential of some hardwood trees against Gypsy moth attacks. 7th meeting of OIBC-WPRS on the integrated protection of oak trees, L'Isle-sur-la-Sorgue, France, October 2013.

The macadamia team visits the growers!
MPP Fabi team with the growers (Nov. 2018)
In November 2018, the macadamia protection team in FABI visited different orchards in the Mpumalanga and Limpopo regions. Also, we participated in the SAMAC macadamia industry day. This allowed us to understand the issue of the macadamia production in South Africa, as well as the different issues related to  diseases and pests.
Thank you to my supervisors especially Gerda Fourie, and Angel, Ashleigh and Byron for this first and exciting experience in South Africa !
---
Field trip in Limpopo !
During 3 days in January and February, we collected a lot of stink bugs eggs in the macadamia plantations in Limpopo province.
Thank you Angel, Ashleigh and Byron for your help and you company during these field trips! And a huge acknowledgment for the growers and especially Dr Else Joubert for their supports with their plantations.

---
My Galeries
News