Ms Louisa Terblanche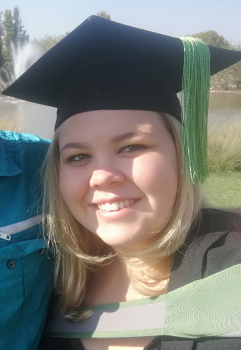 MSc student
Department
FABI
This email address is being protected from spambots. You need JavaScript enabled to view it.
My Supervisor/s
I joined FABI during Honours (2019), under the supervision of Prof. Martin Coetzee. My research focused on the effect of gene gain and gene loss on the evolution of Armillaria species and closely related genera. I am continuing with this research as part of my Master's degree, focusing on gene gain and loss in respect to endopolygalacturonases. 
Armillaria species are fungi that causes root rot disease on an extensive variety of woody plants. Armillaria species survive as both saprotrophs and pathogens. As saprotrophs, they play a significant role in decomposing plant material, therefore contributing to regeneration and biodiversity in forests. As pathogens, they destroy tree plantations and cause the death of important woody crops such as tea, grapevines, apple trees, walnuts and timber tree species. Tree mortality, especially in timber production, may lead to severe economic losses. 
My research will shed light on genes that may be important in terms of pathogenicity, like genes encoding endopolygalacturonases. Endopolygalacturonases are enzymes responsible for the degradation of pectin in plant cell walls.  Characterising endopolygalacturonases will provide insight into host and lifestyle adaption.