Ms Uyabongeka Memela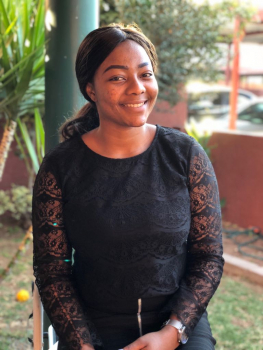 MSc student
Department
Plant and Soil Sciences
This email address is being protected from spambots. You need JavaScript enabled to view it.
My Supervisor/s
I am doing my Masters degree under the supervision of Dr Nicky Creux. My research looks at the physiological impact of heat wave conditions on floral organ development during anthesis in domesticated sunflower.
Plants live in constantly changing environments and are often exposed to unfavorable or stressful conditions for growth and development. Extreme weather events such as heat waves are expected to increase in frequency and are already having significant impact on agricultural practices and crop yield. Sunflower's capacity to produce reliable yields under adverse climate conditions and drought tolerance makes it an important and interesting crop for farmers in dryland locations. However, there is currently little information on how this crop will respond the extreme weather events such as heat waves, particularly during the temperature sensitive stage of anthesis and this research aims to close that gap.
Sexual reproduction is a critical process in the life-cycle of plants and very sensitive to environmental changes. Temperature influence has been found to have a major impact on sunflower floret development, seed development and ultimately crop production. Furthermore, this research will look at how these extreme weather temperatures impact sunflower pollination, pollinator visits to the plant and ultimately crop yield.