Ms Elmarie van der Merwe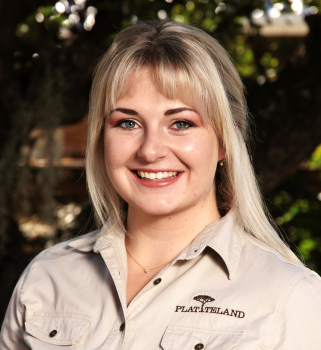 MSc student
Department
Zoology and Entomology
This email address is being protected from spambots. You need JavaScript enabled to view it.
Member of:
My Supervisor/s
I have been privileged to never wonder what I want to become when I grow up, the answer has always been easy: to become a superhero and a scientist. All I needed to figure out was how I could combine my passion for science, with my love for agriculture and nature. One day a lightbulb dinged and I realized that the answer is genetics.
I am originally from Newcastle in KwaZulu-Natal and I completed my BSc Microbiology & Biochemistry, as well as my BSc (Hons) in Integrated Pest Management at the North-West University, Potchefstroom. My research project was about evaluating the susceptibility of Fall armyworm, Spodoptera frugiperda, larvae collected from MON810 to Bt maize events in South Africa.
Currently, I am a MSc Entomology student in the Tree Protection Co-operative Programme (TPCP) here at the University of Pretoria, FABI. My project is about the development and application of CRISPR/Cas9 gene editing tools to control the insect pest Sirex noctilio.
I believe that scientist are underrated heroes. The lab is our 'Batcave', our lab coats are our capes and knowledge is our superpower. If there's a deadly virus and a world crisis, "Who you gonna call?" … a scientist.