Dr AK RAI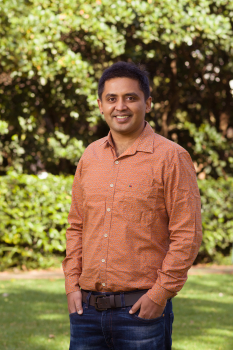 Postdoctoral Fellow
Department
Biochemistry, Genetics and Microbiology
This email address is being protected from spambots. You need JavaScript enabled to view it.
Member of:
Research Profiles
My PhD work focused on biochemical characterization of isoprenyl diphosphate synthases from Catharanthus roseus and their involvement in monoterpene indole alkaloid biosynthesis. I was also involved in identifying metabolic pathways that enable: the acquisition of nutrients, combat pathogens, and modulate the rhizosphere microenvironment.
I joined as postdoctoral scientist in VIB-UGent Center for Plant Systems biology, Ghent University, Ghent, Belgium. My postdoctoral work focused on method development for protein-protein interactions that enabled identification of phytohormone-induced remodeling of protein complexes.
Currently, I am working on Protein-DNA interaction mapping using high-throughput enhanced yeast-one hybrid (eY1H) and reconstruction of transcriptional regulatory networks underlying wood formation in Eucalyptus.