Ms Angelica Marsberg-De Villiers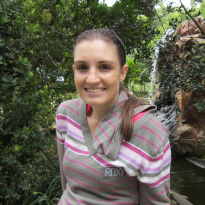 PhD student
Department
Biochemistry, Genetics and Microbiology
This email address is being protected from spambots. You need JavaScript enabled to view it.
My Supervisor/s
Throughout her undergraduate studies, Angelica was a model student. Based on her first and second year results she was awarded the Golden Key Award for being one of the top 15% of students at the University of Pretoria. During her third year of study, she was selected to be part of the TPCP / CTHB Mentorship programme at the Forestry and Agricultural Biotechnology Institute (FABI) where she received basic training and knowledge about research under the supervision of Dr. Magriet van der Nest.
After completion of her studies, she was selected to do her honours in Medical Sciences, with special focus in Human Genetics, at the University of Stellenbosch under the supervision of Dr Soraya Bardien. During her time in Stellenbosch her project focused on Parkinson's disease and the detection of new mutations in the LRRK2 gene in the South African population using Sanger sequencing and High Resolution Melt analysis. In the same year she contributed to and was a co-author on a peer-reviewed research article published by her supervisor entitled "LRRK2 G2019S mutation: frequency and haplotype data in South African Parkinson's disease patients."
For her Master's degree, under the supervision of Dr Marieka Gryzenhout, Professors Bernard Slippers and Michael Wingfield, all of which are esteemed researchers in their respective fields, Angelica characterised the distribution of fungal endophytes found to be associated with a native South African tree, namely Syzygium cordatum using DNA barcoding and pyrosequencing techniques. No studies had yet been done on the endophytes of this tree, therefore, the project provided information on potentially native fungal species in South Africa. During her Masters, Angelica presented numerous presentations in both the Department of Genetics and in FABI. From this research, one peer-reviewed article has been published - "Endophyte isolations from Syzygium cordatum and a Eucalyptus clone (Myrtaceae) reveal new host and geographical reports for the Mycosphaerellaceae and Teratosphaeriaceae".  Parts of this research was also presented at various conferences, either as a poster or a presentation.
Angelica is currently busy with her PhD which focuses on the endophyte-host interaction. She will use Botryosphaeria dothidea, a well-known canker pathogen and endophyte, and Eucalyptus grandis clones as a case study. The study aims to characterise the endophyte-host interaction at a molecular level. No studies have yet been done on these interactions and those studies that have been done have only focused on the pathogen-host interaction. This project is novel and will help understand the complexity of these unknown interactions.
Outside of research, Angelica is involved in other aspects at FABI. In 2010, she was part of the Social Club, which organises a number of functions and caters for seminar sessions hosted by FABI. In 2011, she was nominated as Social Club Chairperson. This position entailed organisation, delegation, multi-tasking and forward planning. The Social Club was also responsible for organising community projects and during her year as chair FABI participated in the "Snug-as-a-Bug Blanket Drive", the "Jes Foord Foundation Handbag Project" and had a fun day with underprivileged children at the Derdepoorte community centre. Angelica is currently in charge of all the microscopes in FABI. This includes general maintenance, aiding students when they have problems and organising equipment when needed. Angelica is also a demi for first year students in the four year BSc programme doing Molecular and Cell Biology. During pratical sessions she assists students with any questions that they may have and also assists in marking tests, tutorials and exams.
My Journal Articles
Export to RIS
Publication
Marsberg A, Kemler M, Jami F, Nagel JH, Postma-Smidt A, Naidoo S, Wingfield MJ, Crous PW, Spatafora J, Hesse CN, Robbertse B, Slippers B. (2017) Botryosphaeria dothidea: A latent pathogen of global importance to woody plant health. Molecular Plant Pathology 18:477–488. 10.1111/mpp.12495

Marsberg A, Slippers B, Wingfield MJ, Gryzenhout M. (2014) Endophyte isolations from Syzygium cordatum and a Eucalyptus clone (Myrtaceae) reveal new host and geographical reports for the Mycosphaerellaceae and Teratosphaeriaceae. Australasian Plant Pathology 43(5):503-512. 10.1007/s13313-014-0290-y