Dr Aquillah Kanzi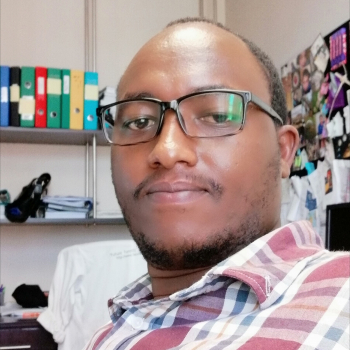 Postdoctoral Fellow
Department
Genetics
This email address is being protected from spambots. You need JavaScript enabled to view it.
My Files
My Links
Chrysoporthe species are well known pathogens of trees that belong to the Myrtales worldwide. My research is focused on comparative and phylogenetic analysis of mating-type, pheromone and pheromone receptor genes of these species. My aim is to understand the role that mating systems have in the evolution of the genus Chrysoporthe. My Supervisors are Dr. Albe van der Merwe, Prof. Emma Steenkamp and, Prof. Brenda Wingfield.
My Journal Articles
Export to RIS
Publication
Kanzi AM, Wingfield BD, Steenkamp ET, Naidoo S, Van der Merwe NA. (2016) Intron derived size polymorphism in the mitochondrial genomes of closely related Chrysoporthe species. PLOS ONE 11(6):e0156104. 10.1371/journal.pone.0156104

Musyoka TM, Kanzi AM, Lobb KA, Tastan Bishop Ö. (2016) Structure Based Docking and Molecular Dynamic Studies of Plasmodial Cysteine Proteases against a South African Natural Compound and its Analogs. Scientific Reports 10.1038/srep23690.

Wingfield BD, Barnes I, De Beer ZW, De Vos L, Duong TA, Kanzi AM, Naidoo K, Nguyen HDT, Santana QC, Sayari M, Seifert KA, Steenkamp ET, Trollip C, Van der Merwe N, Van der Nest MA, Wilken PM, Wingfield MJ. (2015) Draft genome sequences of Ceratocystis eucalypticola, Chrysoporthe cubensis, C. deuterocubensis, Davidsoniella virescens, Fusarium temperatum, Graphilbum fragrans, Penicillium nordicum, and Thielaviopsis musarum. IMA Fungus 6(2):493-506. 10.5598/imafungus.2015.06.02.13

Thomas AM, Kanzi AM, Lobb KA, Tastan Bishop Ö. (2015) Analysis of Non-Peptidic Compounds as Potential Malarial Inhibitors against Plasmodial Cysteine Proteases via Integrated Virtual Screening Workflow. Journal of Biomolecular Structure and Dynamics 15 10.1080/07391102.2015.1108231

Wingfield BD, Ades PK, Al-Naemi FA, Beirn LA, Bihon W, Crouch JA, De Beer ZW, De Vos L, Duong TA, Fields CJ, Fourie G, Kanzi AM, Malapi-Wight M, Pethybridge SJ, Radwan O, Rendon G, Slippers B, Santana QC, Steenkamp ET, Taylor PWJ, Vaghefi N, Van der Merwe NA, Veltri D, Wingfield MJ. (2015) IMA Genome-F 4. Draft genome sequences of Chrysoporthe austroafricana, Diplodia scrobiculata, Fusarium nygamai, Leptographium lundbergii, Limonomyces culmigenus, Stagonosporopsis tanaceti, and Thielaviopsis punctulata. IMA Fungus 6(1):233-248. 10.5598/imafungus.2015.06.01.15