Dr Aquillah Kanzi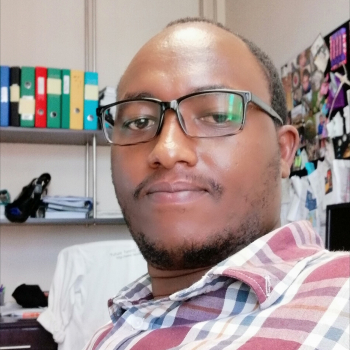 Postdoctoral Fellow
Department
Biochemistry, Genetics and Microbiology
This email address is being protected from spambots. You need JavaScript enabled to view it.
My Files
My Links
The structure, organization, function and evolution of genomes provides a basis for understanding living organisms. 
Currently, I am investigating the mitochondrial genomes of various ascomycetes. The function of mitochondrial DNA in respiration and oxidative phosphorylation is well conserved. In contrast, the genome structure, organization and gene content is extraordinarily diverse. My research is therefore, focused on comparative genomic analyses of the mitochondrial genomes of these fungi to provide insights on the genetic and evolutionary factors driving this diversity. Some of these factors have been associated with fungal virulence thus, this research may have implications for understanding fungal pathogenicity. To achieve the objectives of this research project, various bioinformatics and genomic analyses approaches will be used. 
My previous research focused on the comparative genomic analysis of Chrysoporthe species. Chrysoporthe species are notorious canker causing pathogens in Eucalyptus and related species in South Africa and around the world.
My Journal Articles
Export to RIS
Publication
Maphosa MN, Steenkamp ET, Kanzi AM, Van Wyk S, De Vos L, Santana QC, Duong TA, Wingfield BD. (2022) Intra-Species genomic variation in the pine pathogen Fusarium circinatum. Journal of Fungi 8:657. 10.3390/jof8070657

Maphosa M, Steenkamp ET, Kanzi A, van Wyk S, De Vos L, Santana QC, Duong AT, Wingfield BD. (2022) Intra-species genomic variation in the pine pathogen Fusarium circinatum. Preprints 2022040298 10.20944/preprints202204.0298.v1

Jane Chepsergon, Celiwe Nxumalo, Brenda Salasini, Aquillah Kanzi, Lucy Moleleki. (2022) Short Linear Motifs (SLiMs) in "Core" RxLR effectors of Phytophthora parasitica var. nicotianae: A case of PpRxLR1 effector. Microbiology Spectrum 10(2) 10.1128/spectrum.01774-21

Oliveira MES, van der Merwe NA, Wingfield MJ, Wingfield BD, Soares TPF, Kanzi AM, Ferreira MA. (2020) Chrysoporthe puriensis sp. nov. from Tibouchina spp. in Brazil: an emerging threat to Eucalyptus. Australasian Plant Pathology 10.1007/s13313-020-00745-1

Kanzi AM, Trollip C, Wingfield MJ, Barnes I, van der Nest MA, Wingfield BD. (2020) Phylogenomic incongruence in Ceratocystis: a clue to speciation?. BMC Genomics 21:362. 10.1186/s12864-020-6772-0

Liu FF, de Beer ZW, Divakar PK, Crespo A, Pizarro D, Wingfield MJ, Wingfield BD, Kanzi AM, Sayari M, Chang RL, Ferreira MA, Chen SF, Duong TA. (2019) Draft genome sequences of five Calonectria species from Eucalyptus plantations in China, Celoiporthe dispersa, Sporothrix phasma and Alectoria sarmentosa. IMA Fungus 10(22) 10.1186/s43008-019-0023-5

Kanzi AM, Steenkamp ET, Van der Merwe NA, Wingfield BD. (2019) The mating system of the Eucalyptus canker pathogen Chrysoporthe austroafricana and closely related species. Fungal Genetics and Biology 123:41-52. 10.1016/j.fgb.2018.12.001

Kanzi AM, Wingfield BD, Steenkamp ET, Naidoo S, Van der Merwe NA. (2016) Intron derived size polymorphism in the mitochondrial genomes of closely related Chrysoporthe species. PLOS ONE 11(6):e0156104. 10.1371/journal.pone.0156104

Musyoka TM, Kanzi AM, Lobb KA, Tastan Bishop Ö. (2016) Structure Based Docking and Molecular Dynamic Studies of Plasmodial Cysteine Proteases against a South African Natural Compound and its Analogs. Scientific Reports 10.1038/srep23690.

Wingfield BD, Barnes I, De Beer ZW, De Vos L, Duong TA, Kanzi AM, Naidoo K, Nguyen HDT, Santana QC, Sayari M, Seifert KA, Steenkamp ET, Trollip C, Van der Merwe N, Van der Nest MA, Wilken PM, Wingfield MJ. (2015) Draft genome sequences of Ceratocystis eucalypticola, Chrysoporthe cubensis, C. deuterocubensis, Davidsoniella virescens, Fusarium temperatum, Graphilbum fragrans, Penicillium nordicum, and Thielaviopsis musarum. IMA Fungus 6(2):493-506. 10.5598/imafungus.2015.06.02.13

Thomas AM, Kanzi AM, Lobb KA, Tastan Bishop Ö. (2015) Analysis of Non-Peptidic Compounds as Potential Malarial Inhibitors against Plasmodial Cysteine Proteases via Integrated Virtual Screening Workflow. Journal of Biomolecular Structure and Dynamics 15 10.1080/07391102.2015.1108231

Wingfield BD, Ades PK, Al-Naemi FA, Beirn LA, Bihon W, Crouch JA, De Beer ZW, De Vos L, Duong TA, Fields CJ, Fourie G, Kanzi AM, Malapi-Wight M, Pethybridge SJ, Radwan O, Rendon G, Slippers B, Santana QC, Steenkamp ET, Taylor PWJ, Vaghefi N, Van der Merwe NA, Veltri D, Wingfield MJ. (2015) IMA Genome-F 4. Draft genome sequences of Chrysoporthe austroafricana, Diplodia scrobiculata, Fusarium nygamai, Leptographium lundbergii, Limonomyces culmigenus, Stagonosporopsis tanaceti, and Thielaviopsis punctulata. IMA Fungus 6(1):233-248. 10.5598/imafungus.2015.06.01.15