Dr Felix Fru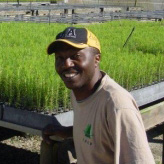 Postdoctoral Fellow
Department
Biochemistry, Genetics and Microbiology
This email address is being protected from spambots. You need JavaScript enabled to view it.
Research Profiles
I am a post-doctoral research fellow at FABI, an institute of the University of Pretoria, South Africa. 
My post-doctoral research is about exploiting the genetic variation that exists between nursery and establishment populations of F. circinatum in South Africa. I am also developing a root inoculation assay that can be used to screen for resistance to the pitch canker fungus in pine trees. 
My attraction to this area of research was motivated by my interest in food trade, particularly on the African continent. Trade from Africa is greatly hampered by various barriers. Non-tariff trade barriers which are greatly influenced by pests and pathogens are a serious problem for farmers in Africa. The problem of pests and pathogens are not limited to food crops, but also in the forest trees.
My PhD study focused on the pitch canker fungus, Fusarium circinatum, a pathogen affecting pine trees globally. I studied the ecology and population genetics of this pathogen in nurseries as well as plantations in the summer rainfall regions of South Africa. I was able confirm the presence of pitch canker disease in two new regions of the country, namely the Karkloof region in the KwaZulu-Natal Province and the Soutpansberg region of the Limpopo Province. In the Karkloof, the disease was found on P. greggii trees. Of significant concern is the report from the Limpopo Province on P. patula, representing the first report of the disease on plantation trees of this species globally. I was able to demonstrate that plantation outbreaks of this disease were caused by a few highly frequent genotypes. Using a machine learning model MAXENT, it was predicted that most plantation growing regions are suitable for pitch canker development.
I worked on Ceratocystis species on timber harvested for export in Ghana for my Masters degree. Using morphological and molecular techniques, I was able to demonstrate that Ceratocystis fagacearum, native to north America, is also common on native trees in Ghana.
News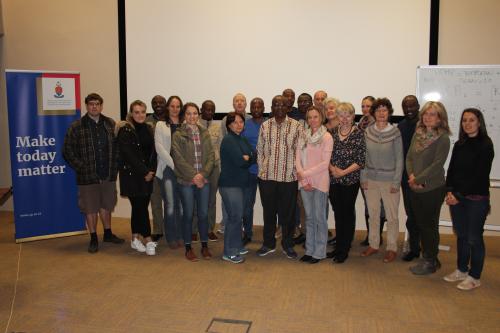 Modelling Workshop hosted by FABI
FABI hosted a simulation modelling workshop led by two leaders in the field, Dr Serge Savary and Dr Laetitia Willocquet; both senior scientists at the AGIR Research unit of INRA's Research Centre of Toulouse in France.
My Journal Articles
Export to RIS
Publication
Fru FF, Wingfield MJ, Roux J, Steenkamp ET. (2022) High diversity and clonality are hallmarks of Fusarium circinatum in South Africa. Plant Pathology 10.1111/ppa.13644

Phasha MM, Wingfield MJ, Wingfield BD, Coetzee MPA, Hallen-Adams H, Fru F, Swalarsk-Parry BS, Yilmaz N, Duong TA, Steenkamp ET. (2021) Ras2 is important for growth and pathogenicity in Fusarium circinatum. 150:103541. 10.1016/j.fgb.2021.103541

Herron DA, Wingfield MJ, Fru F, Wingfield BD, Steenkamp ET. (2020) Grasses as a refuge for Fusarium circinatum L. – evidence from South Africa. Southern Forests: a Journal of Forest Science 82(3):253-262. 10.2989/20702620.2020.1813649

Fru FF, Steenkamp ET, Wingfield MJ, Roux J. (2019) High genetic diversity of Fusarium circinatum associated with the first outbreak of pitch canker on Pinus patula in South Africa. Southern Forests: a Journal of Forest Science 10.2989/20702620.2018.1496312

Fru FF, Emma Steenkamp, Michael J. Wingfield, Santana QC , Roux J. (2017) Unique clones of the pitch canker fungus, Fusarium circinatum, associated with a new disease outbreak in South Africa. European Journal of Plant Pathology 148(1):97-107. 10.1007/s10658-016-1073-9