Dr Gabrielle Carstensen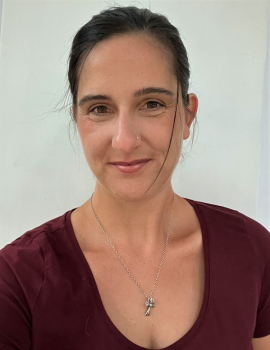 Postdoctoral Fellow
Department
Biochemistry, Genetics and Microbiology
This email address is being protected from spambots. You need JavaScript enabled to view it.
I am the current Diagnostic Clinic Manager for the FABI, TPCP and CPHB programmes. I was appointed to this role in 2021 and now head up a team of postgraduate students and interns that renders this integral service to the South African forestry industry.
My research career began at FABI where I did my honours degree in microbiology under the supervision of Prof. Teresa Coutinho and Prof. Fanus Venter. Throughout my postgraduate research career, I was an enthusiastic bacteriologist whose passion was specifically in phytobacteriology. For both my Honours and Masters degrees, my focus was on bacteria that had a mutualistic relationship with plants. It was only in my PhD (and with Prof. Mike Wingfield joining my supervisory team) that I started to delve into the world of plant pathology where I worked on bacterial wilt of Eucalyptus. My PhD and postdoctoral research gave me many opportunities to travel to China and Brazil and to gain extensive first-hand knowledge of how Eucalyptus nurseries are operated.
I have gained much knowledge on plantation pests and diseases during my time at FABI. I also previously worked in the Diagnostics Clinic during my Masters degree under the supervision of Prof. Jolanda Roux and Ms. Izette Greyling. With this experience I was easily able to step into the role of Diagnostics Clinic manager and quickly learnt how to diagnose a wide range of forestry pests and pathogens.
My Journal Articles
Export to RIS