Dr Mahlane Godfrey Kgatle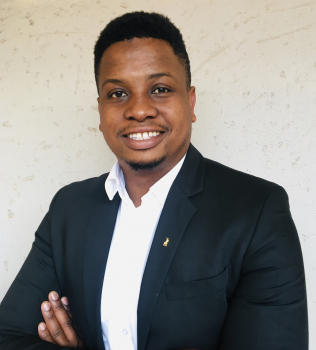 Postdoctoral Fellow

Department

Plant and Soil Sciences

Short CV
Full CV

This email address is being protected from spambots. You need JavaScript enabled to view it.
Member of:
South Africa has a market-oriented agricultural economy that is highly diversified. The grain industry is one of the largest agricultural industries in South Africa, contributing more than 30% to the total gross value of agricultural production. Grain crops are generally hosts to many infectious microorganisms. Pleosporales is the largest order in the class Dothideomycetes containing more than 4 700 species where some are highly destructive plant pathogens. Among the agro-economically most significant necrotrophic genera are Alternaria, Bipolaris, Curvularia, Drechslera, Embellisia, Exserohilum, Phaeosphaeria, Phoma, Septoria and Stemphylium. These pathogens have a great impact on grain production from seed (by affecting germination, emergence and serving as inoculum); to field crops (causing premature defoliation and reduction in head and seed size) to storage (spoilage and mycotoxin contamination of harvested grain). Furthermore, these species produce some of the most important emerging mycotoxins, which are not currently regulated but might be in the future. Regular surveillance and monitoring of pathogens is the first most essential step in understanding the spread of oilseed crop diseases and facilitating effective management practices. The aim of this study is to compile comprehensive information on the distribution of fungal species associated with grain crops in various agro-ecological zones of South Africa.
1.      Aims and objectives
2.1.To conduct surveys at commercial grain fields identified by Grain South Africa for three purposes:
2.1.1.      To collect seed and diseased plant material in order to determine the prevalence of fungal species on soybean and sunflower grain grown in commercial farms and collected and/or received from various sunflower commercial South African.
2.1.2.      Surveys will be done with the intention of collecting samples, taking photographs of disease symptoms for creating a South African compendium of sunflower and soybeans diseases. In addition, compendium will include literature search of various control strategies of the diseases recovered from fields.
2.1.3.      Information sheet will be compiled from surveys to make correlations between farming practices, environmental influence, diseases diagnostic and final crop yield. 
2.2.From the collected samples, studies will be done to determine diversity of Phoma isolates recovered from sunflower and soybean using morphological and molecular techniques.
Personnel: 04356306
Supervisor: Prof. Cobus Visagie
Email: godfrey.kgatle@fabi.up.ac.za
Tel: 012 420 3908
Other Interests
2020 is the International Year of Plant Health (IYPH). One of the top responsibilities of a Plant Pathologists is to ensure plant health. Plant health is important for food security and food safety. Microorganisms cause the decay of 1/3 of plants from seed (plant and harvesting from field) to plate. While some microorganisms in addition to crop decay are able produce toxins that are harmful to humans and animals. Crop rotation is one of the traditional management strategies which plant diseases are reduced in the field. See attached paper below from GrainSA and Pula Imvula magazine.
https://www.grainsa.co.za/hit-the-refresh-button-of-your-crop-system
---
My Journal Articles
Export to RIS