Dr Jan Nagel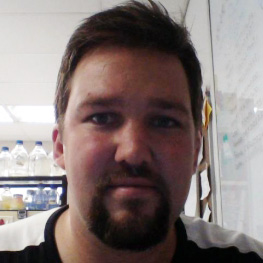 Postdoctoral Fellow
Department
Biochemistry, Genetics and Microbiology
This email address is being protected from spambots. You need JavaScript enabled to view it.
Research Profiles
I am a Doctoral student in the TCPC/CTHB and my research interests include fungal biodiversity, evolution and forest pathology.
For my Masters degree I conducted research into the diversity of Phytophthora species associated with a river ecosystem in Gauteng. Eight Phytophthora spp. were identified, including a new taxon, P. taxon Sisulu-river, and two hybrid species from Cooke's ITS clade 6. Of these, species from Clade 6 were the most abundant, including P. taxon PgChlamydo and P. lacustris. Species residing in Clade 2 were also encountered, including P. multivora, P. plurivora and P. citrophthora. The detection of eight species in this investigation of Phytophthora diversity in a single riparian river ecosystem in northern South Africa, suggests a high level of diversity of these organisms in other river systems of the country.
My PhD project focuses on the speciation and genomics of the Neofusicoccum parvum/N. ribis complex. Neofusicoccum spp. are important pathogens that occur globally and cause disease of a wide variety of woody hosts. Several cryptic species have recently been characterized with a close phylogenetic relationship to N. parvum and N. ribis. These species are collectively referred to as the Neofusicoccum parvum/ribis complex. Species within this complex has undergone rapid recent divergence. New cryptic species in this complex has been described from South Africa, Cameroon and Australia. The relationships between these species are poorly resolved and the factors contributing to the divergence of these species are not understood. The decreasing cost and improved throughput of second generation sequencing technologies have provided us with a unique opportunity to study the speciation within the Neofusicoccum parvum/ribis complex on a genomic level. Doing this will give us a much more in depth insight into speciation than otherwise possible. This will allow us to apply phylogenomic, comparative genomic and transcriptomic approaches to gain a deeper understanding of factors involved with the speciation within this complex.
Phytophthora: A Global Perspective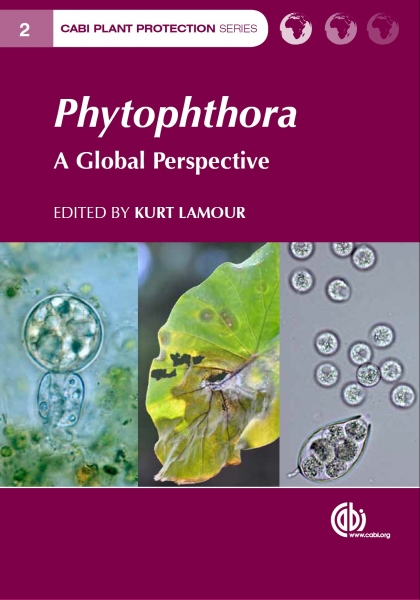 Front Cover
Members of the genus Phytophthora cause serious damage to a huge array of plants. From the nineteenth century Irish potato famine to current widespread threats to forests and ecosystems in North and South America, Europe and Australia, the genus lives up to its reputation as the plant destroyer. This book provides an overview of Phytophthora species impacting crops, forests, nurseries, greenhouses and natural areas worldwide. Chapters cover major hosts, identification, epidemiology, management, current research, future perspectives and the impacts of globalization on Phytophthora. Phytophthora: A Global Perspective is an essential resource for researchers and extension workers in plant pathology and crop protection.
Available from CABI Bookshop
http://bookshop.cabi.org/?site=191&page=2633&pid=2611#
---
My Book Chapters
Export to RIS
Book Chapters
Nagel JH, Gryzenhout M, Slippers B, Wingfield MJ. 2013. The Occurrence and Impact of Phytophthora on the African Continent. In: Phytophthora: A Global Perspective. Lamour K. (eds). CAB International, Boston, Minnesota, pp 204-214.

My Journal Articles
Export to RIS
Publication
Nagel JH, Wingfield MJ, Slippers B. (2021) Next-generation sequencing provides important insights into the biology and evolution of the Botryosphaeriaceae. Fungal Biology Reviews 38:25-43. 10.1016/j.fbr.2021.09.002

Nagel JH, Wingfield MJ, Slippers B. (2021) Increased abundance of secreted hydrolytic enzymes and secondary metabolite gene clusters define the genomes of latent plant pathogens in the Botryosphaeriaceae. BMC Genomics 22(1):589. 10.1186/s12864-021-07902-w

Nagel J, Cruywagen EM, Machua J, Wingfield MJ, Slippers B. (2020) Highly transferable microsatellite markers for the genera Lasiodiplodia and Neofusicoccum. Fungal Ecology 44:100903. 10.1016/j.funeco.2019.100903

Nagel J, Wingfield MJ, Slippers B. (2018) Evolution of the mating types and mating strategies in prominent genera in the Botryosphaeriaceae. Fungal Genetics and Biology 114:24-33. 10.1016/j.fgb.2018.03.003

Marsberg A, Kemler M, Jami F, Nagel JH, Postma-Smidt A, Naidoo S, Wingfield MJ, Crous PW, Spatafora J, Hesse CN, Robbertse B, Slippers B. (2017) Botryosphaeria dothidea: A latent pathogen of global importance to woody plant health. Molecular Plant Pathology 18:477–488. 10.1111/mpp.12495

Nagel JH, Slippers B, Wingfield MJ, Gryzenhout M. (2015) Multiple Phytophthora species associated with a single riparian ecosystem in South Africa. Mycologia 107(5):915–925. 10.3852/13-380

Nagel JH, Gryzenhout M, Slippers B, Wingfield MJ, Hardy GE, Stukely MJC, Burgess TI. (2013) Characterization of Phytophthora hybrids from ITS clade 6 associated with riparian ecosystems in South Africa and Australia. Fungal Biology 117:329-347. 10.1016/j.funbio.2013.03.004