Mr Bernard Smit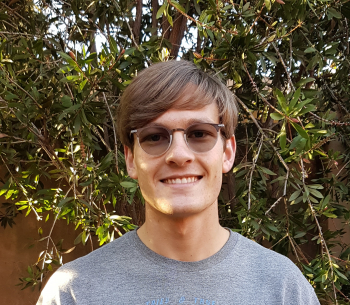 MSc student
Department
FABI
This email address is being protected from spambots. You need JavaScript enabled to view it.
Member of:
Research Profiles
My Files
My Links
Eucalyptus species are the most planted trees in the world and its demand is increasing. However, recalcitrance to transformation and long breeding cycles hinders biotechnological strategies. More specifically, the recently validated in planta transformation techniques does not seem to work in Eucalyptus. Therefore, my project aims to overcome this challenge with techniques such as silencing of developmental genes, specialized grafting and RNA interference. Furthermore, once plants are transformed it cannot be planted in the field and as such we want to reverse-transform the transgenics by excising foreign genes before the production of pollen and seeds. This project is in close collaboration with the leaders on tree tissue culture, Oregon State University, as well as with industry.
Publication(s):
Smit, B.A., Van Zyl, E., Joubert, J.J., Meyer, W., Prévéral, S., Lefèvre, C.T. and Venter, S.N. (2018) (Editor`s Choice) Magnetotactic bacteria used to generate electricity based on Faraday's law of electromagnetic induction. Let Appl Microbio (66) 5, 362-367.
Gwizdala, M., Smit, B.A. and Kruger, T., (in preparation) Photosynthetic activity in Welwitschia mirabilis of the Namib desert.