Mr Msizi Ramaoka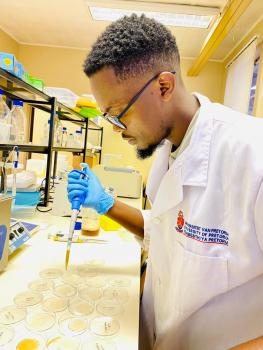 MSc student
Department
Zoology and Entomology
This email address is being protected from spambots. You need JavaScript enabled to view it.
Research Profiles
My Supervisor/s
Primary Supervisor
Chris Weldon

Co Supervisor
Aruna Manrakhan
My Files
My BScHons at the University of Mpumalanga
I obtained Bachelor of Science degree in Agriculture from the University of Mpumalanga (Mbombela campus) in 2021. In my Honors project I investigated the effect of conventional tillage on the productivity of small scale farmers.
Currently I am a Masters student at the University or Pretoria, Department of Zoology and Entomology. The focus of my MSc project is on the patterns of foraging for protein by fruit fly pests in citrus in South Africa. Protein baits form the core of fruit fly control in citrus orchards. Based on food foraging behaviour of flies, baits have been developed to attract females of several fruit fly species.
In citrus, bait application is recommended on the tree canopy. However, farmers have tendency of applying baits on the ground to circumvent the phytotoxic effect on the  fruit. 
In my MS.c project, I will establish the optimal placement of the bait station on the different canopy levels within a citrus tree to best place the lure to attract the most flies. The spatial and temporal foraging patterns by three fruit fly species (Ceratitis capitata, Ceratitis cosyra and Bactrocera dorsalis) on the protein baits within the citrus tree with regards to fly age, sex and nutrition will be established. I will also determine the response of fruit flies to protein baits applied at a different density.
I will be working under the supervision of Prof. Christopher Weldon and Dr. Aruna Manrakhan.