PROF. Christine Foyer recognized as a Redox Pioneer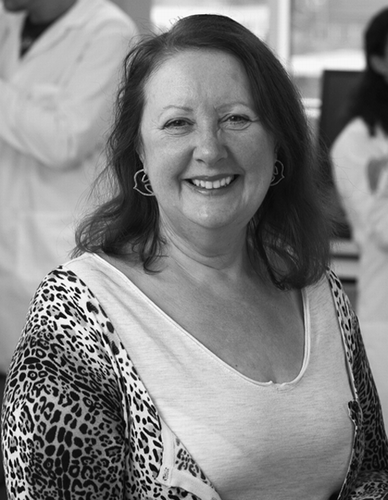 Dr. Christine Foyer (B.Sc. 1974; Ph.D. 1977) has been recognized as a Redox Pioneer because she has published an article on redox biology that has been cited more than 1000 times, 4 other articles that have been cited more than 500 times, and a further 32 articles that have been each cited more than 100 times. During her Ph.D. at the Kings College, University of London, United Kingdom, Dr. Foyer discovered that ascorbate and glutathione and enzymes linking NADPH, glutathione, and ascorbate are localized in isolated chloroplast preparations. These observations pioneered the discovery of the ascorbate-glutathione cycle, now known as Foyer-Halliwell-Asada pathway after the names of the three major contributors, a crucial mechanism for H2O2 metabolism in both animals and plants. Dr. Foyer has made a very significant contribution to our current understanding of the crucial roles of ascorbate and glutathione in redox biology, particularly in relation to photosynthesis, respiration, and chloroplast and mitochondrial redox signaling networks. Antioxid. Redox Signal. 15, 2383 – 2391.
My view is that science...is compulsive and you have to keep with it all the time and not get despondent when things do not work well. Being passionate about science is what carries you through the hard times so that it isn't so much work, as a hobby that you do for a living. It is the thrill of achieving a better understanding and finding real pleasure in putting new ideas together, explaining data and passing on knowledge that keeps you going no matter what!

– Prof. Christine Helen Foyer

Biotechnology and Entrepreneurship at University of Pretoria
An all-female team of young entrepreneurship students has won the first ever Biotechnology in the Workplace competition at the University of Pretoria on the weekend of November 12th – 14th, 2010. The competition was the culmination of an Honours course designed to teach students about entrepreneurship in the biological sciences. After an intensive weekend of seminars and mentoring sessions with South African and international entrepreneurship experts, four groups of students competed by pitching their business plans to an independent panel of " investors " .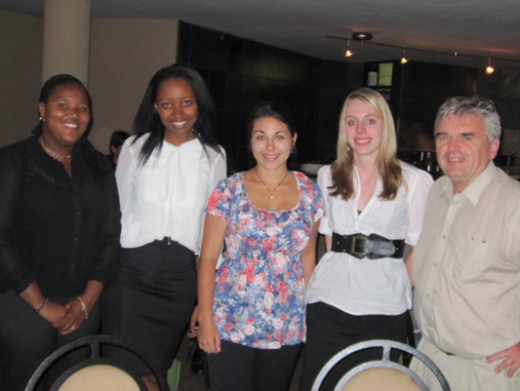 The winning team of Degracious Kgoale (Research and Development Director), Lindiwe Nkosi (Marketing Director), Monique Heystek (Finance Director) and Magdeleen du Plessis (Managing Director), with Prof. Karl Kunert.
" Fruit Loot, " the winning hypothetical company, was an agricultural biotech firm targeting the fruit growing market of South Africa. Their key product " Branchstop " was a biologically produced strigolactone spray which could be applied to trees to stop excessive lateral branching, thereby increasing the fruit yield of orchard trees up to 80%. The company had a strong intellectual property portfolio and an impressive marketing strategy targeting their customer base through print ads and fruit growers' unions. The presented business pitch included a realistic financial plan, expansion routes and exit strategies which convinced the judging panel.
The winning team presented their convincing business plan with great enthusiasm. They showed good teamwork during the workshop and were a strong unit which handled the rigorous questions of the judges very well.
The winning group is pictured with Professor Karl Kunert (Univ Pretoria) who organised the honours module on Biotechnology in the Workplace in conjunction with Prof Jonathan Youngelson (Head of Innovation Support). The entrepreneurship weekend was supported by the British Council, in collaboration with the John Innes Centre, Norwich UK.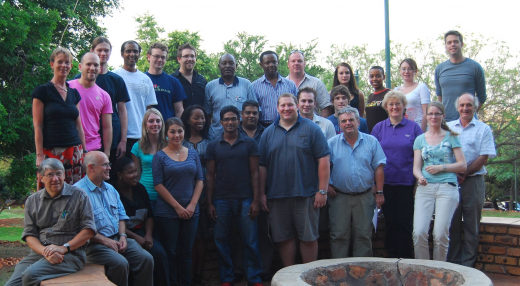 _______________________________________________________________________________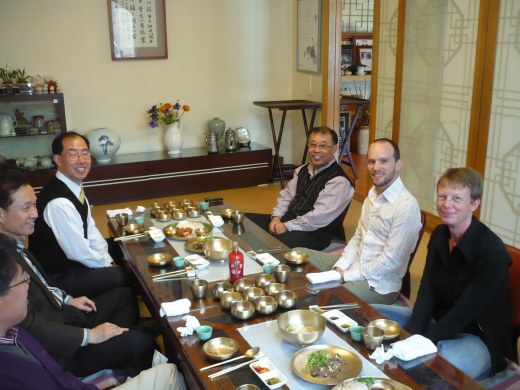 Visit to Chonbuk National University in Jeonju, South Korea, March 2009