Ms Tsholofelo Kibido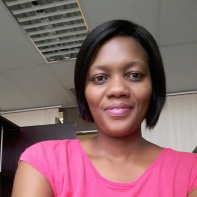 PhD student
Department
Plant and Soil Sciences
This email address is being protected from spambots. You need JavaScript enabled to view it.
Member of:
My Supervisor/s
After obtaining a BSc. degree in Microbiology, I continued with my post graduate studies and did an Honours degree in Plant Biotechnology. The research conducted during my Honours project involved characterisation of a wound inducible cystatin in maize. My MSc study investigated the use of transgenic oryzacystatin-I expressing tobacco plants in enhancing recombinant protein production. My current PhD research focuses on the phenotypic and molecular characterization of efficient nitrogen fixation and nodule functioning for Glycine Max (L.) Merr. (soybean) crop improvement under water limiting conditions. 
Conferences:
National Conference attended and presented
1.      Combined Congress, Klein Kariba, South Africa, 23-27 January 2017. Selection of osmotolerant and effective rhizobial strains on symbiotic nitrogen fixation efficiency in soybean under water deficit stress.
---
My Journal Articles
Export to RIS
Publication
Kibido T, Kunert K, Makgopa M, Greve M, Vorster BJ . (2019) Improvement of rhizobium‐soybean symbiosis and nitrogen fixation under drought. Food and Energy Security :e117. 10.1002/fes3.177

Kunert K, Vorster BJ, Fenta BA, Kibido T, Dionisio G, Foyer CH. (2016) Drought stress responses in soybean roots and nodules. Frontiers in Plant Science 7(1015) 10.3389/fpls.2016.01015

Pillay P, Kibido T, Du Plessis M, Van der Vyver C, Beyene G, Vorster BJ, Kunert KJ, Schlueter U. (2012) Use of Transgenic Oryzacystatin-I-Expressing Plants Enhances Recombinant Protein Production. Applied Biochemistry and Biotechnology 168(6):1608-1620. 10.1007/s12010-012-9882-6