Ms Nicole Rudolph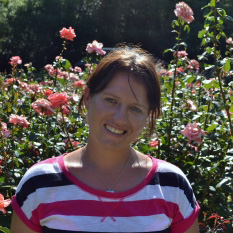 Research and administration assistant

Department

Biochemistry, Genetics and Microbiology

Full CV

This email address is being protected from spambots. You need JavaScript enabled to view it.
Member of:
In 2013 I started my career as a research assistant for Prof Terry Aveling at the Microbiology and Plant Pathology Department while completing my MSc (Agric) Plant Pathology degree under supervision of Prof T. Aveling and Nico Labuschagne.  My MSc studies focused on the efficacy of plant growth promoting rhizobacteria (PGPR) to enhance maize seedling growth and vigour and to control the root pathogen Rhizoctonia solani. The study included the evaluation of various formulations of PGPR and their long term survival on a novel organic product. I graduated with distinction in 2014 and continued my career as a research assistant.
As a research assistant I work together with Prof Terry Aveling and various post graduate students from the seed laboratory. I am responsible for updating the ISTA electronic database of seed transmitted diseases as part of the EU FP7 TESTA (Development of seed treatment methods, evidence for seed transmission and assessment of seed health - EU FP7 KBBE.2012.1.2-05) project and perform several administration duties. I also guide and assist various undergraduate students in conducting and writing up of their final year Plant Pathology research projects and help with editing of MSc student dissertations.  Occasionally I am also involved in various research projects for external companies.
Other Interests
Open water swimming,  sketching, photography and the outdoors.
---
My Journal Articles
Export to RIS
Publication
Rudolph N, Aveling TAS, Labuschagne N. (2015) The effect of plant growth promoting rhizobacteria on seed germination, vigour and seedling growth of maize. Seed Science and Technology 43(3):507-518. 10.15258/sst.2015.43.3.04