Ms Angel Maduke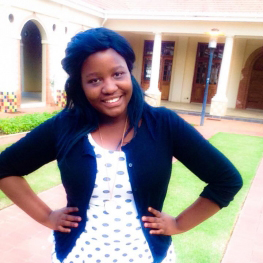 PhD student
Department
Biochemistry, Genetics and Microbiology
This email address is being protected from spambots. You need JavaScript enabled to view it.
Research Profiles
My Supervisor/s
I studied B.Sc. agriculture at the University of the Free State (UFS) where I majored in Plant Pathology and Soil Science. During my final year of undergraduate studies at the University of the Free State, I volunteered as a laboratory assistant for a well-known mycologist Dr Marieka Gryzenhout, senior lecturer at the University of the Free State. This experience developed a strong interest in Mycology and Plant Pathology and stimulated the desire to further my knowledge and experience in these fields. In 2015, I joined FABI, at the University of Pretoria, to undertake research towards obtaining an M.Sc. degree in Plant Pathology.

My M.Sc. research project was on the Botryosphaeriaceae on native and exotic Myrtaceae in southern and eastern Africa. Which was under the supervision of Dr. Draginja Pavlic (ARC-PPRI), Prof Jolanda Roux (FABI), and Prof Mike Wingfield.  I completed this degree in the year 2017 and it was a beautiful and somehow challenging experience. Although I enjoyed being in the forest and sampling native trees, I missed agriculture and I longed to be reunited with agricultural diseases. Therefore, in 2018, I decided to further my studies by undertaking a Ph.D. project related to the agricultural industry.
Ph.D. Project
My Ph.D. project is titled: Botryosphaeriaceae in the macadamia canopy and its association with various diseases. My project is part of the Macadamia Protection Program (MPP) in collaboration with the Southern African Macadamia Association (SAMAC) (link). The primary aim of this project is to study the impact of Botryosphaeriaceace species associated with husk rot on nuts, dieback of branches and racemes, and blight of leaves in South Africa, and lastly, it aims to provide the industry with information and tools to manage the different diseases in the orchards. This project is supervised by Dr. Gerda Fourie, Prof Bernard Slippers, Prof Mike Wingfield, and Dr. Elna van der Linde and has three Collaborators: Prof Andre Drenth, Dr. Femi Akinsamni, and Dr. Nicolette Taylor.
My Galeries
News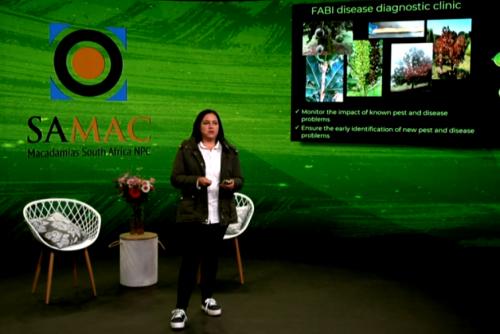 FABI presents at the SAMAC Webinar
On 3 September, Dr Gerda Fourie, research leader of the Macadamia Protection Programme (MPP) and Prof. Zander Myburg, research leader of the Forest Molecular Genetics (FMG) Programme participated in a live webinar.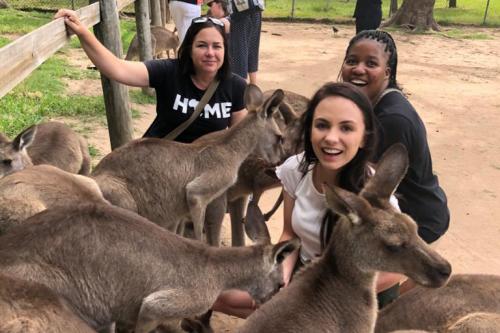 Macadamia Protection Program research visit to Australia
Macadamia Protection Programme research group leader, Dr Gerda Fourie, PhD candidate Angel Maduke and MSc student Ashleigh Smith visited research collaborators Prof. Andre Drenth and Prof. Femi Akinsanmi from the Queensland Alliance for Agriculture and Food Innovation (QAAFI) at the University of Queensland in Brisbane Australia, from 15-29 February.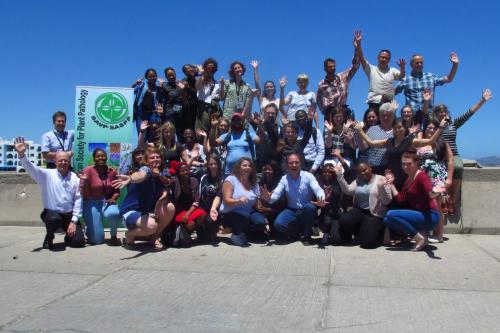 FABI shines at SASPP meeting
The 2019 meeting of the Southern African Society for Plant Pathology (SASPP) took place on the West Coast, hosted by Stellenbosch University.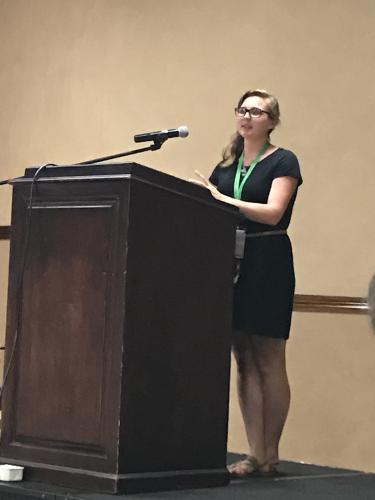 21 FABI students and postdocs take part in speed poster presentations at SASPP congress
The organizers of the 2017 congress of the Southern African Society for Plant Pathology (SASPP) introduced a new way in which students can present their posters. As is typical for congresses, posters were displayed in a hall separate from the auditorium where oral presentations took place. However, this year the authors of posters were provided two sessions in the main hall where they were each given 2 minutes to introduce their poster without the assistance of powerpoint slides.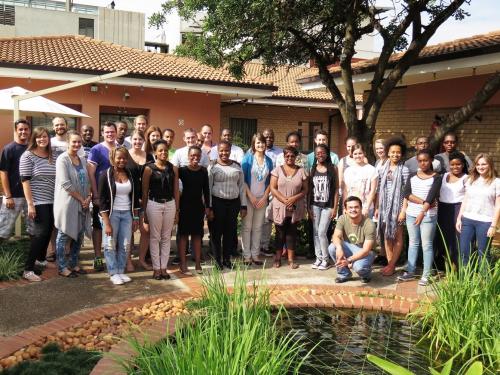 My News and Views Articles
Export to RIS