Ms Aysha Ndou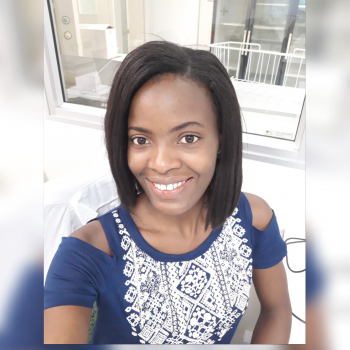 Laboratory Technician
Department
FABI
This email address is being protected from spambots. You need JavaScript enabled to view it.
Member of:
I joined Forest Molecular Genetics (FMG) group as a tissue culture intern in the tissue culture and transformation platform  in 2016. In 2017, i was employed as a laboratory technician in the Tissue Culture and Transformation platform at FMG. This platform host and routinely micro-propagate a variety of different Eucalyptus genotypes. I am involved in the micro-propagation of Eucalyptus and Poplar plants, this include providing technical assistance in Agrobacteium transformation experiments and screening of the transformed lines using greenhouse trials.
Aysha holds BSc Honours Environmental Management (2021) from University of South Africa, M-Tech in Horticulture (2019), B-Tech in Horticulture (2015) and NDip in Horticulture (2014) from Tshwane University of Technology. 
I am also registered with SACNASP as Certified Natural Scientist
Conferences
Ndou, A, Tinyane, PP, Slabbert, MM, Sivakumar, D. 2018 Maturity Indices and phytochemical changes in Carissa macrocarpa (Natal plum), Poster presented to the Indigenous Plant Use Forum, Oudtshoorn, 1-4 July 2018.
Ndou, A,  Slabbert, MM, Sivakumar, D. 2018. Maturity indices and phytochemical changes in Carissa macrocarpa (Natal plum) for the development of functional ingredient. Colloquial presentation, Tshwane university of Technology, 22 August  2018 
---
My Journal Articles
Export to RIS