Ms Aysha Ndou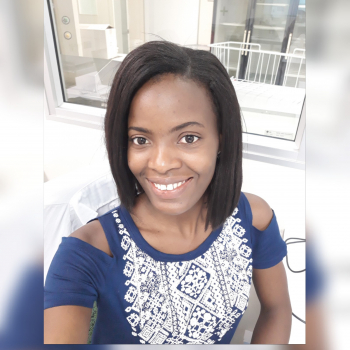 Laboratory Technician
Department
FABI
This email address is being protected from spambots. You need JavaScript enabled to view it.
Member of:
i joined Forest Molecular Genetics (FMG) group as a tissue culture intern in the tissue culture and transformation platform  in 2016. previously, i completed my N.DIP  in horticulture  and B-Tech Horticulture , both from the Tshwane University of Technology. 
in 2017, i was employed as a laboratory technician in the Tissue Culture and Transformation platform at FMG. This platform host and routinely micro-propagate a variety of different Eucalyptus genotypes. I am involved in the micro-propagation of Eucalyptus and Poplar plants, this include providing technical assistance in Agrobacteium transformation experiments and screening of the transformed lines using greenhouse trials.
Recently, i completed my M-Tech Horticulture from Tshwane University of Technology. Due to the continuous increase in food insecurity which lead to nutrients deficiency and malnutrition challenges in developing countries, much attention is now focused on the use of indigenous fruits as a source of nutritive and bioactive compounds in order to supplement the diet of people. My M-tech project focused on using subjective and objective indices to develop harvest maturity for South Africa's Indigenous Carissa macrocarpa. This project established the relationship between fruit colour variation, physicochemical, phenolic content as well as antioxidant properties, and defined optimum harvest maturity for different market which include  fresh consumption, juice processing, functional food and dietary supplements markets.  
Currently (2019), i  registered for Bsc Honours Environmental Management  at UNISA. This degree will grant me theoretical exposure on issues pertaining to environmental protection, sustainability and integrated landscape management, including adequate knowledge on biodiversity and conservation management policies and legislative frameworks.
I am also registered with SACNASP as Certified Natural Scientist (Cert.Sci.Nat).
Conferences
Ndou, A, Tinyane, PP, Slabbert, MM, Sivakumar, D. 2018 Maturity Indices and phytochemical changes in Carissa macrocarpa (Natal plum), Poster presented to the Indigenous Plant Use Forum, Oudtshoorn, 1-4 July 2018.
Ndou, A,  Slabbert, MM, Sivakumar, D. 2018. Maturity indices and phytochemical changes in Carissa macrocarpa (Natal plum) for the development of functional ingredient. Colloquial presentation, Tshwane university of Technology, 22 August  2018 
---
My Journal Articles
Export to RIS