Ms Pfano Mbedzi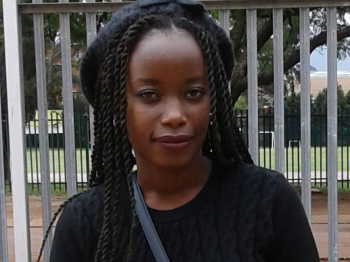 Junior Research Assistant
Department
FABI
This email address is being protected from spambots. You need JavaScript enabled to view it.
Member of:
I completed my BSc degree in Genetics and my BSc Honours degree in Plant Science, with a major in Plant Biotechnology and Plant physiology. I am currently in the last stages of Completing my MSc degree under the supervision of Dr Juan Vorster and Prof. Jacquie van der Waals. In my MSc research project, I focused on finding an indirect method to screen for Sclerotinia sclerotiorum resistance in South African soybean cultivars. This project specifically focused on evaluating the eligibility of Simple sequence repeat markers in screening for soybean resistance to Sclerotinia sclerotiorum with emphasis to cultivars that are currently commercially grown in South Africa.
I am currently working as a junior research assistant in the DNA Fingerprinting platform, Forestry Molecular Genetics group at the University of Pretoria. Our research at the DNA Fingerprinting platform involves employing High Throughput DNA Fingerprinting techniques to with the aim of improving South African forest breeding, specifically focusing on Eucalyptus and Pine.
My career interest include finding sustainable methods of improving Agricultural Crops as well as preserving forestry in Africa. I am specifically interested in the disciplines of quantitative genetics in relation to plant tolerance against biotic and abiotic stress; as well as improving food and forest crops through plant breeding.
Memberships
South African Society of Crop Production (SASCP)
---
Conferences and Workshops
·         Mbedzi, PP, Vorster BJ, 2016 Genetic diversity and herbicide tolerance in Conyza bonariensis, poster presented to the Combined Plant and Soils Congress, Bloemfontein, 18-21 January 2016, http://combinedcongress.org.za.winhost.wa.co.za/proceedings.htm
·         Mbedzi, PP, Vorster BJ,Van der Waals, JE, 2017 Initial screening of soybean for microsatellite markers conferring resistance to Sclerotinia stem rot, paper presented to the Combined Plant and Soils Congress, Bela Bela, 23-26 January 2017, http://combinedcongress.org.za/wp-content/uploads/2016/05/Oral-Booklet2.pdf
 Mbedzi, PP, Vorster BJ, Van der Waals, JE, 2017 Initial screening of South African commercial soybean [Glycine max (L.) Merr] cultivars for simple sequence repeats (SSR) conferring resistance to Sclerotinia sclerotiorum, abstract was accepted by the World Soybean Research Conference Ten, http://wsrc10.net/posters/#Breeding
 Mbedzi, PP, Vorster BJ, Van der Waals, JE, 2018 Initial screening of South African commercial soybean [Glycine max (L.) Merr] cultivars for simple sequence repeats (SSR) conferring resistance to Sclerotinia sclerotiorum, Poster presented to the African Combined Congress, Cape Town, 14-19 January 2018, http://combinedcongress.org.za/ 
      Microsatellite Workshop, African Centre for Gene Technologies and Thermofisher Scientific/Life Technologies, University of Pretoria, 10-13 May 2016
Australia-Africa University Workshop on New plant breeding methods for sustainable use of
genetic resources and security of food production ,University of Mauritius, 29 - 31 January 2018

---
Awards
President's Award for the Best Poster presented at the Combined Congress 2018
Mbedzi, PP, Vorster BJ, Van der Waals, JE, 2018 Initial screening of South African commercial soybean cultivars for simple sequence repeats conferring resistance to Sclerotinia sclerotiorum

---
My Journal Articles
Export to RIS