Ms Pfano Mbedzi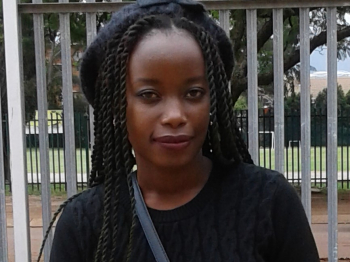 PhD student
Department
FABI
This email address is being protected from spambots. You need JavaScript enabled to view it.
My Supervisor/s
I completed my BSc degree in Genetics in 2014 and my BSc Honours degree in Plant Science, with a major in Plant Biotechnology and Plant physiology in 2015. 
My MSc  degree was completed  under the supervision of Dr Juan Vorster and Prof. Jacquie van der Waals. In my MSc research project, I focused on finding an indirect method for screening Sclerotinia sclerotiorum resistance in South African soybean cultivars. 
I worked as a junior research assistant in the DNA Fingerprinting platform, Forestry Molecular Genetics group at the University of Pretoria between 2018 and February 2020. My role at the DNA Fingerprinting platform focused on key forest species improvement by providing High Throughput DNA Fingerprinting services to Eucalyptus and tropical pine breeders in South Africa.
I am currently a first year PhD student under the supervision of Prof. Bernard Slippers and Prof. Brett Hurley. In my PhD project, I will be studying various aspects of Busseola fusca  (Fuller), (a maize pest commonly known as the maize stalk borer) to understand its resistance to genetically modified Bt maize expressing Bacillus thuringiensis Cry toxin. Using the knowledge gained here, we aim to reduce resistance of the African maize stalk borer to Bt toxin by targeting essential genes that are involved in resistance, through gene editing.
My career interest include finding sustainable methods of improving Agricultural Crops as well as preserving forests in Africa. I am specifically interested in the application of modern molecular breeding and application of modern biotechnology techniques that focus on both the crop and the pest/pathogen to improve crops against biotic and abiotic stress.
Memberships
South African Society of Crop Production (SASCP)
---
Conferences and Workshops
·         Mbedzi, PP, Vorster BJ, 2016 Genetic diversity and herbicide tolerance in Conyza bonariensis, poster presented to the Combined Plant and Soils Congress, Bloemfontein, 18-21 January 2016, http://combinedcongress.org.za.winhost.wa.co.za/proceedings.htm
·         Mbedzi, PP, Vorster BJ,Van der Waals, JE, 2017 Initial screening of soybean for microsatellite markers conferring resistance to Sclerotinia stem rot, paper presented to the Combined Plant and Soils Congress, Bela Bela, 23-26 January 2017, http://combinedcongress.org.za/wp-content/uploads/2016/05/Oral-Booklet2.pdf
 Mbedzi, PP, Vorster BJ, Van der Waals, JE, 2017 Initial screening of South African commercial soybean [Glycine max (L.) Merr] cultivars for simple sequence repeats (SSR) conferring resistance to Sclerotinia sclerotiorum, abstract was accepted by the World Soybean Research Conference Ten, http://wsrc10.net/posters/#Breeding
 Mbedzi, PP, Vorster BJ, Van der Waals, JE, 2018 Initial screening of South African commercial soybean [Glycine max (L.) Merr] cultivars for simple sequence repeats (SSR) conferring resistance to Sclerotinia sclerotiorum, Poster presented to the African Combined Congress, Cape Town, 14-19 January 2018, http://combinedcongress.org.za/ 
      Microsatellite Workshop, African Centre for Gene Technologies and Thermofisher Scientific/Life Technologies, University of Pretoria, 10-13 May 2016
Australia-Africa University Workshop on New plant breeding methods for sustainable use of
genetic resources and security of food production ,University of Mauritius, 29 - 31 January 2018

---
Awards
President's Award for the Best Poster presented at the Combined Congress 2018
Mbedzi, PP, Vorster BJ, Van der Waals, JE, 2018 Initial screening of South African commercial soybean cultivars for simple sequence repeats conferring resistance to Sclerotinia sclerotiorum

---
My Publications
P.P. Mbedzi, L. van der Hoven, B.J Vorster, J.E. van der Waals. (2019) Screening for Sclerotinia sclerotiorum resistance using detached leaf assays and simple sequence repeat markers in soybean cultivars. Crop Protection 10.1016/j.cropro.2019.104909
---
My Journal Articles
Export to RIS