Ms Mary Ranketse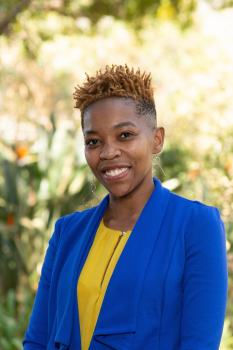 PhD student
Department
FABI
This email address is being protected from spambots. You need JavaScript enabled to view it.
My Supervisor/s
Sustainable methods for agricultural crop and animal production are required in this changing climate landscape and genomics is a powerful and innovative tool. I am interested in the use of genomics and molecular breeding technologies for crop production, improvement and conservation. I am extremely passionate about science and finding solutions to problems. My  dedication to science exploration, and molecular biology and genomics evolved during my post-graduate studies. During my Masters studies at the University of KwaZulu-Natal, I learnt patience, endurance, resilience and fuelled my love for genomics even more.
I am registered for a PhD degree at the University of Pretoria, and affiliated with FABI and the Agricultural Research Council Professional Development Programme as a PhD Candidate. I am based at the ARC-Biotechnology Platform, Onderstepoort Veterinary Research, Onderstepoort, Pretoria
Current research
Macadamia was commercialised at the Hawaiian Agricultural Research Station (HAES) during the 1890's. Most commercial macadamia accessions are from Macadamia integrifolia, Macadamia tetraphylla and hybrids of these two species. One cultivar however is composed of M. integrifolia, M. ternifolia. Commercial macadamia cultivars grown in South Africa originate from Hawaii,Australia and California. limited selection been done in South Africa which has led to genetically some diverse accessions in the country. Genomic resources for Macadamia has recently been developed, with the first genome released in 2016 (Nock et al. 2016), hence macadamia genomic resources are limited.
My PhD study focuses on understanding the dynamics of macadamia accessions grown in South Africa using genetic and genomic tools. Genetic fingerprinting  and diversity analysis will be performed with microsatellite DNA markers to understand the relationship of South African selected accessions to commercialised accessions from Hawaii, Australia. Comparative analysis of diverse accessions will be done through whole genome resequencing. We also aim to perform De novo assembly of Macadamia tetraphylla and Beaumont (HAES 695) genomes using a hybrid sequencing approach. This study will add to the growing body of genomic resources for macadamia. The outcomes has potential applications in genetic fingerprinting, purity testing and germplasm protection. Furthermore, this study aims to identify candidate functional genetic markers underlying agronomic traits for use in marker-assisted breeding programmes.
=
---
Conferences
Ranketse, M., Hefer, C., Pierneef, R., Fourie, G., Myburg, A.A., 2020. Macadamia genetic resource management – A South African perspective. Plant Biology 2020 Worldwide Summit, 27-31 July 2020, Online meeting (Poster)
Ranketse, M., Hefer, C., Pierneef, R., Fourie, G., Myburg, A.A., 2020. Whole-genome analysis of macadamia using innovative sequencing technologies for genetic resource management and breeding. Southern African Plant Breeding Symposium, 8-10 March 2020, Pretoria, South Africa (Flash Talk)
Ranketse, M., Hefer, C., Pierneef, R., Fourie, G., Myburg, A.A., 2018. Genetic characterization and population dynamics of South African macadamia cultivars using multiplex microsatellite PCR panels. South African Society for Bioinformatics and the South African Genetics Society 2018 Joint Conference, 16-18 October 2018, Free State, South Africa (Oral)
Ranketse, M., Madoroba, E. Muchadeyi, F.C. and Dzomba, E.F. 2017. Whole Genome Sequence Analysis Reveals Antimicrobial Resistance Genes, Plasmids and Potentially Unique Sequence Types of Enterotoxigenic Escherichia coli isolates causing Colibacillosis in Neonatal and Weaning Piglets of South Africa. Plant and Animal Genome XXV 2017, 14-18 January 2017, San Diego, California, United Stated of America. Work was presented at the Swine workshop (Oral)
Ranketse, M., Ledwaba, L., Malibe, L., Rees, J., Bellstedt, D.U., Baison, J. and Matsaunyane, L. B. T. Comparative differential gene expression analysis in response to PVY infection in resistant and susceptible potato cultivars. Potato South Africa Research Symposium, 2016, 26– 27 July 2016, Limpopo, South Africa (Flash Talk and Poster)
Ranketse, M., Hefer, C., Baison, J. and Mastaunyane, L.B.T. Comparative differential gene expression analysis in response to PVY infection in resistant and susceptible potato cultivars. Potato South Africa Research Symposium, 2015, 21– 22 July 2015, Limpopo, South Africa (Flash Talk and Poster)
Ranketse, M., Madoroba, E. Muchadeyi, F.C. and Dzomba, E.F. 2015. Analysis of antibiotic resistant genes, plasmid profiles and multilocus sequence typing of Escherichia coli isolates causing colibacillosis in South African piglets. University of KwaZulu-Natal, College of Agriculture, Engineering and Science, 2015 Postgraduate Research Day, 22 September 2015, Pietermaritzburg, South Africa (Oral)
Ranketse, M. and Dzomba, E.F. 2012. Characterization of the NRAMP1 gene polymorphisms and their variation in pig breeds of South Africa. South African Genetics and Bioinformatics Society Conference, 10-12 September 2012, Cape Town, South Africa (Poster)
---