Ms Lente van Zyl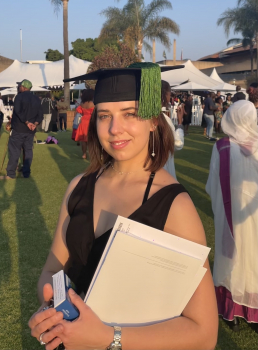 MSc student
Department
Biochemistry, Genetics and Microbiology
This email address is being protected from spambots. You need JavaScript enabled to view it.
My Supervisor/s
I proudly obtained my undergraduate degree (BSc Biotechnology) from the University of Pretoria in 2018, after which I began my association with FABI as an Honors student in 2019. Under the primary supervision of Dr Almuth Hammerbacher,  I explored the ecological roles of volatile compounds (VOCs) produced by plant-pathogenic fungi belonging to the family Ceratocystidaceae.
I am currently doing my Master's degree in Microbiology under the supervision of Dr Hammerbacher and co-supervision of Drs Felix Fru and Emma Steenkamp. My research focuses on the chemical defense properties of pine trees (Pinus sp.), and how differences in chemical properties can lead to increased or reduced resistance to Fusarium circinatum attack.
I also assist the FABI Diagnostic Clinic in the identification of potential plant pathogens on plant material and seedlings, obtained from farms and plantations across South Africa.
I am passionate about my studies and about the work FABI does for the future of forestry and agriculture in South Africa and worldwide.