Ms Lente van Zyl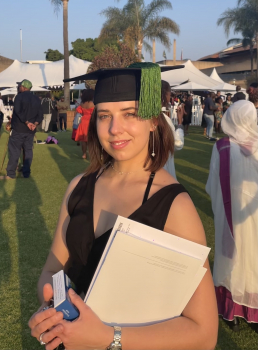 PhD student
Department
Biochemistry, Genetics and Microbiology
This email address is being protected from spambots. You need JavaScript enabled to view it.
My Supervisor/s
I started my studies at UP with no end-goal in sight, only a desire to learn as much about biology and the natural sciences as I possibly could. My undergraduate studies introduced me to the wonders of microbiology, genetics, and biochemistry, and I found that a future in research and academia was the end-goal that I was searching for.
After the completion of my undergraduate degree (BSc Biotechnology), I started my BSc Hons under the supervision of Dr Almuth Hammerbacher at FABI in 2019. I explored the ecological roles of volatile compounds (VOCs) produced by plant-pathogenic fungi belonging to the family Ceratocystidaceae.
I began my master's degree (MSc Microbiology) with Dr Hammerbacher as my advisor and Drs Felix Fru and Emma Steenkamp as supervisors in 2020, at the start of the Covid19 global pandemic. Despite the challenging circumstances that we all found ourselves in, the FABI community was supportive and uplifting during those difficult years, and I completed my MSc at the start of 2022. My MSc study explored the production of secondary defence metabolites against F. circinatum infection in Pinus patula X Pinus tecunumanii hybrids. Although most Pinus species are susceptible to F. circinatum infection to some degree, some species and interspecific hybrids are significantly more resistant to this devastating fungal pathogen. The aim of my study was to investigate the roles of these defensive phytochemicals in pine resistance against F. circinatum, and I found that hybrid pines which are susceptible to this pathogen, paradoxically produce significantly higher concentrations of individual defensive phytochemicals compared to resistant hybrids.
My PhD studies will focus on a deeper and more robust investigation into this interesting phenomenon of pine resistance against the economically important F. circinatum. Resistance of a species to F. circinatum is a major determining factor in its value to the pine industry, and a better understanding of the different molecular influences on and facets of resistance against this pathogen will assist in the development of more resistant cultivars for commercial use. I began this project in 2022 with Dr Hammerbacher as my advisor, and Drs Emma  Steenkamp, Brenda Wingfield, and Sanushka Naidoo as my supervisors.