Mr Mathew Harris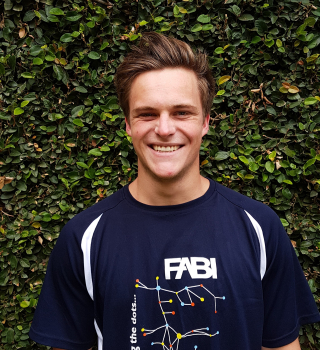 PhD student

Department

FABI

Full CV

This email address is being protected from spambots. You need JavaScript enabled to view it.
My Supervisor/s
I completed my BSc Environmental Sciences undergraduate degree in 2016 at the University of Pretoria. Thereafter, I set out to a BSc (Honours) degree, in ecology, within the department of Plant and Soil Sciences at the University of Pretoria. My Honours research project explored the responses of bird communities to a slightly degraded land-use, i.e. communal rangelands in the Orpen region of the Kruger National Park and compared these bird assemblages to those within nature reserves.
I joined FABI in 2018 to start my MSc. For my MSc I looked to characterise patterns in fungal community ecology from local to global scales. In particular I reviewed the current state of knowledge for fungal biogeography and explored an important ecological phenomenon (successional patterns) for foliar fungal endophyte communities. 
Upon completion of my MSc in 2020 I have decided to continue with a PhD at FABI where my project will explore the ecology of grass-associated fungal endophytes and the role they play in driving various ecosystem processes.   
Publications
Harris, M.A., M.D., Voysey, S-L., Jamison, M., Greve., 2019. Changes in bird assemblages because of vegetation homogenisation in communal livestock systems. KOEDOE. 61(1), a1543, https://doi.org/10.4102/koedoe.v61i1.1543
Jamison-Daniels, S-L., W.D., Kissling, M., Botha, M.A., Harris, C.E., Gordon, M., Greve., 2020. The role of deterministic succession during forest development within a southern African savanna. Biotropica. 53(2):466-476,  
Cowan, D.A., P.H., Lebre, C.E.R., Amon, R.W., Becker, H.I., Boga, A. Boulange, T.L., Chiyaka, T., Coetzee, P.C., de Jager, O., Dikinya, F., Eckardt, M., Greve, M.A., Harris, D.W., Hopkins, H.B., Houngnandan, P., Houngnandan, K., Jordaan, E., Kaimoyo, A.K., Kambura, G., Kamgan-Nkuekam, T.P., Makhalanyane, G., Maggs-Kolling, E., Marais, H., Mondlane, E., Nghalipo, B.W., Olivier, M., Ortiz, L.R., Pertierra, J-B., Ramond, M., Seely, I., Sithole-Niang, A., Valverde, G., Varliero, S., Vikram, D.H., Wall, A., Zeze, 2022. Biogeographical survey of soil microbiomes across sub-Saharan Africa: structure, drivers, and predicted climate-driven changes. Microbiome. 10(131), https://doi.org/10.1186/s40168-022-01297-w
Harris, M.A., M., Kemler, B., Slippers, S-L., Jamison-Daniels, F., Witfeld, M., Botha, D., Begerow, A., Brachmann, M., Greve, 2023. Deterministic processes have limited impacts on foliar fungal endophyte communities along a savanna-forest successional gradient. Fungal Ecology. 64, https://doi.org/10.1016/j.funeco.2023.101249
---
Conference presentations
Savanna Science Network Meeting (2018), "Avian responses to communal livestock systems" - Speed presentation
BIMF-FBIP Forum (2019), "Fungal biogeography and the use of publicly available data for answering biogeographic questions" - Student presentation
Department of Plant and Soil Sciences symposium (2019), "Do fungal communities mirror the successional trends of woody communities" - Presentation
South African Association of Botanists (SAAB) conference (2020), "Do foliar fungal communities mirror the successional trends of woody communities" - Poster and speed presentation
Mycological Society of America (MSA) virtual symposium (2020), "Deterministic processes influence foliar fungal endophyte communities within a forest successional gradient" - Graphical abstract
University of Oxford's Behaviour, Ecology and Evolution virtual conference (2021), "Successional trends, community composition and species richness patterns of foliar fungal endophytes within a forest successional gradient" - Poster 
---
Awards
2017 - H.G.W.J. Schweickerdt medal for the best BSc. (Hons) Plant Sciences student based on final average mark for the year
2018 - Academic honorary colours from the University of Pretoria's SRC (82% average for BSc. (Hons) Plant Sciences)
2018 - FABI Awards (best photograph of the year award)
---
My Galeries
My Journal Articles
Export to RIS
Publication
Harris MA, Slippers B, Kemler M, Greve M. (2023) Opportunities for diversified usage of metabarcoding data for fungal biogeography through increased metadata quality. Fungal Biology Reviews 46:100329. 10.1016/j.fbr.2023.100329

Harris MA, Kemler M, Slippers B, Jamison-Daniel S-L, Witfeld F, Botha M, Begerow D, Brachmann A, Greve M. (2023) Deterministic processes have limited impacts on foliar fungal endophyte communities along a savanna-forest successional gradient. Fungal Ecology 64:101249. 10.1016/j.funeco.2023.101249

Jamison-Daniels SL, Kissling WD, Botha M, Harris MA, Gordon CE, Greve M. (2021) The role of deterministic succession during forest development within a southern African savanna. bioTropica 53(2):466-476. 10.1111/btp.12890