Mr Innocent Rakubu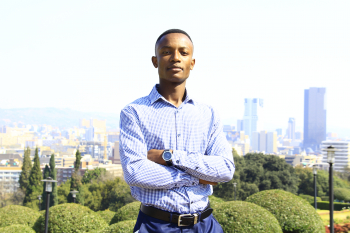 PhD student

Department

Zoology and Entomology

Full CV

This email address is being protected from spambots. You need JavaScript enabled to view it.
My Supervisor/s
My Files
My BScHons at University of Venda
I obtained Bachelor of Science in Agriculture at the university of Venda in 2019. In my Honours project I investigated the effects of farming systems (vertical farming system and horizontal farming system) on the production of onions (Allium cepa var texas grano 502 PRR). The main results of my project showed that high quantity of onions can be produced from a limited space using the vertical farming system.  
My MSc at FABI
I obtained my MSc degree at the University of Pretoria in 2023. The focus of my MSc project was on the use of entomopathogenic nematodes (EPNs) as biological control agents. EPNs from the families Steinernematidae and Heterorhabditidae have shown the potential as biological control agents of many important pests in forest and agriculture. 
EPNs gained popularity because they can be easily mass produced and they are effective against a broad range of insect pest. They are also regarded as alternatives for the chemical insecticides which are known for negative impact on the environment and human health.  
In my MSc project, I screened EPNs for their virulence against pupae of eucalyptus snout beetle, which is an important pest of Eucalyptus spp. in South Africa. I worked under the supervision of Prof. Brett Hurley. I also worked closely with Ms Agil Katumanyane who has completed her PhD with FABI in 2021.  
Ph.D. at FABI
I have just recently started my Ph.D. at FABI, University of Pretoria. The focus of my project will be on the use of EPNs to control white grubs in forest plantations. Specifically, I will explore the non-lethal effects EPNs on the behaviour of behaviour of white grubs. I will also test the whether the EPNs produces dispersal pheromones and upon detection, the pheromones will be harvested and used to enhance the dispersal and efficacy of EPNs against white grubs.  
The project is supervised by Prof. Brett Hurley and co-supervised by Dr. Mesfin Gossa and Dr. Tshimangadzo Ramakuwela. 
My Journal Articles
Export to RIS