Ms Susanna Anbu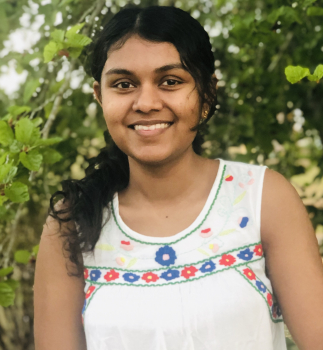 Department
Biochemistry, Genetics and Microbiology
This email address is being protected from spambots. You need JavaScript enabled to view it.
Member of:
I am currently an honours student doing my project under the primary supervision of Dr. Juanita Engelbrecht and co-supervision of Professor Noelani van den Berg in the Avocado Research Programme (ARP) at FABI. My passion for plant-pathogen interactions started during my undergraduate studies whilst pursuing a Bachelor of Science in Genetics.
I started my journey with FABI in second year as a mentorship student in the Forest Molecular (FMG) group where my work involved elucidating the functional roles of secondary cell wall genes in Arabidopsis and Populus. At the beginning of third year I joined the Molecular Plant-Pathogen Interactions (MPPI) group to work on annotating images of maize leaves for symptoms of Cercospora zeina as part of a bioinformatics project that sought to develop a software for on-field maize disease diagnosis. In the latter part of the mentorship I worked under the supervision of Dr. Dave Nsibo where I was tasked with performing single-spore isolations of Exserohilum turcicum from maize leaf samples collected in three different geographical locations in South Africa. In my third year I also went onto work in the Eucalyptus and Pine Pathogen Interactions (EPPI) group to assist with an Msc student's field trials where the fungal load of Fusarium circinatum on pine cultivars was quantified.
My honours project focuses on an oomycete pathogen called Phytophthora cinnamomi that infects avocado roots. P. cinnamomi is notorious for the arsenal of effector molecules it secretes to establish infection in its host. My project looks at characterizing a group of apopoplastic effectors known as Nep-like Proteins (NLP) and determine the expression profiles of selected PcNLP genes during P. cinnamomi infection of avocados.