Ms Velushka Swart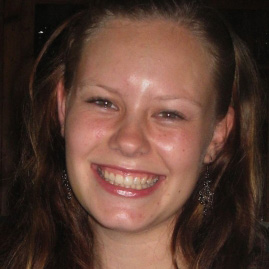 PhD student
Department
Plant Sciences
This email address is being protected from spambots. You need JavaScript enabled to view it.
My Supervisor/s
My doctorial project focuses on the agriculturally important fungal pathogen Cercospora zeina, which is the causative agent of the foliar maize disease Grey Leaf Spot (GLS).  Given the concerns regarding required increases in global crop yields to meet the demands of growing population sizes as well as biofuel consumption, yield-limiting diseases such as GLS pose a significant threat, both within Africa and abroad.  
A portion of my project is aimed at generating transcriptome data, which will greatly contribute to the annotation of the C. zeina genome sequence. Furthermore, my project also aims to provide a better understanding of how the disease occurs on a molecular level with a specific focus on Cercosporin and the role this phytotoxin plays in C. zeina pathogenicity. 
I obtained both my BSc degree in Human Genetics (2010) and a BSc Hons degree (with specialisation in Genetics, 2011), cum laude from the University of Pretoria. Following completion of my BSc Hons degree, I was awarded the South African Genetics Society Hofmeyr – Van Schaik prize (to the best fourth year student in Genetics).  In September 2013, the University of Pretoria senate approved the upgrade of my master's project to a doctorial project. I have been involved in the practical components of several undergraduate subjects within the faculty in the capacity of demonstrator and in 2013, served as a mentor as part of the Faculty of Natural and Agricultural Sciences' Undergraduate mentorship program.
Conferences and symposia
48th Congress of the Southern African Society for Plant Pathology (20-24 January 2013)
Oral presentation: Annotation of the cercosporin toxin biosynthetic gene cluster in the maize pathogen Cercospora zeina
Genomics Research Institute Symposium (14 November 2013)
Oral presentation: Transcriptome data reveals mutation in a Cercosporin Toxin Biosynthetic gene of the maize pathogen, Cercospora zeina
DuPont Plant Breeding Symposium (6 November 2014)
Poster presentation: Expression profiling of Cercospora zeina CTB genes during the course of Grey Leaf Spot disease development in maize
Genomics Research Institute Symposium (29 October 2015)
Oral presentation: Functional characterisation of the Cercospora zeina CTB oxidoreductase gene deletion by Agrobacterium tumefaciens-mediated transformation
36th New Phytologist Symposium (29 November 2015-1 December 2015)
Poster presentation: Cercospora zeina CTB gene expression profiles suggests an early role for cercosporin in grey leaf spot disease development in maize
---
My Journal Articles
Export to RIS
Publication
Swart V, Crampton BG, Ridenour JB, Bluhm BH, Olivier NA, Meyer JJM, Berger DK. (2017) Complementation of CTB7 in the maize pathogen Cercospora zeina overcomes the lack of in vitro cercosporin production. Molecular Plant-Microbe Interactions 30(9):710-724. 10.1094/MPMI-03-17-0054-R

Wingfield BD, Joubert F, Crampton BG, Swart V, Soal N, Tatham C, Van der Nest MA, Van der Merwe N, Van Wyk S, Wilken PM, Van der Peer Y, Lin Y-C, Olivier N, Berger DK, Steenkamp ET, Lim H-J, Duong TA, Bluhm BH, De Beer ZW, De Vos L, Fourie G, Naidoo K, Wingfield MJ. (2017) Draft genome of Cercospora zeina, Fusarium pininemorale, Hawksworthiomyces lignivorus, Huntiella decipiens and Ophiostoma ips. IMA Fungus 8(2):385-396. 10.5598/imafungus.2017.08.02.10