Mr Tuelo Motloba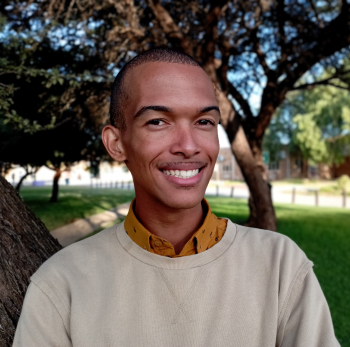 MSc student

Department

Plant and Soil Sciences

Full CV

This email address is being protected from spambots. You need JavaScript enabled to view it.
Member of:
My Supervisor/s
My Links
I am an MSc. (Plant Pathology) student under the supervision of Dr Khumbuzile Bophela.
My study is on the evaluation of cover crop species and their ability to suppress the oomycete, Phytophthora nicotianae, and the citrus nematode, Tylenchulus semipenetrans, on citrus orchards. It aims to establish a summer and winter cover crop mixture on citrus orchards for the sustainable management of the causative agents of citrus root rot.
---
I completed my honours research at the North-West University during the year 2022. My study focused on the efficacy of native fungal species against the root-knot nematode Meloidogyne enterolobii on dry bean (Phaseolus vulgaris) with and without the incorporation of organic matter. A research article (in progress) emanated at the end of the trial. I was also invited to become part of a review article (under peer review) titled "Myco-ecological warfare with nematodes".
---
I have a passion for food production that is in harmony with nature and not against it. Thus, my fascination and excitement at the biological control of pre-harvest diseases. This aligns with the 2030 Sustainable Development Goals of the United Nations (SDG 2 and 13) and the global desire of sustainably produced food.