Dr Khumbuzile Bophela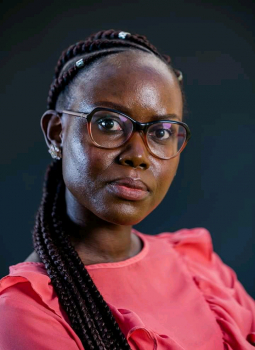 Lecturer

Department

Plant and Soil Sciences

Full CV

This email address is being protected from spambots. You need JavaScript enabled to view it.
Member of:
Research Profiles
My Students
Masters Students
My Links
I started my academic career at the University of Pretoria studying towards a BSc in Microbiology. I obtained my BSc Hons degree in Microbiology, in which the project focused on the identification of nodule-forming endophytes found within Pavetta species. I completed an MSc degree in Microbiology with a research focus on identifying bacterial species associated with blight and dieback in Eucalyptus hosts using a multilocus sequence analysis approach. My PhD investigated the effect of environmental and biological stresses and the role these played in predisposing plum trees to infection by Pseudomonas syringae known to cause bacterial canker on stone fruit trees.
My research interests include the biology and ecology of plant pathogenic bacteria; plant-pathogen interactions, i.e. involving single species or polymicrobial interactions; molecular biology; plant disease epidemiology; soil and plant health.
My Journal Articles
Export to RIS
Publication
Theron E, Bophela KN, Bisschoff J, Shin G, Coutinho TA, Van der Waals JE. (2022) Survey of Soft Rot Pectobacteriaceae Infecting Potatoes in South Africa. Potato Research 10.1007/s11540-022-09598-1

Khanal M, Timilsina S, Bhatta BP, Bophela K, Coutinho T, Cochran K, Malla S. (2022) Pseudomonas uvaldensis sp. nov., a bacterial pathogen causing onion bulb rot. International Journal of Systematic and Evolutionary Microbiology 72(4) 10.1099/ijsem.0.005311

Khumbuzile Bophela, Yolanda Petersen, Carolee Theresa Bull, Teresa Ann Coutinho. (2019) Identification of Pseudomonas isolates associated with bacterial canker of stone fruit trees in the Western Cape, South Africa. Plant Disease 10.1094/PDIS-05-19-1102-RE

Bophela KN, Venter SN, Wingfield MJ, Duran A, Tarigan M, Coutinho TA. (2019) Xanthomonas perforans: A tomato and pepper pathogen associated with bacterial blight and dieback of Eucalyptus pellita seedlings in Indonesia. . Australasian Plant Pathology 10.1007/s13313-019-00657-9