Ms Ongeziwe Mbhele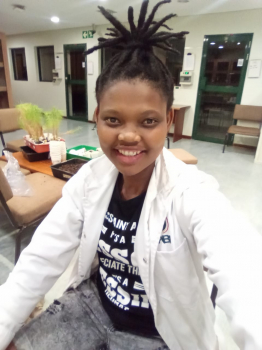 MSc student
Department
Biochemistry, Genetics and Microbiology
This email address is being protected from spambots. You need JavaScript enabled to view it.
My Supervisor/s
I am a Masters's candidate in Microbiology working on Fusarium circinatum under the supervision of Prof. E.T. Steenkamp.
My undergraduate studies focused on a wide variety of plant and animal diseases. During my honor's year of study, I worked on potato virus Y strains infecting potatoes in South Africa. Potato virus Y is an important causal agent of amongst many potato diseases, 'Amajenge': A state where the potato never gets soft and ready for eating. The most devastating thing is that this condition can not be detected in the field, it can only be seen in some tubers during or after harvest as there are no apparent symptoms on tubers. This pathogen is favored by humid and temperate conditions. Recombination of the viral strains is a major issue, as it overrides any control measure put into place for the strains already discovered. These strains recombine with time and change in environmental conditions. In recombination, they form more virulent strains. The recombinant strains develop resistance to any antagonists put in place by farmers, thus, this remains a continual problem.
This is an important issue that deserves attention at least a country's scale, where covering areas with humid and temperate weather conditions would serve justice in unpacking the underlying processes involved in the recombination, and finding ways to temper with them aiming to provide the required knowledge and innovate possible effective control measures. Due to limited resources, I focused in Howick, midlands. My project was on the "Characterisation of Potato Virus Y strains in Howick". For this purpose,  I explored and familiarised myself with most techniques used in my field including molecular, serological, and biological techniques as well as other various microscopic techniques and equipment such as transmission electron microscopy, light microscopy, and conical electron microscopy. We found out that there have been about five more recombinations after 10 years in which a study was conducted in the targeted farm from which we did our sampling. This entails continual recombination in these viral strains and a more negative impact on the potato industry's contribution to the economy. 
During my master's years of study, I am focussing on Fusarium circinatum, a worldwide devastating disease of pine affecting it at all stages of growth: from seeds to commercial plantation stands. Many researchers are working on this pathogen from all the angles of disciplines at FABI which include but not limited to Plant Pathology, Biochemistry, Genetics, Entomology, and Microbiology. My research focuses on the Pathology, Microbiology, and Genomics part of the pathogen, where I am specifically characterizing the South African population of (clonal and non-clonal) isolates: the study is titled "Genotype-Phenotype distinctions in the south African population of Fusarium circinatum clonal isolates).  This work will provide the research and forestry industries with a clear insight into the genotypic and phenotypic characteristics of the South African population of F. circinatum. Having this insight, multi-disciplines in plant science focusing on Pinus and F. circinatum research will have a better perspective of the pathogen and use the information to innovate effective control measures which will improve the economic strain posed by the effect of F. circinatum in the commercial establishments.
News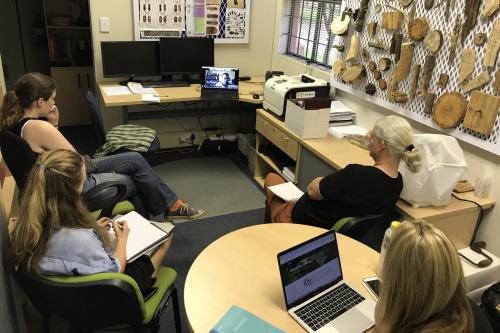 UP COO meets FABI
The University of Pretoria's newly-appointed Chief Operating Officer (COO) Sandile Mthiyane was welcomed to the FABI Monday morning meeting by Director Prof.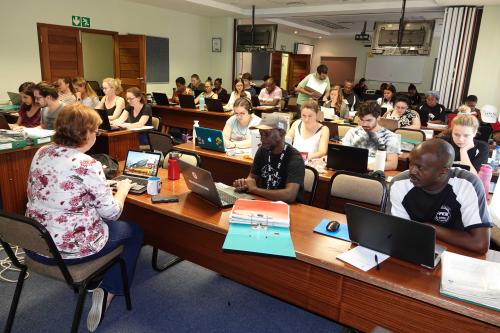 Data Jamboree at FABI
The Tree Protection Co-operative Programme (TPCP) in FABI hosted a "Data Jamboree" on 7 February that saw 44 students in the research programme spend the day capturing historical data from the disease clinic.