Dr Tanay Bose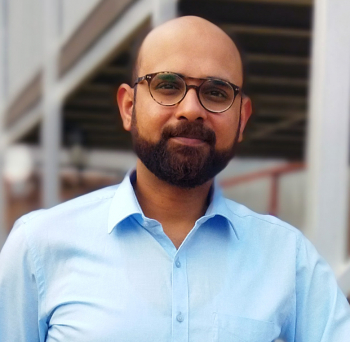 Postdoctoral Fellow

Department

Biochemistry, Genetics and Microbiology

Full CV

This email address is being protected from spambots. You need JavaScript enabled to view it.
Research Profiles
My Links
I joined FABI in November 2013 as a doctoral student in the Tree Protection Cooperative Program (TPCP) under the supervision of Prof. Michael J. Wingfield. Currently, I am a Sappi Forests funded postdoctoral fellow. My researches focus on various aspects of microbial diversity associated with commercial and natural forest in South Africa emphasizing on Phytophthora, fungi and bacteria. I am also responsible for assisting the industry (Sappi Forest Pty Ltd.) with screening for Phytophthora resistant cultivars and hybrids of Eucalyptus spp. 
Apart from this, I am also involved with (with Dr Almuth Hammerbacher) metabarcoding of mycorrhizal species associated with endemic and endangered orchids in South Africa. 
 Education
Doctor of Philosophy in Microbiology, Forestry and Agricultural Biotechnology Institute, University of Pretoria, 2017
Master of Science in Botany (Taxonomy and Molecular Systematics),  University of British Columbia, 2013
Master of Science in Botany (Plant Pathology), Presidency College (University of Calcutta) 2009 
Bachelor of Science (Honours) in Botany, University of Calcutta, 2007 
 Teaching
Teaching Assistant BIOL 209 (Non-Vascular Plants) 2010-2013 at The Department of Botany, University of British Columbia, Canada
Teaching Assistant BIOL 210 (Vascular Plants) 2010-2013 at The Department of Botany, University of British Columbia, Canada
Instructor MBY251 (Bacteriology), University of Pretoria 2016
Lab instructor MBY755 (Advanced Techniques in Microbiology), University of Pretoria 2017
Mentor at the DST-NRF Centre of Excellence in Tree Health Biotechnology (CTHB) Mentorship Programme - 2014-current
 Students supervisions
Lola Bakhareva - B.Sc - 2012
Ellca Rathore - B.Sc - 2012
Jacques Etienne Theron – B.Sc - 2015
Robert Jansen van Vuuren 2015 - 2017
Khwathelani Michelle Takalani - M.Sc - 2017 
Modjadji Makwela – B. Sc (Hons) – 2017, M.Sc - 2018 - ongoing 
Patience Modiba - M.Sc - 2018 - ongoing 
 Work experiences
Plant Diagnostic Clinic (FABI) - November 2013 -2016
Research assistant with Dr Almuth Hammerbacher (Fungal Biochemistry and Host-Pathogen Interaction)
Chairman, Protea Student Residence, Department of Residence Affairs and Accommodation (TuksRes), University of Pretoria - August 2016 - August 2017
Chairman, TuksRes Postgraduate Research Committee, University Of Pretoria - March 2017 - March 2018
 Research visits
Visiting researcher, Prof. Treena Burgess Laboratory, Centre for Phytophthora Research and Management (CPSM), Department of Biological Science, Murdoch University, Perth, Western Australia – 1 July 2014 – 30 September 2014. 
Visiting researcher at Prof. Dominik Begerow's Laboratory, AG Geobotanik, Ruhr Universität of Bochum – (15 June – 17 August 2019)
 Awards
Gold Medalist Master of Science in Botany, Presidency College, University of Calcutta - 2009
Recipient of Biology Teaching Assistant Professional Development (BioTAP) certificate 2013
FABI Best Mentorship Award 2016
FABI Best Website Award 2016
Sappi funded postdoctoral fellow 2018-2021 on Eucalyptus tree health
University of Pretoria, Vice-Principal Conference Funding – 2019
Reviewer
Reviewer for ISI rated journal in Mycology, Plant Pathology and Microbial biodiversity- PUBLON 
My Journal Articles
Export to RIS
Publication
Bose T, Roux J, Burgess TI, Shaw C, Wingfield MJ. (2019) Susceptibility of Eucalyptus grandis and Acacia mearnsii seedlings to five Phytophthora species common in South African plantations. Forest Pathology :e12560. 10.1111/efp.12560

Bose T, Wingfield MJ, Roux J, Vivas M, Burgess TI. (2018) Community composition and distribution of Phytophthora species across adjacent native and non-native forests of South Africa. Fungal Ecology 36:17-25. 10.1016/j.funeco.2018.09.001

Bose T, Burgess TI, Roux J, Wingfield MJ. (2017) Phytophthora alticola; revised description based on new collections and a neotype. Sydowia 69:161-170. 10.12905/0380.sydowia69-2017-0161

Burgess T, White D, McDougall K, Garnas J, Dunstan W, Català S, Carnegie A, Worboys S, Cahill D, Vettraino AM, Stukely M, Liew E, Paap T, Bose T, Migliorini D, Williams B, Brigg F, Crane C, Rudman T, Hardy G. (2017) Phytophthora distribution and diversity across Australia. Pacific Conservation Biology 23(1-13) 10.1071/PC16032

Rahimlou R, Babaeizad V, Bose T, Sayari M. (2016) Determination of lignin-modifying enzymes (LMEs) in Hyphodermella species using biochemical and molecular techniques. Mycologia Iranica 3(1):57-63.

Rahimlou S, Bose T, Babaeizad V, Sayari M, Tajick MA. (2015) Molecular data confirm the mitosporic state of Hyphodermella rosae (Phanerochaetaceae) as the pathogen of rosaceous fruits in northern Iran. Sydowia 67(1):189-196.

Bose T, Reynolds DR, Berbee ML. (2014) Common, unsightly and until now undescribed: Fumiglobus pieridicola sp. nov., a sooty mold infesting Pieris japonica from western North America. Mycologia 106(4):746-756. 10.3852/13-288

Bose T, Reynolds DR, Berbee ML. (2013) Phylogeny of mitosporic Capnodiales and description of a new sooty mold species Fumiglobus pierisicolus from British Columbia, Canada. Phytopathology 103(6):S2.19. 10.1094/PHYTO-103-6-S2.1

Bose T, Ghosh S, Ghosh S. (2010) First report of Fusarium pallidoroseum (Cooke) Sacc. causing wilt disease of Chlorophytum nepalense (Lindley) Baker. Journal of Mycopathological Research 48(1):111-114.