Ms Adri Veale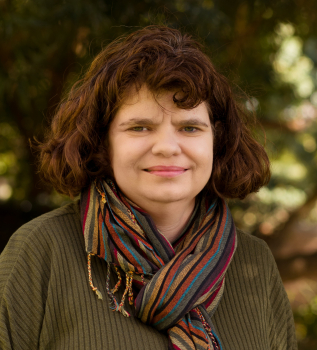 Tissue culture and Plant Transformation Platform Manager
Department
Biochemistry, Genetics and Microbiology
This email address is being protected from spambots. You need JavaScript enabled to view it.
Research Profiles
My Files
My Links
Adri Veale is a senior  research  assistant  for  the  Forest  Molecular  Genetic
program at the University of Pretoria,Forestry and Agricultural Biotechnology 
Institute. She holds an MTech: Agriculture  from the Tshwane University of
Technology.
She is involved in the development of the genetic engineering of Eucalyptus and 
poplar trees. This involves Agrobacterium tumefaciens mediated transformation with
cellulose genes and the screening of the putatively transformed lines
by greenhouse trials to confirm the presence of the gene.
She is also facility manager of the tissue culture and growth facilities for the FMG
group.This involves all the ordering of chemicals,consumables, servicing and
maintenance of equipment as well as management for the facilities.
During 2011 she was the convener and chair of the organizing committee of  the
II ISHS Genetic Modification in Horticultural symposium. She gave numerous
presentations on the above topics.

My Publications
L van Emmenes,   A Veale, A Cohen and T Arazi.   2006.   Agrobacterium-mediated transformation of the bulbous flower Ornithogalum. Acta Horticulturae
Deepika R, Veale A, MA C, Strauss SH, Myburg AA. (2011). Optimization of plant regeneration and genetic transformation protocol for Eucalyptus clonal genotypes. BMC Proceedings 5(Suppl 7):P132.
Veale MA,  Slabbert  R  and  van  Emmenes  L.  (2012).  Agrobacterium-mediated transformation  of  potato  cv  Mnandi  for  resistance  to  the  potato  tuber  moth (Phthorimaea operculella). South African Journal of Botany 27:67-74
---
My Book Chapters
Export to RIS
Book Chapters
Deepika R, Veale A, Capling M, Strauss SH, Myburg AA. 2013. Genetic transformation of Eucalyptus – Challenges and future perspective. In: Tree Biotechnology. Ramawat KG, Mérillon J-M, Ahuja MR. (eds). CRC Press, pp .

My Journal Articles
Export to RIS
Publication
Tonfack LB, Hussey SG, Veale A, Myburg AA, Mizrachi E. (2019) Analysis of orthologous SECONDARY WALL-ASSOCIATED NAC DOMAIN1 (SND1) promotor activity in herbaceous and woody angiosperms. International Journal of Molecular Sciences 20:4623. 10.3390/ijms20184623

Oelofse D, Gazendam I, Veale A, Djami-Tchatchou A, Berger D, Dubery I. (2016) Functional characterization of a defense-related class-III chitinase promoter from Lupinus albus, active in legume and monocot tissues. European Journal of Plant Pathology 146(4):923-936. 10.1007/s10658-016-0970-2