Dr Steven Hussey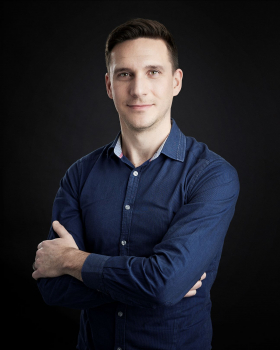 Lecturer
Department
Biochemistry, Genetics and Microbiology
This email address is being protected from spambots. You need JavaScript enabled to view it.
Member of:
Research Profiles
My Files
My Students
Doctoral Students
Masters Students
All of biology is transcriptionally wired. The regulation of secondary cell wall biosynthesis during wood formation in trees such as Eucalyptus is no exception.  Previous studies, mostly in Arabidopsis and Populus, have deciphered a highly ramified transcriptional network hierarchically regulating secondary cell wall biosynthesis (Figure 1). Many of these transcription factors remain to be functionally characterized and their direct and indirect targets identified.
My group uses transcriptome data, DAP-seq, transgenesis, protoplast transfection, bioinformatics and chromatin immunoprecipitation sequencing (ChIP-seq) to functionally characterize key Eucalyptus transcription factors.  Particularly, we are exploring the most recent high-throughput techniques for rapid and informative reconstruction of secondary cell wall transcriptional networks in non-model organisms. We are also interested in understanding the role of chromatin architecture in shaping transcriptional responses and their differences between tissues. In addition to understanding the fundamental biology of wood formation and how it is transcriptionally and epigenetically regulated, we hope to enhance economically important woody traits through manipulation of transcription factors regulating particular aspects of wood formation.
Figure 1. Schematic representation of the protein–DNA interaction network underlying SCW biosynthesis in xylem fibers and vessels and anther endothecium in Arabidopsis (Hussey et al. 2013. Frontiers in Plant Science 4:325).

Hussey group 2016. From left to right: Matt Laubscher (PhD student), Lazarus Takawira (PhD student) myself and Katrien Brown (MSc student).
Synthetic biology
The ability to re-engineer biological systems such as biochemical pathways or transcriptional networks is a hallmark of synthetic biology. We are starting to develop synthetic biology applications in forest trees, beginning with the design and chemical synthesis of over 350 E. grandis secondary cell wall-related transcription factors and promoters as standardized and domesticated phytobricks that can be used for GoldenGate, MoClo and GoldenBraid 2.0 assembly. This work is part of a community DNA synthesis grant awarded by the DOE-JGI, and the synthetic panel will be freely available to the international community.
Our group is also involved with the adoption and roll-out of new synthetic biology tools that make use of non-GM cell-free expression, contained transient expression and genome editing approaches across Africa, in collaboration with the OpenPlant initiative. We recently co-organized a Practical Synthetic Biology symposium and workshop in Pretoria and Pilanesberg to identify and prioritise key applications of these technologies - read more at OpenPlant.org and FABI news.
For the past two years, FMG has invested in the development competence in synthetic biology through participation in the iGEM (international Genetically Engineered Machine) competition held annually in Boston, MA. I have instructed both the 2015 and 2016 iGEM teams from UP, Pretoria_UP. 
Pretoria_UP iGEM team 2016. From left to right: Prof. Zander Myburg (advisor, Department of Genetics), Ms. Maryn van der Laarse (BEng Industrial Engineering), Ms. Modjadji Makwela (BSc Microbiology), Mr. Ricu Claassens (BSc Genetics), Mr. Bernard Smit (BSc Biological Sciences), Ms. Thabang Msimango (BSc(hons) Biotechnology), Dr. Eshchar Mizrachi (advisor, Department of Genetics), Mr. Simon Bezuidenhout (BEng Electronic Engineering), Ms. Nomakula Zim (BSc Microbiology), Mr. Brad Querl (BSc(hons) Medicinal Plant Sciences), Mr. Vaughn Barendsen (BSc(hons) Genetics), Dr. Steven Hussey (instructor), Mr. Stephan Baggeröhr (BEng Mechanical Engineering), Mr. Pieter Bredenkamp (BIS Multimedia), Dr. Michal Gwizdala (advisor, Department of Physics) and Dr. Tjaart Kruger (advisor, Department of Physics).
Their 2016 project, ", WattsAptamer", explored the integration of synthetic biology and 3D-printing in the construction and improvement of photo-bioelectrochemical cells. You can read more about their project on their wiki.
My Book Chapters
Export to RIS
Book Chapters
Hussey SG, Wegrzyn JL, Vasquez-Gross HA. 2016. Evolutionary Histories of Gene Families in Angiosperm Trees. In: Comparative and Evolutionary Genomics of Angiosperm Trees. Groover A, Cronk Q. (eds). Springer International Publishing, Cham, pp 1-17.

My Journal Articles
Export to RIS
Publication
Laubscher M, Brown K, Tonfack LB, Myburg AA, Mizrachi E, Hussey SG. (2018) Temporal analysis of Arabidopsis genes activated by Eucalyptus grandis NAC transcription factors associated with xylem fibre and vessel development. Scientific Reports 8:10983. 10.1038/s41598-018-29278-w

Lu Q, Shao F, Macmillan C, Wilson IW, van der Merwe K, Hussey SG, Myburg AA, Dong X, Qiu D. (2018) Genomewide analysis of the lateral organ boundaries domain (LBD) gene family in Eucalyptus grandis reveals members that differentially impact secondary growth. Plant Biotechnology Journal 10.1111/pbi.12754

Hussey SG, Loots MT, van der Merwe K, Mizrachi E, Myburg AA. (2017) Integrated analysis and transcript abundance modelling of H3K4me3 and H3K27me3 in developing secondary xylem. Scientific Reports 7:3370. 10.1038/s41598-017-03665-1

Hussey SG, Mizrachi E, Groover A, Berger DK, Myburg AA. (2015) Genome-wide mapping of histone H3 lysine 4 trimethylation in Eucalyptus grandis developing xylem. BMC Plant Biology 15:117. 10.1186/s12870-015-0499-0

Hussey SG, Saïdi MN, Hefer C, Myburg AA, Grima-Pettenati J. (2014) Structural, evolutionary and functional analysis of the NAC domain protein family in Eucalyptus. New Phytologist 206(4):1337-1350. 10.1111/nph.13139

Myburg AA, Grattapaglia D, Tuskan GA, Hellsten U, Hayes RD, Grimwood J, Jenkins J, Lindquist E, Tice H, Bauer D, Goodstein DM, Dubchak I, Poliakov A, Mizrachi E, Kullan ARK, Hussey SG, Pinard D, Van der Merwe K, Singh P, et al. (2014) The genome of Eucalyptus grandis. Nature 510:356-362. 10.1038/nature13308

Hussey SG, Mizrachi E, Creux NM, Myburg AA. (2013) Navigating the transcriptional roadmap regulating plant secondary cell wall deposition. Frontiers in Plant Science 4(325):1-21. 10.3389/fpls.2013.00325

Hussey SG, Mizrachi E, Spokevicius AV, Bossinger G, Berger DK. (2011) SND2, a NAC transcription factor gene, regulates genes involved in secondary cell wall development in Arabidopsis fibres and increases fibre cell area in Eucalyptus. BMC Plant Biology 11:173. 10.1186/1471-2229-11-173

Botha J, Pinard D, Creux N, Hussey S, Maritz-Olivier C, Spokevicius A, Bossinger G, Mizrachi E, Myburg AA. (2011) Characterising the role of the Eucalyptus grandis SND2 promoter in secondary cell wall biosynthesis. BMC Proceedings 5(7):P105. 10.1186/1753-6561-5-S7-P105

Hussey S, Mizrachi E, Berger D, Myburg AA. (2011) The role of SND2 in the regulation of Arabidopsis fibre secondary cell wall formation. BMC Proceedings 5(7):P114. 10.1186/1753-6561-5-S7-P114