Ms Kayla Alexis Midgley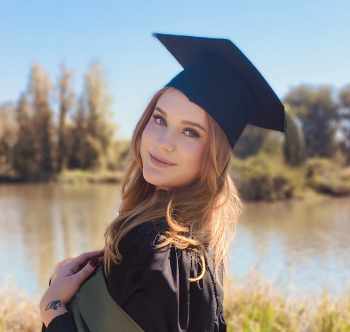 MSc student
Department
Biochemistry, Genetics and Microbiology
This email address is being protected from spambots. You need JavaScript enabled to view it.
Member of:
My Supervisor/s
I am currently a MSc Genetics student. I Graduated BSc Biotechnology at The University of Pretoria in 2019. I then went on to complete a BScHons Genetics in 2020 with the Hans Merensky Avocado Research Program. My honours project involved the validation of Phytophthora cinnamomi Crinkler genes, and investigating their expression during infection of avocado.
My Masters research will involve further investigation of the expression profiles of P. cinnamomi Crinkler genes in resistant and susceptible rootstocks. I also aim to characterize these Crinkler genes and the role they play in suppressing the host immune system or inducing host cell death during the biotrophic or necrotrophic phases of P. cinnamomi.
Memberships to Associations & Societies
The Southern African Society for Plant Pathology (SASPP)
---
Conferences and Symposiums
Midgley KA, Backer R, Swart V & Van den Berg N. Characterising the role of Phytophthora cinnamomi CRN effectors in host plant cell death. South African Society for Bioinformatics – South Africa Genetics Society; 2021 September 2021.
Midgley KA, van den Berg N, Swart V. Phytophthora cinnamomi CRN effectors and their roles in manipulating cell death to maintain their hemi-biotrophic life-style. Presentation presented at the 52nd Congress of the South African Society for Plant Pathology; 2022 August 1-3; Pretoria, South Africa.
---
My Galeries
My Journal Articles
Export to RIS