Dr Thabiso Motaung Motaung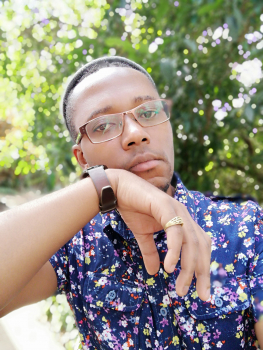 Lecturer
Department
Biochemistry, Genetics and Microbiology
This email address is being protected from spambots. You need JavaScript enabled to view it.
Research Profiles
My Students
Doctoral Students
Masters Students
During my PhD in Biotechnology at Free State University (yr 2015), I studied the phenotypic and genetic responses of the major human fungal pathogen Candida albicans to the polyunsaturated fatty molecule, Arachidonic Acid. I subsequently completed postdoctoral studies with the Agricultural Research Council and South African Sugarcane Research Institute, respectively. I joined the academic staff at the University of Pretoria (Department of Biochemistry, Genetics, and Microbiology) in September 2019, as a lecturer and a supervisor for postgraduate research projects.
I am part of a diverse research team based in the Forestry and Agricultural Biotechnology Institute (FABI) of the University of Pretoria. My primary research interest is in understanding the molecular basis of microbial pathogen interaction with forest plants. I investigate the influence on virulence of small non-coding RNA molecules and membrane vesicles in Fusarium circinatum that causes pitch canker disease on pine trees and Douglas fir.
My focus also accommodates many different pathogens including fungi infecting grain crops (e.g., maize, soybeans, sunflower, etc.) produced in the summer rainfall regions of South Africa. Many pathogenic species of fungi account for substantial yield losses in major grain crops through different infection strategies, but the influence of biofilms – the architecturally complex communities glued together by a matrix – has largely been underemphasized. Therefore, I want to understand how fungi, through such crowded cell communities, exploit emerging ecological opportunities to cause infections in crops such as maize. I pursue this research question through the membership of the new Grain Research Programme developed by FABI in collaboration with GrainSA and other stakeholder departments.
My Journal Articles
Export to RIS
Publication
Motaung TE, Peremore C, Wingfield BD, Steenkamp ET. (2020) Plant-associated fungal biofilms – knowns and unknowns. FEMS Microbiology Ecology 10.1093/femsec/fiaa224

Chepsergon J, Motaung TE, Bellieny-Rabelo D, Moleleki LN. (2020) Organize, Don't Agonize: Strategic Success of Phytophthora Species. Microorganisms 8(6):917. 10.3390/microorganisms8060917

Motaung TE. (2020) Chloronicotinyl insecticide imidacloprid: Agricultural relevance, pitfalls and emerging opportunities. Crop Protection 131:105097. 10.1016/j.cropro.2020.105097

Motaung TE. (2018) Cryptococcus neoformans mutant screening: a genome-scale's worth of function discovery. Fungal Biology Reviews 32(3):181-203. 10.1016/j.fbr.2018.01.001

Motaung TE, Ells R, Pohl CH, Albertyn J, Tsilo JT. (2017) Genome-wide functional analysis in Candida albicans. Virulence 8(8):1563-1579. 10.1080/21505594.2017.1292198

Dweba CC, Figlan S, Shimelis HA, Motaung TE, Sydenham S, Mwadzingeni L. (2017) Fusarium head blight of wheat: Pathogenesis and control strategies. Crop Protection 91:114-122. 10.1016/j.cropro.2016.10.002

Motaung TE, Saitoh H, Tsilo T. (2017) Large‐scale molecular genetic analysis in plant‐pathogenic fungi: a decade of genome‐wide functional analysis. Molecular Plant Pathology 18(5):754-764. 10.1111/mpp.12497

Motaung TE, Petrovski KR, Petzer I-M, Thekisoe O. (2017) Importance of bovine mastitis in Africa. Animal Health Research Reviews 18(1):58-69. 10.1017/S1466252317000032

Motaung TE, Albertyn J, Pohl CH. (2015) Candida albicans mutant construction and characterization of selected virulence determinants. Journal of Microbiological Methods 115:153-165. 10.1016/j.mimet.2015.06.004

Motaung TE, Albertyn J, Kock JLF, Lee C-F, Suh S-O, Blackwell M, Pohl CH. (2013) Trichosporon vanderwaltii sp. nov., an asexual basidiomycetous yeast isolated from soil and beetles. Antonie Van Leeuwenhoek 103(2):313-319. 10.1007/s10482-012-9811-2

Motaung TE, Albertyn J, Kock JLF, Pohl CH. (2012) Cryptococcus cyanovorans sp. nov., a basidiomycetous yeast isolated from cyanide-contaminated soil. International Journal of Systematic and Evolutionary Microbiology 62(5):1208-1214. 10.1099/ijs.0.034181-0

My News and Views Articles
Export to RIS
Publication
Motaung TE. (2017) Use of mutant collections to understand pathogenicity in economically important fungi. SA Grain :1.