Dr Thabiso Motaung Motaung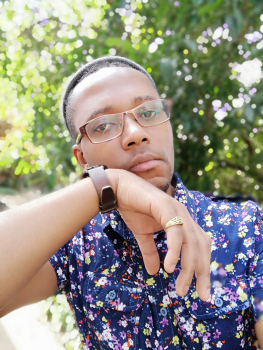 Lecturer

Department

Biochemistry, Genetics and Microbiology

Short CV

This email address is being protected from spambots. You need JavaScript enabled to view it.
Research Profiles
My Students
Postdoctoral Fellows
Doctoral Students
Masters Students
I spent the years between 2016 and 2019 working as a postdoctoral scholar at the Agricultural Research Council and the South African Sugarcane Research Institute after finishing my doctoral degree at the University of the Free State in 2015. Then, in September 2019, I joined the academic staff at the University of Pretoria, where I now supervise postgraduate research projects in several departments, including the Department of Biochemistry, Genetics, and Microbiology, as well as lecture on occasion. I also actively participate in the dynamic FABI (Forestry and Agricultural Biotechnology Institute) team, lending my knowledge to various groups like the Grain Research Program, the Tree Protection Cooperative Program, and the DSI-NRF Centre Of Excellence In Plant Health Biotechnology. My research focus is understanding how plants and fungi interact at a molecular level, focusing on extracellular vesicles (EVs) from plants and fungal pathogens. I also research biofilms in plant-damaging fungi, such as Fusarium circinatum, a serious pathogen infecting pine trees, as well as Fusarium verticillioides and Exerohilum turcicum, both important maize fungal pathogens causing Fusarium ear rot and northern leaf blight, respectively. In parallel with my research interests, I'm also passionate about open science and work with groups like ASAPbio (Accelerating Science and Publication in Biology) to support their campaign for preprints and open dialogue in science.
Teaching
Undergraduate teaching
Bacteriology (MBY-251)
Honors teaching
Project Proposal, Trends in Microbiology, and Joint Techniques course
---
Other Interests
Currently serving in the capacities mentioned below:
2023-present: ASAPbio Community Lead (Pretoria)
2021-present: ASAPbio Board of Directors
2020-present: Ethics division coordinator for the University of Pretoria;
2017-present: Reviewer, GMO Advisory committee, National Department of Forestry, Fisheries and the Environment (Ministerial appointment);
Peer reviewer at various science journals.
---
My Journal Articles
Export to RIS
Publication
Francinah M Ratsoma, Nthabiseng Z Mokoena, Brenda D Wingfield, Emma T Steenkamp, Thabiso E Motaung. (2023) Characterization of Fusarium circinatum biofilm and its matrix's environmental response role. ResearchSquare 00(00):00-00. 10.21203/rs.3.rs-3040583/v1

Kunene S, Steenkamp E, Motaung T. (2023) Isolation of extracellular vesicles from pine (Pinus sp.) leaves and roots. RsearchSquare 00(00):00-00. 10.21203/rs.3.rs-2912064/v1

Thabiso E Motaung, Emma T Steenkamp. (2021) Extracellular Vesicles in Teasing Apart Complex Plant-Microbiota Links: Implications for Microbiome-Based Biotechnology. mSystems 6(4):e00734-21. 10.1128/mSystems.00734-21.

Jane Chepsergon, Thabiso E. Motaung, Lucy Novungayo Moleleki. (2021) "Core" RxLR effectors in phytopathogenic oomycetes: A promising way to breeding for durable resistance in plants?. Virulence 12(1):1921-1935. 10.1080/21505594.2021.1948277

Motaung TE, Peremore C, Wingfield BD, Steenkamp ET. (2020) Plant-associated fungal biofilms – knowns and unknowns. FEMS Microbiology Ecology 10.1093/femsec/fiaa224

Chepsergon J, Motaung TE, Bellieny-Rabelo D, Moleleki LN. (2020) Organize, Don't Agonize: Strategic Success of Phytophthora Species. Microorganisms 8(6):917. 10.3390/microorganisms8060917

Motaung TE. (2020) Chloronicotinyl insecticide imidacloprid: Agricultural relevance, pitfalls and emerging opportunities. Crop Protection 131:105097. 10.1016/j.cropro.2020.105097

Motaung TE. (2018) Cryptococcus neoformans mutant screening: a genome-scale's worth of function discovery. Fungal Biology Reviews 32(3):181-203. 10.1016/j.fbr.2018.01.001

Motaung TE, Ells R, Pohl CH, Albertyn J, Tsilo JT. (2017) Genome-wide functional analysis in Candida albicans. Virulence 8(8):1563-1579. 10.1080/21505594.2017.1292198

Dweba CC, Figlan S, Shimelis HA, Motaung TE, Sydenham S, Mwadzingeni L. (2017) Fusarium head blight of wheat: Pathogenesis and control strategies. Crop Protection 91:114-122. 10.1016/j.cropro.2016.10.002

Motaung TE, Saitoh H, Tsilo T. (2017) Large‐scale molecular genetic analysis in plant‐pathogenic fungi: a decade of genome‐wide functional analysis. Molecular Plant Pathology 18(5):754-764. 10.1111/mpp.12497

Motaung TE, Petrovski KR, Petzer I-M, Thekisoe O. (2017) Importance of bovine mastitis in Africa. Animal Health Research Reviews 18(1):58-69. 10.1017/S1466252317000032

Motaung TE, Albertyn J, Pohl CH. (2015) Candida albicans mutant construction and characterization of selected virulence determinants. Journal of Microbiological Methods 115:153-165. 10.1016/j.mimet.2015.06.004

Motaung TE, Albertyn J, Kock JLF, Lee C-F, Suh S-O, Blackwell M, Pohl CH. (2013) Trichosporon vanderwaltii sp. nov., an asexual basidiomycetous yeast isolated from soil and beetles. Antonie Van Leeuwenhoek 103(2):313-319. 10.1007/s10482-012-9811-2

Motaung TE, Albertyn J, Kock JLF, Pohl CH. (2012) Cryptococcus cyanovorans sp. nov., a basidiomycetous yeast isolated from cyanide-contaminated soil. International Journal of Systematic and Evolutionary Microbiology 62(5):1208-1214. 10.1099/ijs.0.034181-0

My News and Views Articles
Export to RIS
Publication
Motaung TE. (2017) Use of mutant collections to understand pathogenicity in economically important fungi. SA Grain :1.