Prof Fanus Venter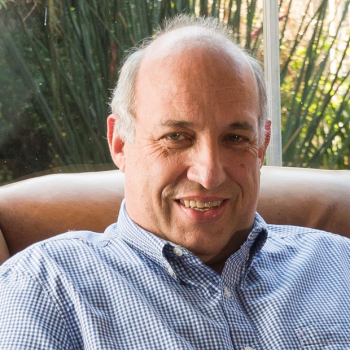 Head of the Department
Department
Microbiology and Plant Pathology
This email address is being protected from spambots. You need JavaScript enabled to view it.
My Students
Doctoral Students
Masters Students
My primary research interests are bacterial evolution, systematics and diversity. I am specifically interested in how knowledge of these aspects of bacteriology can be applied to answer specific research questions related to the functioning of bacteria and bacterial communities in different environments. During the past few years my research group have focused mainly on the use of molecular, sequencing and genomics approaches when addressing these questions and the two main focus areas are bacteria associated with plants and aquatic environments.
My experience in the area of systematics has resulted in my active involvement in the phytobacteriology research group at FABI lead by Prof Teresa Coutinho. The research focused primarily on the genus Pantoea which contains both clinical, plant pathogenic and natural environmental isolates.  Based on the phylogenetic evaluation (MLSA) of various plant pathogenic genera within the Enterobacteriaceae (together with various international collaborators) we have described 14 new species, established 2 new genera and revised the taxonomy of another 7 species during the last 4 years.
My own research group focuses on applied bacterial genomics. We currently have more than 30 genomes available (one or more genome representing nearly all the species of Pantoea). Most of these genomes have been sequenced in-house. Our comparative and evolutionary studies is currently focused on how this genomic data could be used for the delineation of species within the genus Pantoea.
In a joint Centre of Excellence in Tree Health Biotechnology project with Prof Emma Steenkamp, I am currently focusing on the descriptions of a large collection of nitrogen fixing Burkholderia strains isolated from indigenous papilionoid legume species by providing the taxonomic expertise. To assist with the description of these species I have established the necessary infrastructure to perform DNA:DNA hybridizations. This infrastructure has not previously been available for bacterial taxonomists in South Africa. We have also been able to show that the symbiotic abilities of these undescribed species have unique African ancestries. We have already sequenced the genome of one of these isolates and will perform a dual RNA seq (transcriptome) to study the interactions between this isolate and its indigenous host, Virgilia oroboides. This work is done in collaboration with Dr Alex Valentine of the University of Stellenbosch.
My Journal Articles
Export to RIS
Publication
Palmer M, Steenkamp ET, Coetzee MPA, Blom J, Venter SN. (2018) Genome-based characterization of biological processes that differentiate closely related bacteria. Frontiers in Microbiology 9:113. 10.3389/fmicb.2018.00113

Human ZR, Crous CJ, Roets F, Venter SN, Wingfield MJ, de Beer ZW. (2018) Biodiversity and ecology of flower-associated actinomycetes in different flowering stages of Protea repens. Antonie van Leeuwenhoek 111(2):209-226. 10.1007/s10482-017-0942-3

De Maayer P, Aliyu H, Vikram S, Blom J, Duffy B, Cowan DA, Smits THM, Venter SN, Coutinho TA. (2017) Phylogenomic, pan-genomic, pathogenomic and evolutionary genomic insights into the agronomically relevant enterobacteria Pantoea ananatis and Pantoea stewartii. Frontiers in Microbiology 8(1755) 10.3389/fmicb.2017.01755

Beukes CW, Palmer M, Manyaka P, Chan W-Y, Avontuur JR, Van Zyl E, Huntemann M, Clum A, Pillay M, Palaniappan K, Varghese N, Mikhailova N, Stamatis D, Reddy TBK, Daum C, Shapiro N, Markowitz V, Ivanova N, Kyrpides N, Woyke T, Blom J, Whitman WB, Venter SN, Steenkamp ET. (2017) Genome data provides high support for generic boundaries in Burkholderia sensu lato. Frontiers in Microbiology 8(1154) 10.3389/fmicb.2017.01154

Venter SN, Palmer M, Beukes CW, Chan W-Y, Shin G, Van Zyl E, Seale T, Coutinho TA, Steenkamp ET. (2017) Practically delineating bacterial species with genealogical concordance. Antonie van Leeuwenhoek 110(10):1311-132. 10.1007/s10482-017-0869-8

Palmer M, Steenkamp ET, Coetzee MPA, Chan W-Y, Van Zyl E, De Maayer P, Coutinho TA, Blom J, Smits THM, Duffy B, Venter SN. (2017) Phylogenomic resolution of the bacterial genus Pantoea and its relationship with Erwinia and Tatumella. Antonie van Leeuwenhoek 110(10):1287-1309. 10.1007/s10482-017-0852-4

Human ZR, Slippers B, De Beer ZW, Wingfield MJ, Venter SN. (2017) Antifungal actinomycetes associated with the pine bark beetle, Orthotomicus erosus, in South Africa. South African Journal of Science 113(1/2):2016-0215. 10.17159/sajs.2017/20160215

Magadlela A BC, Venter F, Steenkamp E, Valentine A. (2017) Does P deficiency affect nodule bacterial composition and N source utilization in a legume from nutrient-poor Mediterranean-type ecosystems?. Soil Biology & Biochemistry 104:164-174. 10.1016/j.soilbio.2016.10.021

Human ZR, Moon K, Bae M, De Beer ZW, Cha S, Wingfield MJ, Slippers B, Oh D-C, Venter SN. (2016) Antifungal Streptomyces spp. associated with the infructescences of Protea spp. in South Africa. Frontiers in Microbiology 7(1657) 10.3389/fmicb.2016.01657

Carstensen GD, Venter SN, Wingfield MJ, Coutinho TA. (2016) Two Ralstonia species associated with bacterial wilt of Eucalyptus. Plant Pathology 66:393-403. 10.1111/ppa.12577

Beukes CW, Stepkowski T, Venter SN, Clapa T, Phalane FL, le Roux MM, Steenkamp ET. (2016) Crotalarieae and Genisteae of the South African Great Escarpment are nodulated by novel Bradyrhizobium species with unique and diverse symbiotic loci. Molecular Phylogenetics and Evolution 100:206-218. 10.1016/j.ympev.2016.04.011

Palmer M, De Maayer P, Poulsen M, Steenkamp ET, Van Zyl E, Coutinho TA, Venter SN. (2016) Draft genome sequences of Pantoea agglomerans and Pantoea vagans isolates associated with termites. Standards in Genomic Sciences 11(23) 10.1186/s40793-016-0144-z

Steenkamp ET, van Zyl E, Beukes CW, Avontuur J, Chan W-Y, Palmer M, Mthombeni LS, Phalane FL, Sereme TK, Venter SN. (2015) Burkholderia kirstenboschensis sp. nov. nodulates papilionoid legumes indigenous to South Africa. Systematic and Applied Microbiology 38(8):545-554. 10.1016/j.syapm.2015.09.003

De Maayer P, Chan W-Y, Martin DAJ , Blom J, Venter SN, Duffy B, Cowan DA, Smits THM, Coutinho TA. (2015) Integrative conjugative elements of the ICEPan family play a potential role in Pantoea ananatis ecological diversification and antibiosis. Frontiers in Microbiology 6:576. 10.3389/fmicb.2015.00576

Shyntum D, Theron J, Moleleki L, Toth I, Venter SN, Coutinho TA. (2015) Pantoea ananatis utilizes a type VI secretion system for pathogenesis and bacterial competition. Molecular Plant-Microbe Interactions 28(4):420-431. 10.1094/MPMI-07-14-0219-R

Coutinho TA, van der Westhuizen L, Roux J, McFarlane SA, Venter SN. (2015) Significant host jump of Xanthomonas vasicola from sugarcane to a Eucalyptus grandis clone in South Africa. Plant Pathology 64(3):576-581. 10.1111/ppa.12298

Weller-Stuart T, Chan W-Y, Coutinho TA, Venter SN, Smits THM, Duffy B, Goszczynska T, Cowan DA, de Maayer P. (2014) Draft genome sequences of the onion center rot pathogen Pantoea ananatis PA4 and maize brown stalk rot pathogen P. ananatis BD442. Genome Announcements 2(4) e00750-14

De Maayer P, Chan WY, Rubagotti E, Venter SN, Toth IK, Birch PR, Coutinho TA. (2014) Analysis of the Pantoea ananatis pan-genome reveals factors underlying its ability to colonize and interact with plant, insect and vertebrate hosts. BMC Genomics 15:404. 10.1186/1471-2164-15-404

Shyntum DY, Venter SN, Moleleki LN, Toth I, Coutinho TA. (2014) Comparative genomics of type VI secretion systems in strains of Pantoea ananatis from different environments. BMC Genomics 15:163. 10.1186/1471-2164-15-163

Beukes CW, Venter SN, Law IJ, Phalane FL, Steenkamp ET. (2013) South African papilionoid legumes are nodulated by diverse Burkholderia with unique nodulation and nitrogen-fixation loci. PLos ONE 8(7):e68406. 10.1371/journal.pone.0068406 PMCID: PMC3708930

Le Roux WJ, Chan WY, De Maayer P, De Maayer P, Venter SN. (2013) Genome Sequence of Vibrio cholerae G4222, a South African Clinical Isolate. Genome Announcements 1(2):1-2. 10.1128/genomeA.00040-13

De Maayer P, Chan WY, Blom J, Venter SN, Duffy B, Smits THM, Coutinho TA. (2012) The large universal Pantoea plasmid LPP-1 plays a major role in biological and ecological diversification. BMC Genomics 13(625):1-12. 10.1186/1471-2164-13-625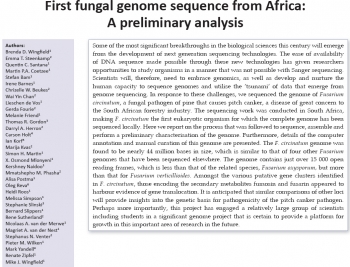 Wingfield BD, Steenkamp ET, Santana QC, Coetzee MPA, Bam S, Barnes I, Beukes CW, Chane W-Y, de Vos L, Fourie G, Friend M, Gordon TR, Herron DA, Holt C, Korf I, Kvas M, Martin SH, Mlonyeni XO, Naidoo K, Phasha MM, Postma A, Reva O, Roos H, Simpson M, Slinski S, Slippers B, Sutherland R, van der Merwe NA, van der Nest MA, Venter SNV, Wilken PM, Yandell M, Zipfel R, Wingfield MJ. (2012) First fungal genome sequence from Africa: a preliminary analysis. South African Journal of Science 108:104-122. 10.4102/sajs.v108i1/2.537

De Maayer P, Chan WY, Rezzonico F, Buhlmann A, Venter SN, Blom J, Goesmann A, Frey JE, Smits THM, Duffy B, Coutinho TA. (2012) Complete Genome Sequence of Clinical Isolate Pantoea ananatis LMG 5342. Journal of Bacteriology 194(6):1615-1616. 10.1128/JB.06715-11

Coutinho TA, Brady CL, Vaart MVD, Venter SN, Telechea N, Rolfo M, Perez C, Wingfield MJ. (2011) A new shoot and stem disease of Eucalyptus species caused by Erwinia psidii. Australasian Plant Pathology 40(1):55-60. 10.1007/s13313-010-0013-y

De Maayer P, Chan WY, Venter SN, Toth IK, Birch PRJ, Joubert F, Coutinho TA. (2010) Genome Sequence of Pantoea ananatis LMG20103, the Causative Agent of Eucalyptus Blight and Dieback. Journal of Bacteriology 192(11):2936-2937. 10.1128/JB.00060-10

Brady CL, Venter SN, Cleenwerck I, Engelbeen K, De Vos P, Wingfield MJ, Telechea N, Coutinho TA. (2009) Isolation of Enterobacter cowanii from Eucalyptus showing symptoms of bacterial blight and dieback in Uruguay. Letters in Applied Microbiology 49(4):461-465. 10.1111/j.1472-765X.2009.02692.x